NEXT STORY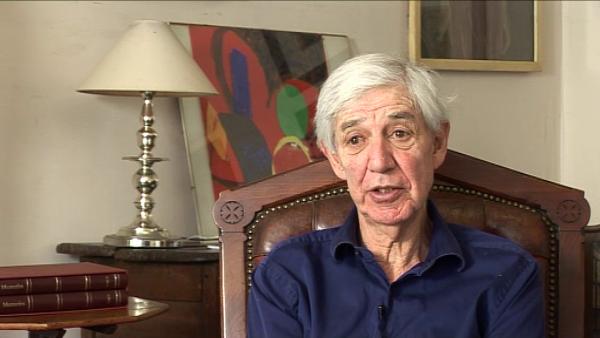 'Reading rots the mind'
Sydney Brenner: The local genius
1
2
3
4
I was at university with Sydney Brenner. He was the local genius. He… first of all, Sydney has an amazing sense of humour, there's no one who could compete with his sense of humour, I can't think of all his jokes. And he was very liberal. He… he could… he could talk about almost anything, he… he was so clever. And what is so amazing about Sydney, he came from — he claims, incidentally, that his father could hardly read or write — but he was just a very — Sydney himself — was a very brilliant child. And he's a brilliant… brilliant lecturer, and his ideas, in science, have been so imaginative. I mean, he didn't get the Nobel Prize for it, but he was one of the people who discovered messenger RNA, which is absolutely fundamental in relation to protein synthesis. He just, from… from nowhere, was looking for what animal, or what system would be the best one in order to study, in order to understand development. Now, he was a medically-trained person, and he went around looking, and he came up with the nematode worm. He chose the nematode worm because it only has something like — oh gosh, I can never remember — oh… 500 or 600 cell… 600 cells in it, and you can follow the behaviour of every one of those cells in the embryo, and he chose to work on this. And they discovered not only a great deal about its development, but they also discovered a key process in development, and that's cell death — cell suicide — and they got the Nobel Prize for that. I mean… and Sydney, whichever area, or whichever comment Sydney made, you always had to listen very carefully, because he is so imaginative and so clever, and so bloody funny, unfortunately.
Lewis Wolpert (1929-2021) CBE FRS FRSL was a developmental biologist, author, and broadcaster. He was educated at the University of Witwatersrand (BSc), Imperial College London, and at King's College London (PhD). He was Emeritus Professor of Biology as applied to medicine in the Department of Anatomy and Developmental Biology at University College London. In addition to his scientific and research publications, he wrote about his own experience of clinical depression in Malignant Sadness: The Anatomy of Depression (1999).
Title: Sydney Brenner: The local genius
Listeners: Eleanor Lawrence
Eleanor Lawrence is a freelance science writer and editor, and co-author of Longman Dictionary of Environmental Science.
Tags: Sydney Brenner
Duration: 2 minutes, 9 seconds
Date story recorded: April 2010
Date story went live: 14 June 2010