NEXT STORY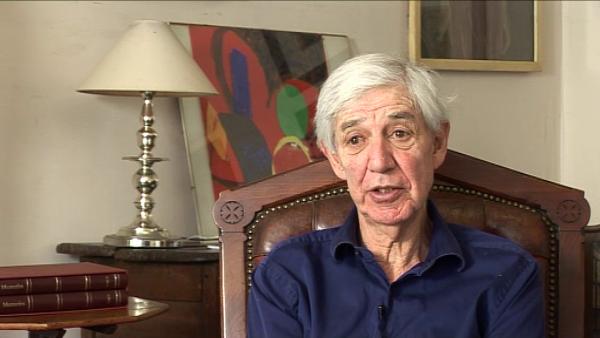 The relationship between evolution and development
Exciting ideas that ought to be researched
1
2
3
4
Cells, for their size, are the most complex object in the universe. We really need to be able to put cells onto a computer and really be able to model their behaviour. But this is a monstrous exercise. If you take one of your cells — one of your skin cells — I suppose there are probably 10,000 different proteins in it, and number of copies of these proteins can vary from just a few to a million, and they can all interact... one protein... many proteins interact with one another. Being able to simulate those interactions, and which genes they turn on and off, is really the future of cell biology, we really need to understand, we really need to properly understand cells. And when one can do that, then one can begin to be able... that given the genome there are of an organism, you'll be able to predict how that organism will develop. I've got a bet with a man called Rupert Sheldrake, and Rupert Sheldrake is... doesn't believe that molecular biology is the way that you can explain life; he believes in something like morphic resonance — I don't want to get involved — but I've got a bet of a large amount of port, which has been put away somewhere, that in 20 years' time one will be able to predict, given the genome, how that particular embryo will develop in detail. I don't think in 20 years, but in 40 years, I certainly think one will be able to understand. And of course understanding the brain, which for its size, is the most complex object in the universe, that's even more difficult, with all those connections, and all those different bits... those different... brain cells interacting with one another. It's exciting and I'm afraid that in my own subject — developmental biology — there isn't a lot of work on general principles going on, and it's more about detail. It's just the gene does that, this protein does that and I find that very boring. But God is in the detail, as they say, and I suppose in the long run it'll be okay. But for the short run, I find it a little tedious.
Lewis Wolpert (1929-2021) CBE FRS FRSL was a developmental biologist, author, and broadcaster. He was educated at the University of Witwatersrand (BSc), Imperial College London, and at King's College London (PhD). He was Emeritus Professor of Biology as applied to medicine in the Department of Anatomy and Developmental Biology at University College London. In addition to his scientific and research publications, he wrote about his own experience of clinical depression in Malignant Sadness: The Anatomy of Depression (1999).
Title: Exciting ideas that ought to be researched
Listeners: Eleanor Lawrence
Eleanor Lawrence is a freelance science writer and editor, and co-author of Longman Dictionary of Environmental Science.
Tags: Rupert Sheldrake
Duration: 2 minutes, 27 seconds
Date story recorded: April 2010
Date story went live: 14 June 2010