NEXT STORY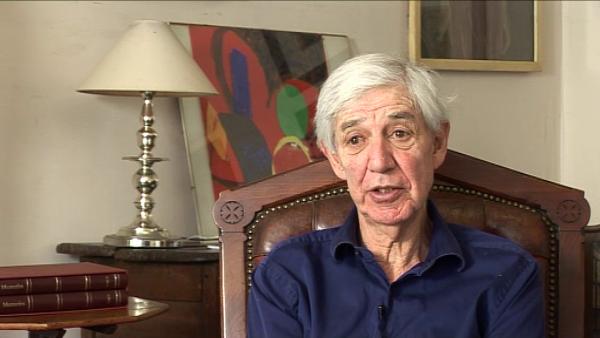 Beautiful bridges inspired my study in civil engineering
1
2
3
4
I went to the same school for 10 years. When I got there... my mother wouldn't allow me to read letters with more... words with more than two letters in them. So when I was seven and went to school, when they said, 'Can you read?' I said 'Yes', but I couldn't, so I was in the lowest class. And that slightly irritated me with my mother that I was delayed, because most... a lot of other people were able to read. And this was King Edward School but it was... I did moderately well at school. I... I wasn't mad about the school; I liked the sports more than anything else. And then I went from the junior school to the senior school, and the senior school... they were pretty hard on us. I tell you how they taught us arithmetic. Mr Snyman would take a piece of elastic and he would hold it under my nose, 'Wolpert, how many kilometres in five miles?' 'Seven, sir'. Ping! I want to tell you when you have a piece of elastic hitting you here like that, it makes you cry. We never told our parents we were... we were hit with rulers, large pencils, elastic, in all different subjects, we were humiliated in... in all sorts of ways, but one nevertheless learnt. In Afrikaans class, the teacher once said to me, "Wolpert, what's the Afrikaans word for abattoirs?" "Don't know, sir". "You were talking, and I'm going to make it so you never forget it. Stand up and say it 200 times in front of the class". I did, and I remember it now: Slagpale. And that's 65 years ago, since that happened to me. I didn't like the school, I didn't like the masters. I liked my friends, and I liked the sport. And the two subjects that I liked were science and mathematics, and I was very disappointed that I didn't get a distinction in science in my matriculation, and that's because I hadn't fully understood that one question I mucked up was how... how a car battery worked, and so that thing... but I got my distinction in... in mathematics.
Lewis Wolpert (1929-2021) CBE FRS FRSL was a developmental biologist, author, and broadcaster. He was educated at the University of Witwatersrand (BSc), Imperial College London, and at King's College London (PhD). He was Emeritus Professor of Biology as applied to medicine in the Department of Anatomy and Developmental Biology at University College London. In addition to his scientific and research publications, he wrote about his own experience of clinical depression in Malignant Sadness: The Anatomy of Depression (1999).
Title: Humiliation at school
Listeners: Eleanor Lawrence
Eleanor Lawrence is a freelance science writer and editor, and co-author of Longman Dictionary of Environmental Science.
Tags: King Edward School
Duration: 3 minutes, 26 seconds
Date story recorded: April 2010
Date story went live: 14 June 2010