NEXT STORY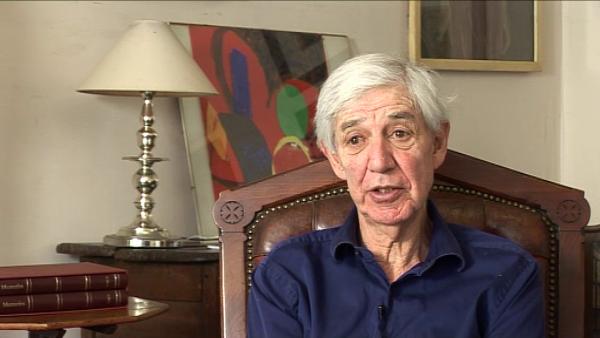 The purpose of going on living
You're looking very well
1
2
3
4
My current book, or the book I'm working on at the moment, was... it's for Faber — they asked me to write it — and it's about ageing, and the working title is You're Looking Very Well. Someone said that to me only yesterday. And it's a book in which I try to understand the problems associated with ageing. Of course I deal with the biology, but I also deal with the social aspects: what people's attitude towards age, what the young feel about age, how the old live, ageism, and of course, the illnesses and the difficulties that accumulate with age, like forgetting, dementia. And when I walk in the streets now, everybody passes me. I think I'm walking at a normal speed, but young children... almost old ladies pass me, not quite... I've no idea why I'm so slow. And of course forgetting, as everyone knows, one of the nice games old people play is called looking for one's glasses, and hunting for words. But there really are severe problems associated with ageing, not least that we are an ageing population. There are more old people now living in the modern world than there ever have been before, and how they will be looked after is a major, major problem. And understanding ageing in biological terms really partly comes from Peter Medawar, and it's really based on the idea that ageing is due ultimately to wear and tear, and since evolution only cares about reproduction, once you've reproduced, evolution doesn't give a hoot as to what happens to your body and so the wear and tear leads to ageing. And so ageing isn't programmed in ourselves, but there are attempts by our cells to prevent ageing until you've reproduced. Our only function, from an evolutionary point of view, is to reproduce. That's not an encourageing view, but that's the way it is. And as one gets old — and as I'm getting old — it does occur to many people — yes, some people are very happy being old, and I'm 80 now — it's really what is the purpose of going... my children are all doing quite well, they'd do even better if I died because they'd have... they'd have the money. And so it's not quite... it becomes quite tricky as to decide what the purpose of living is when one's finished reproducing, it's really quite a... a tricky area altogether. And really government attitude, to how to care for the old, needs a great deal more thought than has currently been given.
Lewis Wolpert (1929-2021) CBE FRS FRSL was a developmental biologist, author, and broadcaster. He was educated at the University of Witwatersrand (BSc), Imperial College London, and at King's College London (PhD). He was Emeritus Professor of Biology as applied to medicine in the Department of Anatomy and Developmental Biology at University College London. In addition to his scientific and research publications, he wrote about his own experience of clinical depression in Malignant Sadness: The Anatomy of Depression (1999).
Title: "You're looking very well"
Listeners: Eleanor Lawrence
Eleanor Lawrence is a freelance science writer and editor, and co-author of Longman Dictionary of Environmental Science.
Tags: "You're looking very well", Peter Medawar
Duration: 2 minutes, 57 seconds
Date story recorded: April 2010
Date story went live: 14 June 2010