NEXT STORY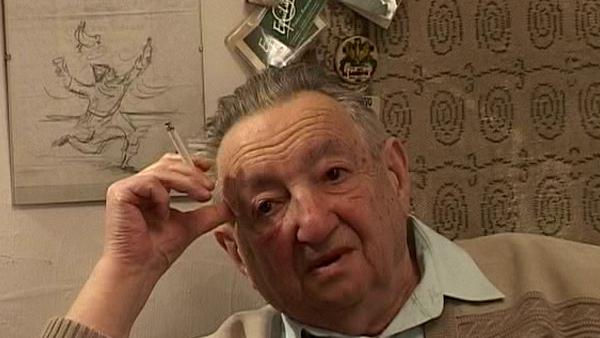 What it means to die normally
Marek Edelman
Social activist
1
2
3
4
5
6
...
15
I went to see Szuldenfraj, he was already ill in hospital. He'd been ill in Milanówek and had been going to see Dr Lipszyc. He's the one who was very shy at the beginning of his political career. He had to give a speech as he'd been appointed to do this, so he raised his hand. The chairman of the meeting gave him leave to speak and so he said, pardon me, but could we open a window? It's very stuffy in here. And that's how he made his speech. But he was a great guy, a brilliant doctor from Kraków. That was it. But I don't know why we're talking about Lipszyc, but that's how it was.
[Q] Szuldenfraj, Feiner ...
Szuldenfraj was diagnosed by Lancberg in Milanówek, I think. He had lung cancer and was already very ill in Lublin. He was in bed when I went to see him. I have to say that I didn't like him, he was a typical 'Krakus', tight-fisted, you could never get any money out of him, unfortunately, he kept a notebook with all of this money ... but this is irrelevant.
[Q] Marek, you're talking about Feiner?
Feiner, yes. It was Feiner who was in hospital, not Szuldenfraj. Szuldenfraj was in the national council, he was some kind of director, perhaps he was a delegate, I can't say but he represented Bund which surprised me greatly that he was mixing with those commies. That was dreadful although later I was able to benefit from this. When I went to see Feiner in hospital he was indeed dying, but he had this little notebook, with all the Bund money, from which he never wanted to give anything. If I remember correctly, there was $10 inside and he wrote down every $5 dollars, who he'd given it to, when, which day, and so on. But I think they robbed him anyway, because there had been more money except it had disappeared through no fault of his. I know because I had some Bund money myself which wasn't noted down there. In my case, the communists had got their hands on it through Antek, 5,000 I think it was $5,000 because they were dying of hunger in that Grodzisk.
[Q] Communists not Zionists?
Communists. Anka Kowalska and Kowalski were starved to death because Stalin didn't give them any money and just told them to kill themselves. So I had some money but I don't remember where from but this wasn't noted down in his notebook but maybe it was different money which had come by a different route because this money all came by various routes - some came through the delegates, those joint contacts. I can't say because I was never in charge of the money. Those who were probably knew but they're no longer alive but they knew and they knew where, although this isn't written down, because later they lived well, I saw that they ate ducks and chickens.
Raz poszedłem do Szuldenfraja, bo on już leżał w szpitalu, był już chory taki. On był chory jeszcze w Milanówku, leczył go doktor Lipszyc. To jest ten pan, który jak zaczynał swoją karierę polityczną, to się bardzo wstydził i miał przemówić, bo był wyznaczony. Więc podnosi rękę. Przewodniczący go wzywa do głosu, to mówi: 'Przepraszam, czy można otworzyć okno? Bo jest duszno'. Zaliczył swoje przemówienie. A to był fajny facet. Genialny lekarz z Krakowa. No i tak. Ale dlaczego o Lipszycu, to ja nie wiem, ale tak było.
[Q] Szuldenfraj, Feiner...
Szuldenfraja rozpoznał Lancberg, rozpoznał go w Milanówki chyba, miał raka płuca i już w Lublinie... już był bardzo chory. No i tak... i tak był taki chory i leżał w łóżku. I ja poszedłem do niego. Ja muszę powiedzieć, go nie lubiłem, bo był krakus skąpy, pieniędzy od niego nie można byłoby dostać, bo szkoda, prowadził zeszyt z tymi pieniędzmi, ale to nie ma nic do rzeczy.
[Q] Marek, Ty mówisz o Feinerze.
Feinera, tak, to Feiner leżał w szpitalu, nie Szuldenfraj, Szuldenfraja był w radzie narodowej, nie wiem, jakimś dyrektorem, może był delegatem, nie mogę powiedzieć. Ale jako Bund on występował, co mnie strasznie dziwiło, że z tymi komuchami on się zdaje, to było coś okropnego, ale z tego miałem pożytek potem. I jak poszedłem do Feinera do... do szpitala, to już był umierający, faktycznie. No i miał ten zeszycik z tą kasą bundowską, co nigdy nie chciał dać z niej pieniędzy, tam w środku leżało, o ile dobrze pamiętam, 10 dolarów i wypisane każde pięć dolarów na kogo wydane, kiedy, którego dnia itd. I już. Ale i tak go okradli, według mnie. Bo pieniędzy było więcej, a gdzieś się rozpłynęły, tylko to nie z jego powodu. No bo ja wiem, ja sam miałem pieniądze, które tam nie były zapisane, bundowskie. U mnie komuniści wyłudzili pięć tysięcy, przez Antka pięć tysięcy, nie pamiętam, wydaje mi się, że pięć tysięcy dolarów, bo zdychali w tym Grodzisku z głodu.
[Q] Komuniści, nie syjoniści?
Komuniści. I Anka Kowalska, i Kowalski, oni byli zagłodzeni na śmierć, bo Stalin im pieniędzy nie dawał, kazał tylko się zabijać. Nie dawał im pieniędzy. Więc ja miałem pieniądze, właśnie nie pamiętam skąd, ale w zeszycie u niego nie było tych, to może były jakieś inne, inną drogą, nie wiem. Bo były różne te drogi tych pieniędzy, szły jedne przez Delegaturę, drugie przez te jointowe kontakty, nie umiem powiedzieć, bo ja tej kasy nigdy nie prowadziłem. Ci co prowadzili, to pewnie wiedzieli, już nie żyją, ale wiedzieli i wiedzieli gdzie, co nie jest zapisane, bo potem im się dobrze powodziło, bo widziałem, że jedli kaczki i kury.
Marek Edelman (1919-2009) was a Jewish-Polish political and social activist and a noted cardiologist. He was the last surviving leader of the 1943 uprising in the Warsaw Ghetto. Following the Second World War, he took an active part in domestic and international politics, dedicating himself to fighting for justice and peace.
Title: Feiner's notebook
Listeners: Anka Grupinska Joanna Szczesna Joanna Klara Agnieszka Zuchowska
Anka Grupinska studied English at the Adam Mickiewicz University in Poznan, Poland. She wrote for Poznan's underground publications and was herself one of the founding publishers of the bi-monthly Czas Kultury. She spent 1988 and 1989 in Israel compiling reminiscences of Holocaust survivors. From 1991 to 1993, she held the post of Cultural Attache at the Polish Embassy in Tel Aviv. She moved back to Poland in 1996 and now writes books on Jewish subjects, mainly dealing with the history of the Warsaw ghetto. She is also a freelance journalist for Tygodnik Powszechny. Anka Grupinska is the director of the Centropa Foundation project in Poland (oral history project) called "The Witness of the Jewish Century¿, presents her own radio programme, "Of Jews and of Poles too¿, and teaches creative writing and oral history in Collegium Civitas and SWPS in Warsaw.
Anka Grupinska ukonczyla filologie angielska na UAM w Poznaniu. Wspólpracowala z poznanskimi pismami podziemnymi, wraz z innymi zalozyla i wydawala dwumiesiecznik "Czas Kultury". W latach 1988-1989 przebywala w Izraelu opracowujac wspomnienia ocalalych z Zaglady. W latach 1991-1993 pracowala jako attaché kulturalny w ambasadzie polskiej w Tel Awiwie. Od 1996 mieszka w Polsce. Anka Grupinska specjalizuje sie w tematyce stosunków polsko-zydowskich. Publikuje ksiazki (m. in. Wydawnictwo Literackie, Zydowski Instytut Historyczny, Twój Styl), artykuly prasowe (m. in. "Tygodnik Powszechny", "Rzeczpospolita"), realizuje projekty wystawiennicze. Jest takze koordynatorem miedzynarodowego projektu "Swiadek zydowskiego wieku" (archiwizowanie pamieci o zydowskiej przedwojennej Polsce), prowazi autorska audycje radiowa "O Zydach i o Polakach tez" i uczy warszawskich studentów sztuki czytania i pisanie tekstów literackich.
Joanna Szczesna, dziennikarka "Gazety Wyborczej", autorka - wraz z Anna Bikont - biografia polskiej noblistki "Pamiatkowe rupiecie, przyjaciele i sny Wislawy Szymborskiej". Od lat 70-tych zwiazana z opozycja demokratycznaw Polsce, wspólpracowniczka Komitetu Obrony Robotników, wspóltwórczyni prasy niezaleznej w Polsce: redaktorka "Biuletynu Informacyjnego KOR-u", Agencji Prasowej "Solidarnosc" i "Tygodnika Mazowsze".
Joanna Szczesna is a journalist writing for Gazeta Wyborcza. Together with Anna Bikont, she's the author of Pamiatkowe rupiecie, przyjaciele i sny Wislawy Szymborskiej (The Recollected Flotsam, Friends and Dreams of Wislawa Szymborska) a biography of Wislawa Szymborska, the Polish winner of the Noble Prize for Literature. Since the 1970s, Joanna Szczesna has been involved with the democratic opposition movement in Poland, active in the Worker's Defence Committee (KOR), the co-founder of the independent press in Poland: editor of KOR's Information Bulletin, Solidarnosc Press Agency and Tygodnik Mazowsze.
Joanna Klara Agnieszka 'Aga' Zuchowska, urodzona 20 stycznia 1938. Ojciec zginal w Katyniu. Po wojnie zamieszkala w Lodzi. Studia ukonczyla w 1960 r. a specjalizacje z chorób wewnetrznych w 1973 r. Doktorat obronila we Wroclawiu. Pracowala z Markiem Edelmanen przez 15 lat. W 1982 r. wyjechala do Algerii. Wrócila do Polski w 1985 r. i mieszka obecnie w Lodzi.
Joanna Klara Agnieszka 'Aga' Zuchowska was born 20 January 1938. Her father was killed in the Katyń massacre. After the war, she moved from Warsaw to Lódz. She obtained a degree in medicine in 1960, qualifying as a specialist in internal medicine in 1973. Dr Zuchowska worked with Marek Edelman for 15 years. In 1982 she left Poland for Algeria where she remained for the next three years, returning to Poland in 1985. She currently lives in Lódz.
Tags: Milanówek, Kraków, Lublin, Bund, Grodzisk, Michał Szuldenfraj, dr Adam Lipszyc, Józef Feiner, Anna Kowalska, Stalin
Duration: 3 minutes, 38 seconds
Date story recorded: December 2003
Date story went live: 24 January 2008