NEXT STORY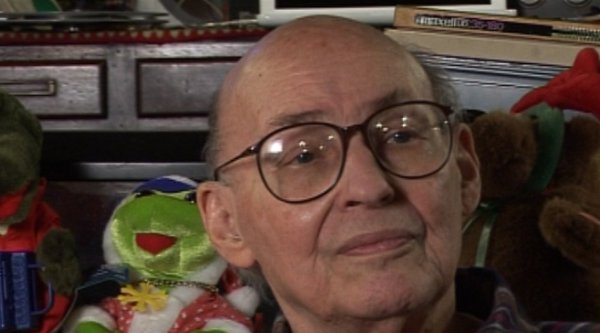 Building an intercontinental missile in Buckminster Fuller's backyard
An early understanding of basic physics
1
2
3
4
5
...
16
I built a robot arm, but I can't remember if I was in college by then; that must have been later, don't you think? When did I build that? I was already at MIT. Oh, yeah, I built some structure out of Tinker toy in the lobby of a hotel; I had a lot of Tinker Toys – sticks and rods – and my impression is that this… this tower was about 15ft high, much higher than three times my height, and adults would come by and express some question about how… how could such a small person build such a high object? And I was having trouble understanding how they could wonder such a thing, because the thing isn't very heavy, so it's just a matter of building another layer and then lifting it up carefully and putting it on, and…
And one of the things that I understood rather early was that the longer something is, the easier it is to balance it. And one day when I was much older we went to the circus in Boston, watching a clown who was doing some juggling, and also a wonderful trick where you spin a plate; and there must be a dent in the bottom of this plate. So he puts the plate on a stick and it's still spinning, and he takes another stick, like a quiver of arrows, and puts it on, and it gets higher and he's walking around balancing it, and he keeps putting more sticks… And it's really quite remarkable, because he has enough sticks that this spinning plate gets up to the top floor of the Boston Garden which is really six or seven stories high, so it must be 80ft of… 70 or 80ft, which means maybe 20 of these sticks.
And the audience gets more and more excited as this clown is balancing this enormously long structure, and I'm staring at this audience and realizing that here are 10,000 people who don't understand that the longer is the stick, the easier it is to balance. What I couldn't figure out is why the plate is still spinning, which I still don't know; it must have very low friction. But again, this is a picture where you see a mass audience who don't seem to understand what they're seeing at all, in terms of elementary physics. If you have an 80ft stick, and you tilt it, it falls very, very slowly, and you can walk this fast and balance it, and if you go too far, then you go back; if it's this high, it falls over before you can move.
And… so from this very early childhood scene to this re-enactment of it in the... in the circus, this realization that people don't understand the most important and simplest things about physics, how… how does that happen? Everyone knows that you can pull something with a string but you can't push it, so there's some elementary facts about things that everybody understands. And then there seem to be equally elementary things that somehow are not part of education, and people don't often learn it by experience, for some reason.
Marvin Minsky (1927-2016) was one of the pioneers of the field of Artificial Intelligence, founding the MIT AI lab in 1970. He also made many contributions to the fields of mathematics, cognitive psychology, robotics, optics and computational linguistics. Since the 1950s, he had been attempting to define and explain human cognition, the ideas of which can be found in his two books, The Emotion Machine and The Society of Mind. His many inventions include the first confocal scanning microscope, the first neural network simulator (SNARC) and the first LOGO 'turtle'.
Title: An early understanding of basic physics
Listeners: Christopher Sykes
Christopher Sykes is a London-based television producer and director who has made a number of documentary films for BBC TV, Channel 4 and PBS.
Tags: MIT, Boston, Boston Garden
Duration: 4 minutes, 27 seconds
Date story recorded: 29-31 Jan 2011
Date story went live: 09 May 2011