NEXT STORY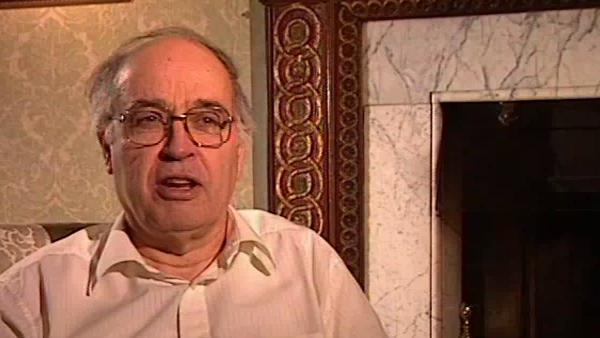 Problems with the first proof
First proof for the index theorem
Michael Atiyah
Mathematician
1
...
3
4
5
6
7
...
10
I went to Oxford in '61, I think he came there shortly afterwards for that visit, and I just… I was just reading the talk I gave at the Stockholm Congress. Stockholm Congress must have… you can work out, Nigel, better than I do… '54, '58, '62. So in the talk I gave at the Stockholm Congress, I... I ended up by saying here was the problem about the index and we had some conjectured formulas, and a little footnote saying it's now been proved. So, you know, the Congress was '62, by the time that it appears it must have been '63. So probably, only a year and a half or something like. In retrospect it was probably… it seemed longer but I think… but of course, there were various versions of the proofs. That was, you know, the first proof probably was… I went to spend a term in Harvard, two terms, I went once in '62 and once in '64 and each time we had seminars, Bott and Singer, on that. And the proof was certainly worked out around that time, talking to them and talking also to Nirenberg who, you know, he helped us on… he was more expert on differential equations. He was a friend of Singer's so we brought him in. We brought in all the experts we needed, you know, as we went along.
So the first proof probably took… it evolved over a year and a half, something like that, and I remember when Singer was here we used to walk round and round the park in Oxford, in the university parks, struggling to find different approaches, you know. We didn't have… we had various different versions and eventually we got down to trying to sort of reduce it to a boundary value problem, and then what exactly… which boundary value problem and… so it took a while, but then eventually of course there were, subsequently, you know, any number of different proofs; some of which I worked on, some of which other people worked on. So it went on being improved and modified over many years, but the first stage was round about… it must have been about first '63, I suppose, yes.
Eminent British mathematician Sir Michael Atiyah (1929-2019) broke new ground in geometry and topology with his proof of the Atiyah-Singer Index Theorem in the 1960s. This proof led to new branches of mathematics being developed, including those needed to understand emerging theories like supergravity and string theory.
Title: First proof for the index theorem
Listeners: Nigel Hitchin
Professor Nigel Hitchin, FRS, is the Rouse Ball Professor of Mathematics and Fellow of Gonville and Caius College, Cambridge, since 1994, and was appointed to the Savilian Professorship of Geometry in October 1997. He was made a Fellow of the Royal Society in 1991 and from 1994 until 1996 was President of the London Mathematical Society.

His research interests are in differential and algebraic geometry and its relationship with the equations of mathematical physics. He is particularly known for his work on instantons, magnetic monopoles, and integrable systems. In addition to numerous articles in academic journals, he has published "Monopoles, Minimal Surfaces and Algebraic Curves" (Presses de l'Universite de Montreal, 1987) and "The Geometry and Dynamics of Magnetic Monopoles" (Princeton University Press, 1988, with Michael Atiyah).


Tags: Stockholm Congress, Harvard, Isadore Singer
Duration: 1 minute, 58 seconds
Date story recorded: March 1997
Date story went live: 24 January 2008