NEXT STORY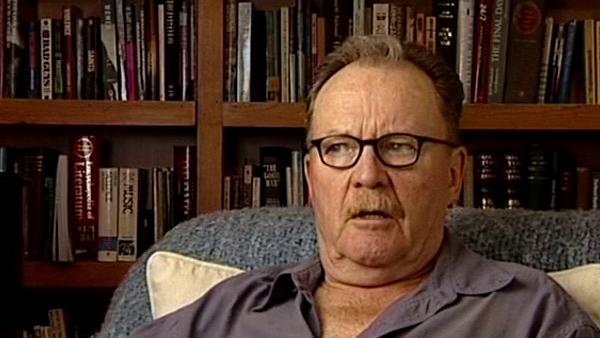 Paul Shrader's Hardcore
'The movie life is kind of like a club'
Michael Chapman
Film-maker
1
...
3
4
5
6
7
...
10
We were friends and we still are... I mean, we don't see each other much – he lives in San Francisco – but we were friends; we were roughly the same age, we both had a more academic background than Marty [Martin Scorsese] or most of those other people – he'd been to the University of Chicago – and he actually... I don't want to say that... no, he... he had a more... a more traditional academic background than most of those directors, as I did, far more, and that... that was a kind of bond between us, and we... I don't know, we just... you know, I think you were saying about various other people who've been interviewed... we just got along, we were friends, we were genuinely friends and enjoyed each other's company, and had many of this... because we came from a somewhat academic – in my case, ridiculously academic – background, we shared many references to... to various figures of one kind or another, and there was a kind of shorthand that we could talk; just as Marty and I had a shorthand about Godard and about this and about that and obsession with movies, Phil and I had a kind of academic shorthand that we could talk about, we could mention. Those things, when they work like that, you don't... they're not... they're not a shorthand of specific things; you don't say, 'You remember Act II of As You Like It', or whatever – you just mentioning something creates a kind of goodwill in the other person, and mentioning Godard would create a kind of sense of bond between me and Marty, mentioning something little, or 'Do you remember that time in such and such' and... they're not... they're not site-specific in a way; they're just creating a sense of comradeship more than anything else, really, which is very useful and saves a lot of time, you know. When you trust each other, things go faster, and when they go faster you have more time to do the real work and you don't have to act things out and convince each other, you can just go, and it's a great release when it happens. It doesn't always happen, but when it does it's a great release. And it's not that you...you think, I'm doing all this and I'm covering his ass or anything like or... or on the other hand that he's doing everything and not letting me do enough – none of that occurs to either one of you; it all divides as a division of labor which is hardly even a division, you know, it's without... without any friction and it just goes, and it's wonderful when that happens. It's rather like a love affair, and it's really quite wonderful when it happens. Wonderful when it happens with certain key crew guys too when... and I've been very lucky about that, both in New York and here, when the crew guys with you know and trust you and know what you want so... so easily that they don't even have to ask and you can just almost point and say, you know, 'I just don't want the light to come this, the light comes like this', and it's... you don't have to jolly them along, and they all work at your pace; it's wonderful when that happens.
It's... I think not perhaps enough is said about how much a movie... life on a movie set and the... the movie life is kind of like a club in a curious way, you know; it's like a men's club, but not so much a men's club, and in fact never was really a men's club, but like a club, and there is an enormous amount of social satisfaction when it runs well – when you have the same guys movie after movie and the same director movie after movie, and you're all doing it as a... as a troupe, a theatre troupe; you're itinerant players like people in Pagliacci or something – Cavalleria Rusticana – you're just travelling through the world, doing this stuff... it's enormously satisfying, and it makes up for the hideous hours and the rest of the sort of awfulness of it; it... it's very seductive... very, very seductive. Ruinous to... to marriage and children and all sorts of things, but in itself enormously seductive. It's like a sort of endless summer camp with sex, you know; it's just... it's really, really seductive, and as you get older, it's not as seductive as you don't have as much energy and you can't... you can't do that, you know... you can't do that and then drink all night and do all that stuff and... and go out and party – you can't, and God knows I can't anymore – and, often, what passes for wisdom is really just exhaustion – but in its day and when you're doing it, and when you're young or younger and the movies are coming and the movies turn out well and... and the guys you're doing it with are friends and everything, it's a very, very seductive life. God knows it seduced the hell out of me; and not just me, but many people I know too. There's... there's nothing I know... it's a world that's unlike any other – rather like the army except you don't shoot each other so much and... and the food's better – but more people die in the movies in the end because they just keep going until they die, but it... it has that quality, you know. I forget who said that it's a good thing war is so terrible or we'd never be able to stop it because it's so fascinating; well, movies are sort of like that.
Michael Chapman (1935-2020), an American cinematographer, had a huge influence on contemporary film-making, working on an impressive array of classic films including 'Taxi Driver', 'Raging Bull', 'The Lost Boys' and 'The Fugitive'.
Title: 'The movie life is kind of like a club'
Listeners: Glen Ade Brown
British Director of Photography and Camera Operator Glen Ade Brown settled in Los Angeles 10 years ago.

He has been working on features, commercials and reality TV. He played an instrumental role in the award-winning ABC Family series "Switched" and is also a recipient of the Telly and the Cine Golden Eagle awards for Best Cinematography. He was recently signed by the Judy Marks Agency and is now listed in her commercial roster.
Tags: Jean-Luc Godard, Martin Scorsese, Phil Kaufman
Duration: 5 minutes, 21 seconds
Date story recorded: May 2004
Date story went live: 24 January 2008