NEXT STORY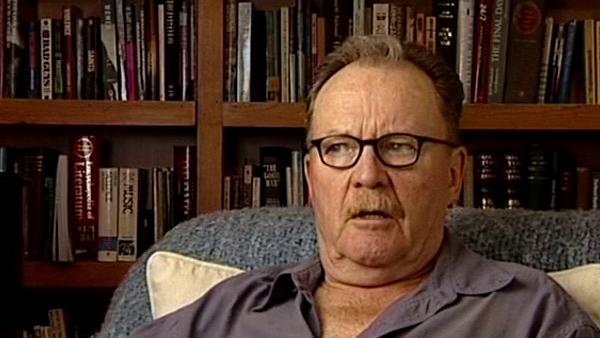 The Lost Boys: Covering all the genres
Interesting moments in ordinary movies
Michael Chapman
Film-maker
1
...
5
6
7
8
9
10
Most of the movies that you do... regardless of who you are – even if you're Michaelangelo – a lot of the stuff is... you'd work it for money, and you're making... you're working on a studio movie, and you're doing as a good a job as you can in... and whatever is appropriate to the movie, but the movie is not Shakespeare, and it's not Raging Bull, and it's not Taxi Driver, you know. It's a... it's a job. And I don't think there's anything wrong with that. In fact, quite the contrary. I think, often, some of the most memorable shots, or some of the shots in which you trick your unconscious, as I was talking earlier, into doing something nice; it can be perfectly ordinary. You know, dumbbell old movies. There are sequences in all sorts of really quite silly movies that I remember with real fondness. For instance, I think we skipped over a movie called The Next Man, with Sean Connery, where he plays an Arab... yes, right, he plays an Arab ambassador or something with a heavy Scots accent, and it's an unbelievably forgettable movie, except for one sequence which is shot... which was shot in a helicopter, and why were we in a helicopter? Don't ask me, but we were and for reasons of plot. Sean Connery and some other people were in a helicopter flying over Manhattan at sunset, and I was in the helicopter... in the helicopter with them with a handheld camera, and they're... they're saying lines and he's looking down and saying, 'It's a magic city', and various things like that. And out the window you can see Manhattan and the helicopter keeps banking here and banking there. You know, don't ask me what the scene was about or why we were in a helicopter over New York at sunset, but we were. And it suddenly shows you Manhattan... that when you saw it... you realized that Manhattan was clearly designed to be seen from the air, exactly like that. And it was... it was a magic city. I can't do his Scots accent, but it was a magic city. And... we could look over their shoulders and there was plenty of light, and I stopped way down so that everything was sharp, and, by God, it's a beautiful sequence. It really is gorgeous. Utterly forgettable movie other than that. But that one sequence has a... has magic to it.
I mean, it really is wonderful. It's what movie... suddenly it shows you what a movie can do, you know. It puts these people in this perfect position, in a helicopter flying over Manhattan... for whatever silly reason, they were flying over Manhattan in a helicopter. But there they are, and there's Manhattan and it suddenly works. And it's suddenly... wow, that's what a movie is. And that was nice, and it happens all the time, and that happens in the most pedestrian movies. Every once in a while something just comes together and makes it all worthwhile in... other than paying off your mortgage, and all the rest of it, and making money and this and that. But that happens and it happens... you never know when it's going to happen or in what circumstances, or why, and that's one of the reasons why no movie should be sneered at and you should take... you know, you should take whatever the best is that comes along when you need the money, because every once in a while something's going to happen in any movie, and you never know when that will be. And when it does, it's wonderful. And was there something in... Yes, there was, yes. In... in Shoot to Kill there was a moment of filming Sidney Poitier with a... with aluminum foil wrapped around it, a lunch tray in the water in the Bahamas. And I thought, here I am and look at that. Isn't this fun, you know. And that happens all the time, and it makes up for the hours and the whatever, and the drive home – all the rest of it.
Michael Chapman (1935-2020), an American cinematographer, had a huge influence on contemporary film-making, working on an impressive array of classic films including 'Taxi Driver', 'Raging Bull', 'The Lost Boys' and 'The Fugitive'.
Title: Interesting moments in ordinary movies
Listeners: Glen Ade Brown
British Director of Photography and Camera Operator Glen Ade Brown settled in Los Angeles 10 years ago.

He has been working on features, commercials and reality TV. He played an instrumental role in the award-winning ABC Family series "Switched" and is also a recipient of the Telly and the Cine Golden Eagle awards for Best Cinematography. He was recently signed by the Judy Marks Agency and is now listed in her commercial roster.
Tags: Manhattan, New York, Shoot to Kill
Duration: 3 minutes, 35 seconds
Date story recorded: May 2004
Date story went live: 24 January 2008