NEXT STORY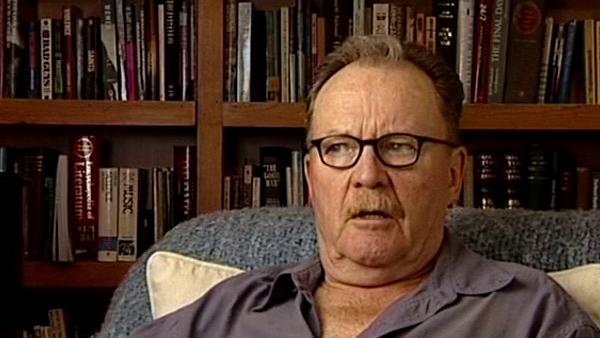 Scrooged: Meeting Bill Murray
The Lost Boys: Covering all the genres
Michael Chapman
Film-maker
1
...
5
6
7
8
9
10
The Lost Boys is a vampire movie, with Keifer Sutherland and various other people as these vampires metaphorical... whatever they are. But I've always liked horror movies. I love vampire movies and, particularly, I love werewolf movies. I've never gotten to do a werewolf movie, except maybe Taxi Driver, but... I've always wanted to do it. If anybody wants me to a werewolf movie, I'll really do it very cheaply. I love werewolf movies. But I quite like vampire movies too. I like horror movies of all kinds. They seem wonderfully metaphorical, you know. Vampire movies are obviously about the sort of oral stage of sexuality and I think that werewolf movies are about the anal stage, you know, it's sort of there behind and you don't know what it is... is it going to erupt? No, I think that's true, really. I know it sounds silly, but I... so I got to do a vampire movie and I've always wanted to do every kind. You know, in a way, [The] White Dawn was my western. Although I did do a western which we skipped over, and just this last... under an assumed name, because I... well, that's a long story.
Oh my God. I'd fled New York with the woman who is in the other room and I had no money, and I was out here. But I was a reasonably well-known cameraman. How did we get into this? Oh, I know. So I couldn't just do movies under my own name, you know. And I didn't have a card in the Union here. At that time there were separate Unions and I was really broke. I had left with, like, 35 cents. And so I got a job doing a pathetic non-union western in New Mexico and Arizona with various actors and things who were on their uppers, for one reason or another, or in low points in their career. And I couldn't do it under my own name, and so I did it under the name of... I can't think. What's the name of... of the hero of the Henry James novel, The Ambassadors? Oh, Jesus. Sort of naive middle-aged New England man, off in the great world of Paris, in this case. I thought it was just right so I took his name and did the movie under that name. Now, isn't that terrible, it's a good... and I can't remember the man's name. Bloody hell! Anyway, I don't know how I got off on that, but... what was I talking about? Oh, vampire movies, yes! [The] Lost Boys. The Lost Boys, mmmm. I think maybe I... Well, Lost Boys is worth seeing. Lost Boys is worth seeing because it is really quite a stylish, slightly comedic, vampire movie and it's, I think, Joel Schumacher's most heartfelt film, really.
Michael Chapman (1935-2020), an American cinematographer, had a huge influence on contemporary film-making, working on an impressive array of classic films including 'Taxi Driver', 'Raging Bull', 'The Lost Boys' and 'The Fugitive'.
Title: "The Lost Boys": Covering all the genres
Listeners: Glen Ade Brown
British Director of Photography and Camera Operator Glen Ade Brown settled in Los Angeles 10 years ago.

He has been working on features, commercials and reality TV. He played an instrumental role in the award-winning ABC Family series "Switched" and is also a recipient of the Telly and the Cine Golden Eagle awards for Best Cinematography. He was recently signed by the Judy Marks Agency and is now listed in her commercial roster.
Tags: The Lost Boys, The Ambassadors, Henry James, Joel Schumacher
Duration: 2 minutes, 53 seconds
Date story recorded: May 2004
Date story went live: 24 January 2008