NEXT STORY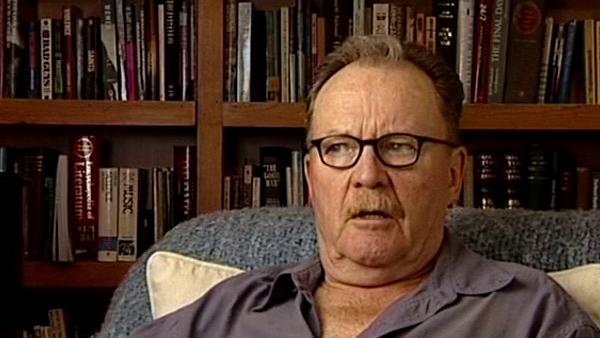 The Fugitive: Harrison Ford and Andrew Davis
Rising Sun
Michael Chapman
Film-maker
1
...
6
7
8
9
10
That turned out to be a perfectly nice movie, but it was a... it was a movie about an utterly false issue, how the American economy was going to be taken over by this new giant from the Orient, Japan, which, of course, turned out to be... within three or four years Japan... the Japanese economy was in utter collapse and the banking system was bankrupt, so the fear that Japan was taking over the world turned out to be not really one of the great fears of our time. So the movie had a certain redundancy, I think. But... but it was fun to do and I... I always enjoyed working with Phil [Philip Kaufman], and not so much with Sean [Connery], but I had a good time with Phil, and you know. Who else... who else was in it? Oh yes, Wesley Snipes. Wesley Snipes, yes. Wesley Snipes, yes. He'd come a long way from being this kid in Bad; now he was a big star, but he did a good job. Very straightforward guy. The only amusing thing that I can think of in that was that we had a long... several long sequences where Sean and Wesley Snipes are driving at night, and Sean... and because we had to accommodate Sean Connery we couldn't do what I would have done under the circumstances – we just put them in a car and go off driving at night and film them. We had to do it in a studio with rear projection and all that. So we would go off and shoot rear projection of where we were going to do it. It was fun to do. That was fun to do – sort of old-time stuff that I very seldom got a chance to do, so I enjoyed that. We filmed what they would see out the back, and we filmed what they would see out the front. We filmed what they would see out one side, and the other side. And then, when we turned around and looked at them, I projected, I synched up... I took projectors instead of lights, and I projected the light that they saw that way, back onto their faces, as if... of course, as, in fact, it would show on their faces. And it worked wonderfully. Once you synched up the shutter so that they... you know, they were always open at the same time, it turned out to be a marvelous way to light them, and totally effective and convincing of driving by at night, you know, because there would be a flash of this and a flash of that, and there would be patterns on their faces. It was wonderful.
But it... it began to evoke some sort of response in Sean Connery. It was making him sick to his stomach and he couldn't... it was as if... what is it? As if he was being attacked by some sort of disease, and he kept saying he couldn't do it. He couldn't have this happening because he was... And I said, 'This is ridiculous; look... here's... here's Wesley Snipes sitting next to you.' I said, 'Wesley, is it alright for you?' He said, 'No, it's just like the IRT. It was just like travelling the subway in New York, seems alright to me.' And Sean couldn't do it, and couldn't... kept on and then finally it got to be a huge brouhaha and they brought in the agents and huge people and started... you know. I say, 'Come on, I just made it; it works great, come on.' And then they... they brought in a doctor. And he said that Sean was suffering from something called photophobia, which I took to mean fear of cinematographers. And... and finally we had to stop and they wouldn't... fortunately, we got... by sort of shooting while arguing, we got... gotten into most of it. But then finally I couldn't do it anymore.
It turns out a wonderful way to do that part of rear projection. I mean, you know, we're looking back out the window, we have regular rear projection, but on their faces, instead of lighting them solidly with some sort of silly light, we just lit them with... in fact, what the light was coming, and we did it with projectors rather than... and I would change the lenses on the projectors. Most projectors have a kind of zoom lens sort of thing, and I would change what the size of... of the lens was, depending on how I wanted to shoot them. And it works out wonderfully. If you have the time and the money to go and make those shots the night before and have them processed, and you can set up projectors on either side of the cab, or the police car in this case, which is what they were doing. But, anyway, it brought on something called photophobia. And never do it again. You know, I don't mean to denigrate these movies, these studio movies I did, but they're not necessarily filled with wonderful, innovative inventions of cinematography. They weren't meant to be. They were meant to be big and satisfying studio movies. Although I'm very fond of that and I have a couple of times done it since then – projected, lit... lit people with projections. We had to be very careful about sinking up the projectors with the... with the shutter of your camera or you'll get, obviously, just blankness. Because your shot will be open and theirs is closed. But if you synch it all up, it works wonderfully.
Michael Chapman (1935-2020), an American cinematographer, had a huge influence on contemporary film-making, working on an impressive array of classic films including 'Taxi Driver', 'Raging Bull', 'The Lost Boys' and 'The Fugitive'.
Title: "Rising Sun"
Listeners: Glen Ade Brown
British Director of Photography and Camera Operator Glen Ade Brown settled in Los Angeles 10 years ago.

He has been working on features, commercials and reality TV. He played an instrumental role in the award-winning ABC Family series "Switched" and is also a recipient of the Telly and the Cine Golden Eagle awards for Best Cinematography. He was recently signed by the Judy Marks Agency and is now listed in her commercial roster.
Tags: Japan, Bad, Rising Sun, Philip Kaufman, Sean Connery, Wesley Snipes
Duration: 4 minutes, 41 seconds
Date story recorded: May 2004
Date story went live: 29 September 2010