NEXT STORY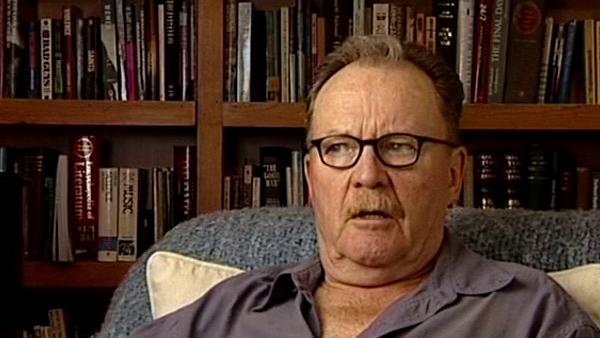 New challenges: A werewolf movie and a prison movie
New challenges: Food and painting
Michael Chapman
Film-maker
1
...
6
7
8
9
10
I would like to be a really good cook. I don't know that I'd do in terms of movies much so much anymore. I want very... I'm very interested in cooking. I would really like to... I'd begun to be pretty good at cert... at a few things. Also, I'd like to have... I know this sounds silly but, in fact, I feel just as strongly as I did about movies: I would... want to get to our place on the Vineyard so I can get my vegetable garden started. I very much want to have a really good vegetable garden. And one of the nicest things about the place we have on the island of Martha's Vineyard is the food. Especially the seafood. I mean, you can go out... you can just get up in the morning and go down at low tide and dig the clams you want yourself, and come home and steam them and make clam spaghetti, with your own tomatoes and your own garlic, and... it's not your own olive oil, but everything else is your own stuff, right there, and it's... let me tell you: it's nice. It's... that's art, you know. It's just... it's very much art. It's just art that unfortunately is... is perishable because you eat it, so you don't... it doesn't stay around, but, I mean, it's the real thing. It's... and I'm very interested in that.

[Q] How did you, like, get into the culinary...

I would like... what?

[Q] How did you get into... just like... Yeah.

Oh, just by living and eating, you know. And slowly... for instance, when we were here earlier, instead of having my wife make tea for us all, we all went out and made our own tea. And we made... you put in as much honey as you wanted, and I put in rather more honey than you did, I suspect. I put in milk; you didn't put in milk. And everyone begins, as they go through life, to have their own very particular needs and... and things that please them. And I... my wife's an excellent cook, and all sorts of people have been good cooks in my life, but I began, as time went on, to have very particular tastes of my own that only I could satisfy. So now I make, for instance, curried turnips with... with some tomatoes and raisins and, oh, a lot of curry, and you mix it with rice, and it's just right for me, you know. And I have a specific way of making rice. I don't use water; I use vegetable broth to... to cook it in. Even though I'm a vegetarian, I cheat and I put in a little chicken broth, but I don't tell. I'm only... I'm only revealing that to the world now. But, it's 80 or 90... 75 or 80% vegetable broth, but a little chicken broth does make some difference, and some... well, never mind, I'm not going to go into it... but you know, I have very particular tastes, and I love to... I mean it's totally selfish, but I love to gratify them.
And on the Vineyard, we can... we live in terms of food, I mean, it's ridiculous. You can't... you can't... in no restaurant in the world can you get the kind of food that we can just go out and harvest. I mean, I can go out and catch some blue fish, or a striper, or whatever, and can bring them home and cook them, right then, you know. And with... once I can get there and get it going, with the stuff from our own garden. As far as culinary life, it's ridiculous that it's so nice. And pick wild blueberries and... wild blueberries, by the way, are one of the great things of the world and they're disappearing like wild trout and that stuff. This is nothing to do with cinematography, but it's important. It's art. It's really art. Wild blueberries, which are a native American crop, have slowly been subverted by high-bush blueberries and commercially grown blueberries, which don't taste at all like the real ones. You have to go to Maine, where... particularly the part of Maine where my ancient mother lives, where the wild blueberries... wild low-bush blueberries are still grown and harvested. They're a completely different fruit. They don't taste the same at all. Just like wild trout in streams don't taste like hatchery trout. And very soon the world is not going to know what wild eastern brook trout taste like, because they'll have disappeared. Partly from the blueberry barons because they use now... now they use all kinds of chemicals to keep the herbicides and things... to keep the other stuff down, and it goes into the streams and kills the trout, and you can't catch the wild trout anymore, so there are only going to be hatchery-raised trout. Just as there will increasingly be only hatchery-raised salmon, and hatchery-raised salmon doesn't taste the same at all as wild Atlantic salmon. And pretty soon the world is not going to know what wild trout, or wild blueberries, or wild salmon, actually taste like. And that is a great loss, let me tell you!
When I was a kid, my father and I used to walk down to a stream in Chamberlain, Maine, and catch 8, 10 inch trout for breakfast, you know... 6, 8, 10. Just come back and then clean them and eat them. And it's one of the great culinary delights of the world... of the world! And you can't do that anymore, just about. A few places you can. There's one place on the Vineyard that still has some wild trout that are not... that have always been there. And I and a few other people know where to go, and so I occasionally go get... just... you know. But, just about, you can't do it. It's very sad that that's disappearing from the world. Very, very sad, I think. And that my children's children will never know what those things tasted like. And that has nothing to do with cinematography. No, but we were just finding out what your passions were, and that's interesting. But if you were asking what passion absolutely inspires me now, yes.
And I'd like to go back to painting and drawing too, and try. I'm never going to be that good at it, but I'd like to try, really, again without... with just being there by myself. I can't seem to paint in California much; I don't know why. The light's different, or something. But I can paint back there, partly because that's where I grew up, in New England, and it reminds me of my childhood. I would like to go back to really working reasonably diligently at painting and drawing. I still draw a lot but I don't... I don't paint much anymore. And I would like to try that. That stuff very much interests me, makes... I want to do as much... more, I think, than I want to do cinematography anymore. I've pretty much done what I can do, you know. Unless I could get into a whole new world of what you were talking about... pixel camera? Pixel. And that sort of stuff. That would interest me enormously. But nobody's going to hire me to do that, you know. And I'm not going to... And I don't know how to do it myself enough. I mean, I know how to do it myself, but I don't know how to do it in any way that was distributable.
Michael Chapman (1935-2020), an American cinematographer, had a huge influence on contemporary film-making, working on an impressive array of classic films including 'Taxi Driver', 'Raging Bull', 'The Lost Boys' and 'The Fugitive'.
Title: New challenges: Food and painting
Listeners: Glen Ade Brown
British Director of Photography and Camera Operator Glen Ade Brown settled in Los Angeles 10 years ago.

He has been working on features, commercials and reality TV. He played an instrumental role in the award-winning ABC Family series "Switched" and is also a recipient of the Telly and the Cine Golden Eagle awards for Best Cinematography. He was recently signed by the Judy Marks Agency and is now listed in her commercial roster.
Tags: Martha's Vineyard
Duration: 6 minutes, 38 seconds
Date story recorded: May 2004
Date story went live: 29 September 2010