NEXT STORY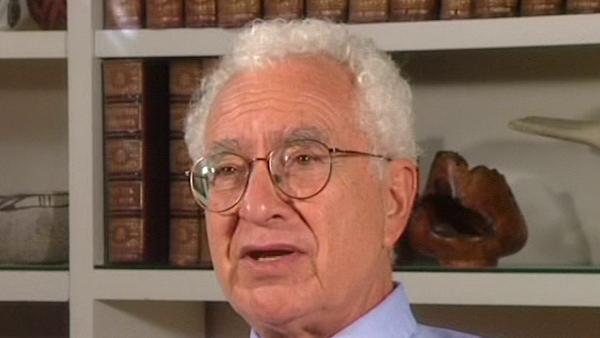 Criticism of Julian Schwinger
Murray Gell-Mann
Scientist
1
...
9
10
11
12
13
...
20
I was very worried about the job situation. I was under a lot of pressure because now I was offered a position also at Berkeley which I loved very much. I didn't know that Berkeley was about to descend into chaos, more than Harvard, and certainly more than MIT, and of course very much more than Caltech, which never had chaos at all. So I thought seriously that I'd like to be a professor at large at the University of California, based mostly in Berkeley. It seemed to me a very attractive position. I loved Berkeley. I was not too fond of Pasadena, but I liked... I liked Berkeley very much. And there were other campuses that were nice too, I could spend some time in San Diego, I could spend some time in Santa Barbara and so on and so on. The whole thing sounded quite nice. But my first wife, Margaret, was somehow never content with the idea of moving to central California. I don't know why, still don't know why, but she didn't like it for some reason, or she didn't like the idea of moving somewhere for the... mainly for the climate. I had been boosting Cambridge Massachusetts for years, saying that it was a place where you could carry on intellectual conversations and so on and so forth, and… and now... we had been talking for a long time about possibly moving there, taking a job either at MIT or at Harvard or a mixture of the two, and now suddenly, from her point of view, there was this intruder, this idea of going to...
[Q] She liked the idea of Cambridge?
Oh yes. Yes, she liked it very much. And now all of a sudden there was this competing idea and all I wanted her to do was to take it seriously, but she wouldn't. But she wasn't in any way trying to dominate the situation. She felt that the decision was mine; that the career involved was mine and I should make the choice and she would happily go along with whatever I wanted to do. All she needed was for her point of view to be taken seriously and her comments to be listened to carefully and taken into account and so on. But I just couldn't do that. The only thing I could think of was that I wanted to... the two of us to agree. I wanted to argue with her, and she didn't like that. Her parents had had very poor relations with each other and argued all the time, and she associated argument somehow with quarrelling, and she didn't like to do it. So, well, I know of course exactly what I should have done. I should have been very nice and listened and talked with her and so on and then made a decision on my own and she would have been very happy with that. Instead I tried arguing and arguing and arguing and trying to get us to agree on something and just didn't work.
New York-born physicist Murray Gell-Mann (1929-2019) was known for his creation of the eightfold way, an ordering system for subatomic particles, comparable to the periodic table. His discovery of the omega-minus particle filled a gap in the system, brought the theory wide acceptance and led to Gell-Mann's winning the Nobel Prize in Physics in 1969.
Title: The job situation
Listeners: Geoffrey West
Geoffrey West is a Staff Member, Fellow, and Program Manager for High Energy Physics at Los Alamos National Laboratory. He is also a member of The Santa Fe Institute. He is a native of England and was educated at Cambridge University (B.A. 1961). He received his Ph.D. from Stanford University in 1966 followed by post-doctoral appointments at Cornell and Harvard Universities. He returned to Stanford as a faculty member in 1970. He left to build and lead the Theoretical High Energy Physics Group at Los Alamos. He has numerous scientific publications including the editing of three books. His primary interest has been in fundamental questions in Physics, especially those concerning the elementary particles and their interactions. His long-term fascination in general scaling phenomena grew out of his work on scaling in quantum chromodynamics and the unification of all forces of nature. In 1996 this evolved into the highly productive collaboration with James Brown and Brian Enquist on the origin of allometric scaling laws in biology and the development of realistic quantitative models that analyse the influence of size on the structural and functional design of organisms.
Tags: University of California, Berkeley, Harvard University, MIT, Caltech, Pasadena, San Diego, Santa Barbara, Cambridge MA
Duration: 2 minutes, 58 seconds
Date story recorded: October 1997
Date story went live: 24 January 2008