NEXT STORY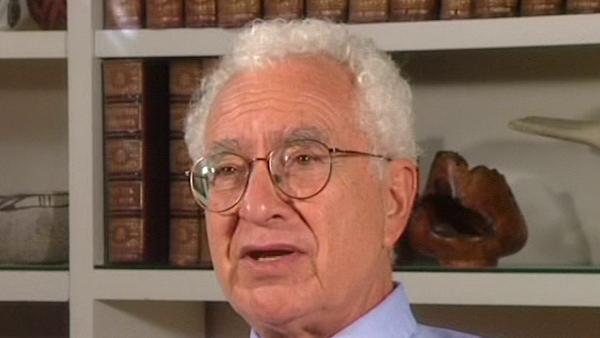 Sight-seeing in Stockholm
Murray Gell-Mann
Scientist
1
...
13
14
15
16
17
...
20
In 1969, during the Nobel, Halloween season—this season—we got a call at three thirty in the morning from somebody or other, some news person, saying that I had won the... the Nobel Prize in physics. And I asked, 'With whom?' and they said, 'You got it all by yourself'. And I said, 'Well, in that case I have to pay tribute to all these other people who have worked on elementary particle physics, and clarified along with me some, many of the issues that we've clarified'. And I listed a whole bunch of people, but I don't believe the list ever appeared anywhere, on radio or in print.
[Q] Do you want to say here any of the names that you thought might have got the Nobel Prize with you, let's put it that way?
I forget whom I thought of at the time. Yuval of course was an obvious one because I assumed they were thinking in part of the Eightfold Way and the prediction... successful prediction of the omega minus. But there were a number of others that I would have... that I would have mentioned. I imagine Yuval was fairly disappointed actually, but of course, I suppose... I… I suppose what they were thinking was that I had worked on a great number of these issues and he had worked on relatively fewer.
Anyway, more and more calls came and pretty soon Margaret said, 'I think we'd better get up and make some coffee and stop pretending to sleep'. My son, Nick, was then six; he was very excited about all this attention from news media and so on and so forth. My daughter, Lisa, was a good deal shyer,just buried herself under the bedclothes and would have nothing to do with the whole matter. After a while, in addition to the phone calls, a photographer showed up from the Los Angeles Times and Nick was all ready for the photographer. And so the photograph that they took was of Margaret and me and Nick wearing his Halloween costume. It was October 30th, I think, and Halloween was the next day. Well, the following day the picture appeared on the front page, right at the top of the front page of the Los Angeles times, with Nick in his pirate costume, and he received a terrible ribbing in school. He knew that we got the Los Angeles Times but it didn't... he didn't quite take into account the fact that everyone got it. I still have a… a number of copies of that issue, with Nick with his pirate costume.
New York-born physicist Murray Gell-Mann (1929-2019) was known for his creation of the eightfold way, an ordering system for subatomic particles, comparable to the periodic table. His discovery of the omega-minus particle filled a gap in the system, brought the theory wide acceptance and led to Gell-Mann's winning the Nobel Prize in Physics in 1969.
Title: Getting the Nobel Prize
Listeners: Geoffrey West
Geoffrey West is a Staff Member, Fellow, and Program Manager for High Energy Physics at Los Alamos National Laboratory. He is also a member of The Santa Fe Institute. He is a native of England and was educated at Cambridge University (B.A. 1961). He received his Ph.D. from Stanford University in 1966 followed by post-doctoral appointments at Cornell and Harvard Universities. He returned to Stanford as a faculty member in 1970. He left to build and lead the Theoretical High Energy Physics Group at Los Alamos. He has numerous scientific publications including the editing of three books. His primary interest has been in fundamental questions in Physics, especially those concerning the elementary particles and their interactions. His long-term fascination in general scaling phenomena grew out of his work on scaling in quantum chromodynamics and the unification of all forces of nature. In 1996 this evolved into the highly productive collaboration with James Brown and Brian Enquist on the origin of allometric scaling laws in biology and the development of realistic quantitative models that analyse the influence of size on the structural and functional design of organisms.
Tags: Halloween, Los Angeles Times, Yuval Ne'eman
Duration: 3 minutes, 17 seconds
Date story recorded: October 1997
Date story went live: 29 September 2010