NEXT STORY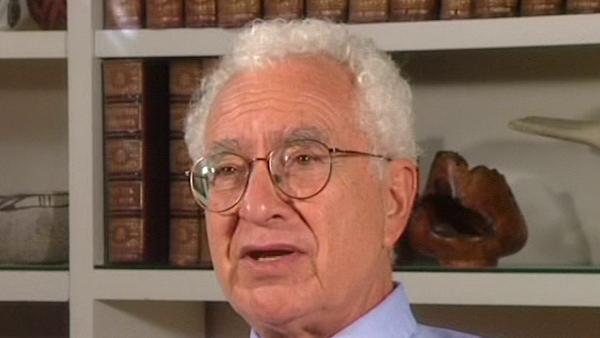 A revolution in physics?
Teaching quantum mechanics
Murray Gell-Mann
Scientist
1
...
15
16
17
18
19
20
[Q] Do you think–just on a more practical, pedagogical level—that the traditional way of teaching quantum mechanics, like introducing students to quantum mechanics, should evolve into teaching it more from the sum over histories viewpoint?
Well the… not only the sum over histories viewpoint, but the decoherent histories viewpoint. Well, when the point of view is perfected, which may be very soon, I think that's true. The reason is that although the so-called Copenhagen interpretation is perfectly correct for all laboratory physics, laboratory experiments and so on, it's too special otherwise to be fundamental and it sort of strains credulity. It's… it's not a convincing fundamental presentation, correct though… though it is, and as far as quantum cosmology is concerned it's hopeless. We were just say ing, we were just quoting that old saw: describe the universe and give three examples. Well, to apply the… the Copenhagen interpretation to quantum cosmology, you'd need a physicist outside the universe making repeated experiments, preferably on multiple copies of the universe and so on and so on. It's absurd. Clearly there is a definition to things happening independent of human observers. So I think that as this point of view is perfected it should be included in… in teaching fairly early, so that students aren't convinced that in order to understand quantum mechanics deeply they have to swallow some of this…very… some of these things that are very difficult to believe. But in the end of course, one can use the Copenhagen interpretations perfectly okay for experiments.
New York-born physicist Murray Gell-Mann (1929-2019) was known for his creation of the eightfold way, an ordering system for subatomic particles, comparable to the periodic table. His discovery of the omega-minus particle filled a gap in the system, brought the theory wide acceptance and led to Gell-Mann's winning the Nobel Prize in Physics in 1969.
Title: Teaching quantum mechanics
Listeners: Geoffrey West
Geoffrey West is a Staff Member, Fellow, and Program Manager for High Energy Physics at Los Alamos National Laboratory. He is also a member of The Santa Fe Institute. He is a native of England and was educated at Cambridge University (B.A. 1961). He received his Ph.D. from Stanford University in 1966 followed by post-doctoral appointments at Cornell and Harvard Universities. He returned to Stanford as a faculty member in 1970. He left to build and lead the Theoretical High Energy Physics Group at Los Alamos. He has numerous scientific publications including the editing of three books. His primary interest has been in fundamental questions in Physics, especially those concerning the elementary particles and their interactions. His long-term fascination in general scaling phenomena grew out of his work on scaling in quantum chromodynamics and the unification of all forces of nature. In 1996 this evolved into the highly productive collaboration with James Brown and Brian Enquist on the origin of allometric scaling laws in biology and the development of realistic quantitative models that analyse the influence of size on the structural and functional design of organisms.
Tags: quantum mechanics, Copenhagen interpretation, quantum cosmology
Duration: 2 minutes, 7 seconds
Date story recorded: October 1997
Date story went live: 29 September 2010