NEXT STORY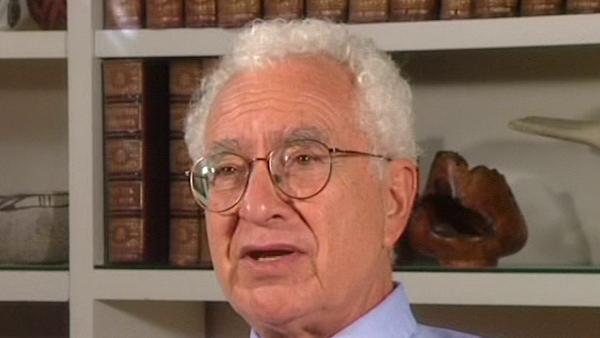 The voice of scientists in the public arena
The work of PCAST and PSAC
Murray Gell-Mann
Scientist
1
...
16
17
18
19
20
The old PSAC did some very long, thorough investigations. It had lots more money, lots more money for travel, it met much more frequently. If I had been told then that I would be on a similar committee 25 years later and that it wouldn't be able to meet very often because the President didn't have any money for it, I… I would have been quite surprised! That is the situation today, strangely enough. However, again that actually isn't turning out to be so bad, because a… a somewhat less frenetic pace of activity can nevertheless produce material that's quite useful to the President and Vice President. One can study thoroughly the aspects of a problem that are really relevant and not have quite such a... nevertheless, not have quite such a sustained and expensive effort as one would have had in the old committee, and be very useful to the President. What the President and the Vice President need mostly is well-informed, technically-based advice on things that they can actually do, orders that they can actually give to the government. John Holdren has headed a... headed a panel on co-operating with countries of the former Soviet Union, especially Russia, on control of nuclear materials associated with nuclear weapons, or formerly associated with nuclear weapons, and I... that panel did a beautiful job. Many officials in the government, such as the former Secretary of Defense, Bill Perry, had been really excited about that issue before they got into government. Once they got into government they still had a sort of sympathy for it but they were too busy to do anything about it. When the panel talked with the President and the President decided to follow the advice of the panel he simply told his government people to get busy, and I think a number of useful things resulted, even though the problem isn't completely solved, but useful measures of co-operation resulted and I think it's very good. There's been a wonderful panel report on education, on the use of technology–computer technology especially–in education, which duly emphasized the essential features of the educational system, saying that the technology was not the main point. Technology is very important, very desirable, but only if it's embedded in a system that for teaching it makes some sense and especially, the panel recommended, that there be a higher proportion of spending on research, real research. Compare the rate of expenditure on educational research divided by the amount of money per year spent on education; compare that ratio with the corresponding ratio of the drug industry, for example, the pharmaceutical industry: it's… it's absurd, it's ludicrously low. We don't really know what works in education, in general, with or without computer equipment. So the computers can be immensely useful, but the really important thing is to have a system that is... that functions and to have research on what... what succeeds and to combine the installation of equipment with... with the reform of the system. Of course it's very difficult to do. The MacArthur Foundation is trying to tinker with the Chicago schools. It's very expensive. I'm not sure it's the best use of our resources but it will be interesting to see what the results are like. But I haven't found that our Foundation devotes enough attention to the technical side, I think. If one is trying to reform a school system, making clever use of modern equipment, this is very important.
New York-born physicist Murray Gell-Mann (1929-2019) was known for his creation of the eightfold way, an ordering system for subatomic particles, comparable to the periodic table. His discovery of the omega-minus particle filled a gap in the system, brought the theory wide acceptance and led to Gell-Mann's winning the Nobel Prize in Physics in 1969.
Title: The work of PCAST and PSAC
Listeners: Geoffrey West
Geoffrey West is a Staff Member, Fellow, and Program Manager for High Energy Physics at Los Alamos National Laboratory. He is also a member of The Santa Fe Institute. He is a native of England and was educated at Cambridge University (B.A. 1961). He received his Ph.D. from Stanford University in 1966 followed by post-doctoral appointments at Cornell and Harvard Universities. He returned to Stanford as a faculty member in 1970. He left to build and lead the Theoretical High Energy Physics Group at Los Alamos. He has numerous scientific publications including the editing of three books. His primary interest has been in fundamental questions in Physics, especially those concerning the elementary particles and their interactions. His long-term fascination in general scaling phenomena grew out of his work on scaling in quantum chromodynamics and the unification of all forces of nature. In 1996 this evolved into the highly productive collaboration with James Brown and Brian Enquist on the origin of allometric scaling laws in biology and the development of realistic quantitative models that analyse the influence of size on the structural and functional design of organisms.
Tags: PCAST, PSAC, Soviet Union, Russia, MacArthur Foundation, Chicago, John Holdren, Bill Perry
Duration: 4 minutes, 10 seconds
Date story recorded: October 1997
Date story went live: 29 September 2010