NEXT STORY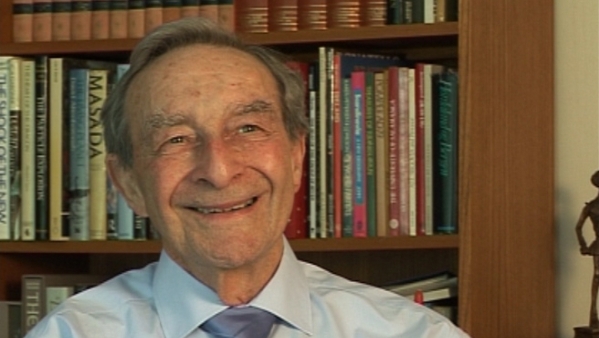 Staying in student halls for the first year at Leeds
Why I left Newcastle for Leeds
Norman Greenwood
Scientist
1
...
15
16
17
18
19
...
26
[Q] I think, Norman, you know, given your highly successful career at Newcastle, apparent to us all, why did you choose to leave to go to Leeds?
Good question. Obviously we were happy there, as a family. It was very close to Norway, which we often went to. The research group was going very well, all the people that were working there had an international reputation, so it may seem a bit strange.
What happened was that Harry Irving, who built up a very good inorganic group in Leeds, came to retiring age, and as was the custom, I found, in Leeds, about 18 months before retirement, the university would set up a committee to find a successor.
And... I'm now talking about 1971... or actually, 18 months before that, so it was probably early 1970. I got a letter from Leeds explaining the circumstances, and saying they were looking for an appropriate person to fill, did I, as an inorganic chemist, have anyone to suggest? Because I clearly knew many of the people, I was on the council of the Chemical Society and so forth. And I knew the inorganic scene fairly well, so what I did – and it's what I thought I should have been doing – was to make a list of all the people that I thought were 'chairable'. These were the people who were lecturers, senior lecturers, people who were very productive, and who were doing work which I thought was admirable.
And I made, perhaps a list of eight, ten perhaps, people of this sort, and mentioned their strengths and characteristics. And then said – as perhaps a fateful final sentence – but of course the distinction of Leeds is such that it may well be that someone who's already in a chair would be attracted to it. I have no idea if anyone is, because I've not approached anyone who's already in a chair, but if you would like any further information I would be glad to give it. And so signed it.
And to my utter astonishment – and it's something that I don't think could happen nowadays – about two or three weeks later I got a letter from Sir Roger Stevens, who was the then Vice-Chancellor, and he said the appointing committee has considered yours and other responses that they got from their initial inquiries, and as a result of this, it is their unanimous decision, that if you would do us the honour of coming to Leeds, we would be glad to make arrangements that would be attractive to you. And we hope that you would like to come down to Leeds and discuss the matter with us.
Well, as they say, with an invitation like that, it was difficult to refuse, and I thought certainly, out of courtesy, I'd have to go down and look at what was there. And of course I was not so unworldly as not to realise that I was in a fairly strong bargaining position at this stage. So I went down at an appropriate stage, and I had to say that I rapidly formed the opinion that a) Newcastle was excellent, b) Leeds was also excellent, and about twice the size, with twice the facilities, nearly three times the inorganic staff, and in many ways it did look a very tempting offer.
But of course there were problems of schooling that I had to think about, and Kirsten was very happy in Newcastle, being so close to her hometown of Bergen, so we talked about this, and to cut a long story short, in the end I said, well, I would come if we could discuss the funding and whether there were positions available that I could fill, and Leeds seemed very pleased with this. It happened to coincide with the end of a quinquennium, which was the way the universities were funded in those days, and some of my grants were supplied by the University Grants Committee (UGC) and there was then also the possibility that some of those posts could be made permanent.
And so Newcastle and Leeds had to negotiate between them as to whether my posts would come with me down to Leeds and so forth. So there was some toing and froing, and they certainly offered an attractive salary, though one had to say that that wasn't really the main thing, but it was not negligible. But what was important was that all the people would be happy to come down with me, and I had quite a big group by then. I had some unfilled posts that Leeds had very sensibly, perhaps, kept vacant until the new professor was appointed, and so in the end a deal was struck, and I think it was a good deal, and I hope that I did Leeds well by coming down.
Certainly we enjoyed… I came down in 1971. For reasons of schooling, Kirsten stayed up in Newcastle with the girls. Our eldest girl, Karen, had just got into New Hall Cambridge, and the Master of New Hall was Miss Murray, Rosemary Murray, who'd been a colleague of mine in Cambridge – she was in the inorganic section of the Chemistry Department. And then our next girl, Anne, was just about to take the final year of A level. So it wasn't fair on her to move from her school, even though there was a good school, of course in Leeds, but all her friends were there, and she knew the teachers and the system. So it was agreed that she would stay up in Leeds for that year, and Kirsten would be there.
Our youngest daughter, Linda, who was four years younger than Anne, was in the middle of high school, so that wasn't really… such a difficult problem, at least for us. Though I think she cursed us at the time because as a 13-year-old she didn't particularly want to leave her friends. But the move was made, finally.
Norman Greenwood (1925-2012) was born in Australia and graduated from Melbourne University before going to Cambridge. His wide-ranging research in inorganic and structural chemistry made major advances in the chemistry of boron hydrides and other main-group element compounds. He also pioneered the application of Mössbauer spectroscopy to problems in chemistry. He was a prolific writer and inspirational lecturer on chemical and educational themes, and held numerous visiting professorships throughout the world.
Title: Why I left Newcastle for Leeds
Listeners: Brian Johnson
Professor Brian FG Johnson FRS, FRSE, FRS Chem, FAcad Eu, FAS. Professor of Inorganic Chemistry University of Edinburgh 1991-1995, Professor of Inorganic Chemistry University of Cambridge 1995-2005, Master Fitzwilliam College Cambridge 1999-2005. Research interests include studies of transition metal carbonyls, organometallic chemistry, nano- particles and homogeneous catalysis. Professor Johnson is the author of over 1000 research articles and papers.
Tags: Newcastle University, Leeds University, Norway, 1970, Bergen, University Grants Committee, 1971, Murray Edwards College, Cambridge University, Harry Irving, Sir Roger Stevens, Roger Stevens, Rosemary Murray
Duration: 7 minutes, 50 seconds
Date story recorded: May 2011
Date story went live: 25 November 2011