NEXT STORY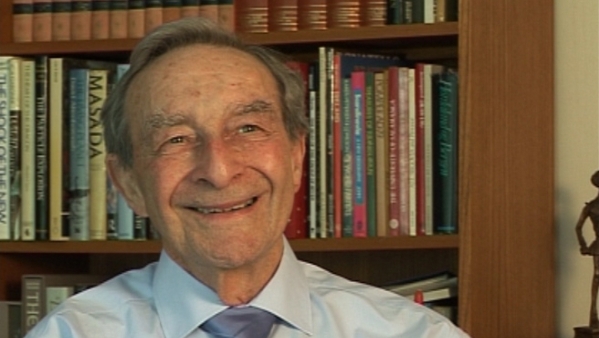 Lecturing in America
Compiling an index of earlier vibrational spectra of compounds
Norman Greenwood
Scientist
1
...
19
20
21
22
23
...
26
So spectroscopic properties were well catered for and they were one of the main techniques in practising inorganic chemistry. But what about the work... the archival work... what had been done before that? To solve that problem, I thought it would be a good idea – and this of course was before computers were available in the form that we know them now – I thought it would be useful to have a compendium of all the compounds that had spectroscopic information available on them with their reference, so I started in Newcastle before we came down to Leeds and continued in Leeds with Brian Straughan and others in Newcastle to make this compendium. It was a monumental task and because it wasn't necessarily mentioned in the title of the paper or the abstract; we literally had to look at every journal page of all the major journals in all the languages to find if compound X, which had been made, had had its visible spectrum recorded, its NMR spectrum recorded [sic – should be Raman] and so forth. And then we had to get those compounds in book form and Spectroscopic Properties [sic – should be Vibrational Properties]was a huge thing, came out in three volumes, each of between, I think, about 800 and 1500 pages in the end of all this information. Now, in a sense ironically, that has been superseded though it was an important thing at the time. Nowadays of course what a researcher would do would be to type in his particular compound, say NMR [sic- should be vibrational spectra] query, infrared query and it would locate the thing for... the journal article, if there was one for him. So, in a sense, it is not useful now, but it's useful to have... up till 1967, which was the first of the specialist reports, all the back data is there if I want it in one volume.
Norman Greenwood (1925-2012) was born in Australia and graduated from Melbourne University before going to Cambridge. His wide-ranging research in inorganic and structural chemistry made major advances in the chemistry of boron hydrides and other main-group element compounds. He also pioneered the application of Mössbauer spectroscopy to problems in chemistry. He was a prolific writer and inspirational lecturer on chemical and educational themes, and held numerous visiting professorships throughout the world.
Title: Compiling an index of earlier vibrational spectra of compounds
Listeners: Brian Johnson
Professor Brian FG Johnson FRS, FRSE, FRS Chem, FAcad Eu, FAS. Professor of Inorganic Chemistry University of Edinburgh 1991-1995, Professor of Inorganic Chemistry University of Cambridge 1995-2005, Master Fitzwilliam College Cambridge 1999-2005. Research interests include studies of transition metal carbonyls, organometallic chemistry, nano- particles and homogeneous catalysis. Professor Johnson is the author of over 1000 research articles and papers.
Tags: Newcastle University, Leeds University, Vibrational Properties, 1967, Brian Straughan
Duration: 2 minutes, 30 seconds
Date story recorded: May 2011
Date story went live: 25 November 2011