NEXT STORY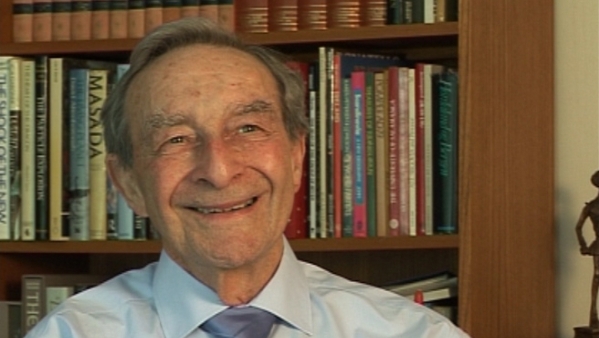 The astonishing variety of birds in America
Norman Greenwood
Scientist
1
...
19
20
21
22
23
...
26
So I had to learn first of all what level to pitch this at and then of course to examine it and that was where I got one of my interesting shocks in the States.
I hadn't expected that having marked the papers and handed them back, a student would say, I don't agree with this mark. That was not a thing which was common either in Australia or in England at the time, but you had to hold your ground. But that could sometimes get difficult, and I'll give you an example. I had one young lad come to me and he said, 'I can't accept this. You've given me a C. Why did you do that?' And I said, 'Well, I read it and I had been reading the other scripts, and I thought that C was the right answer'. He said, 'But you don't understand the implications', and I said, 'What's that?' and he said, 'Well, if I don't get an A or a B I'll be drafted to Vietnam. I can't continue because I've got so many low grades at the moment that I needed an A or a B to get a grade average which will continue with my university work. And I said, 'Well I'm sorry to hear that but, you know, I can't just alter the grade for that'. 'But', I said, 'leave it with me and I'll see what could be done'. So I went along to Alex Popov and said, what could be done, and he saw the dilemma and he agreed that the student was in a very awkward position, and so in the end I suggested, 'Well, suppose I set him a supplementary' – not as a right but as a privilege – 'because of his situation. I'll give him a fortnight. He got a low mark because he hadn't studied properly. If he studies and gives me satisfaction I'll be happy to give him an appropriate mark'. So that seemed to be a reasonable compromise. We did that and he got a B+ actually, honestly. So that was an interesting aspect which was different.
Norman Greenwood (1925-2012) was born in Australia and graduated from Melbourne University before going to Cambridge. His wide-ranging research in inorganic and structural chemistry made major advances in the chemistry of boron hydrides and other main-group element compounds. He also pioneered the application of Mössbauer spectroscopy to problems in chemistry. He was a prolific writer and inspirational lecturer on chemical and educational themes, and held numerous visiting professorships throughout the world.
Title: A dissatisfied student
Listeners: Brian Johnson
Professor Brian FG Johnson FRS, FRSE, FRS Chem, FAcad Eu, FAS. Professor of Inorganic Chemistry University of Edinburgh 1991-1995, Professor of Inorganic Chemistry University of Cambridge 1995-2005, Master Fitzwilliam College Cambridge 1999-2005. Research interests include studies of transition metal carbonyls, organometallic chemistry, nano- particles and homogeneous catalysis. Professor Johnson is the author of over 1000 research articles and papers.
Tags: USA, Australia, UK, Vietnam War, Alexander I Popov
Duration: 2 minutes, 23 seconds
Date story recorded: May 2011
Date story went live: 25 November 2011