NEXT STORY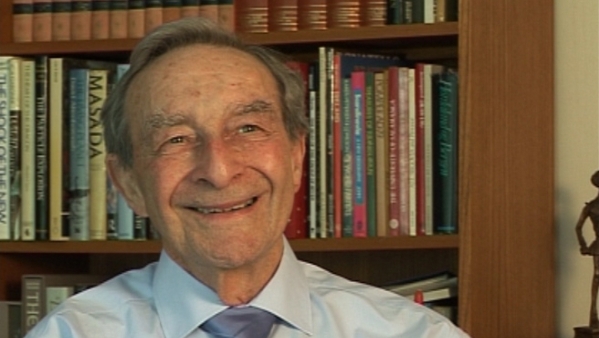 My invaluable secretary at Leeds University
Norman Greenwood
Scientist
1
...
22
23
24
25
26
There's something that I'd particularly like to mention in amongst all of these activities that are going on, and I have of course mentioned not only family but research students and visiting scientists, technicians, but there's another vital component in any professor's life, which makes the work that he or she does important and possible indeed, and that is his secretary.
And I'd like to just say a word or two here because this really is a vital part of the work that I've been doing.
I've had many secretaries, as you might imagine, over the years. Some have stayed longer than others, some for shorter time, but there are three in particular who have been with me for really quite long periods of time, periods of several years indeed. And I would like to mention them because of the help that they gave me.
The first, when I was a new professor for the first time in Newcastle, I had actually as my second secretary there, Eileen O'Donnell. Eileen was a young lass that had come almost straight out of secretarial college, but she was a superb secretary. She ran the office well, was discreet, which is a very important thing because one has confidential correspondence.
She was entirely reliable, and in particular, when I left the department – and it's clear I'd been leaving for longer and shorter periods –she... I wouldn't say she ran the place, that would be unfair to her and to the others, but she was there at the centre of the spider's web keeping things going, most importantly, of course, in posting me the mail that was coming in, the referees' comments on papers, the drafts of papers that were coming simultaneously in from the lab, she would send them to me wherever I was, and I would deal with them in the evening and send them back to her.
So, Eileen was a great help and, if I could be facetious, she only had one failing, which was to fall in love with one of my demonstrators, Bill Errington and... they were a lovely couple, but they got married and inevitably left when Bill left to go down to London to pursue his career after his time with us. But Eileen was a great help and she became a family friend as well.
Following her was Sheila Burnett. Sheila was from a mining village, quite near Washington in County Durham, and... not far from Newcastle. She again was with me for several years and was, as I've said with Eileen, the same sort of things could be said about Sheila. She was greatly helpful to me, and the work she did in the background was to enable me to achieve what I and the rest of the group were doing.
Norman Greenwood (1925-2012) was born in Australia and graduated from Melbourne University before going to Cambridge. His wide-ranging research in inorganic and structural chemistry made major advances in the chemistry of boron hydrides and other main-group element compounds. He also pioneered the application of Mössbauer spectroscopy to problems in chemistry. He was a prolific writer and inspirational lecturer on chemical and educational themes, and held numerous visiting professorships throughout the world.
Title: Exceptional secretaries
Listeners: Brian Johnson
Professor Brian FG Johnson FRS, FRSE, FRS Chem, FAcad Eu, FAS. Professor of Inorganic Chemistry University of Edinburgh 1991-1995, Professor of Inorganic Chemistry University of Cambridge 1995-2005, Master Fitzwilliam College Cambridge 1999-2005. Research interests include studies of transition metal carbonyls, organometallic chemistry, nano- particles and homogeneous catalysis. Professor Johnson is the author of over 1000 research articles and papers.
Tags: Newcastle University, Durham, Eileen O'Donnell, Bill Errington, Sheila Burnett
Duration: 3 minutes, 44 seconds
Date story recorded: May 2011
Date story went live: 25 November 2011