NEXT STORY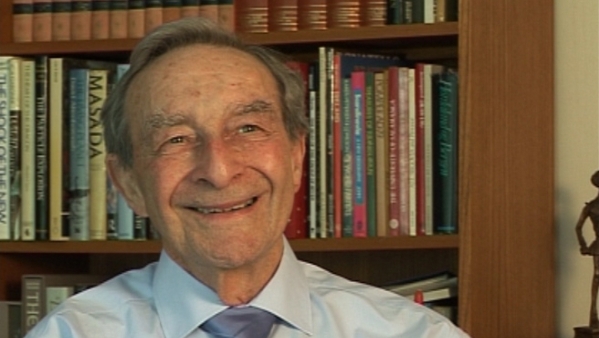 Sheona Ferguson, university administrator
Jean Thomas's insightfulness
Norman Greenwood
Scientist
1
...
22
23
24
25
26
So the Sub-Registrar was despatched to Norman Greenwood's office, which was the nearest one there, explained the situation to my secretary, who was in the outer office, and she came in and told me. And so I said, 'Well, that's a bit of a nuisance. Can't they find someone else?' But it turned out that I was... fortunately, I'd been in my room. I may well have been in the lab, so I started to take my lab coat off, and she said, 'No, don't take it off, they're interrupting your work; you go in with your lab coat on and they'll realise that you've been doing something else', which was a very astute observation. So I went in and, I think, impressed is the wrong word, but it was noted that I came in a lab coat, and sat there to make up a quorum, and then left.
That was Jean, but she was very helpful and astute in judgements of people and things, and, of course, I was making my own decision. But she had comments which were well worth hearing, and also, she knew that in some situations that we'd been in before, I would normally have sent a letter to thank for help, couched in appropriate terms. She got used to typing these letters and knew my mind, and would draft the letter, and say, 'Do you want to send a letter along these lines?' And if it was inappropriate, I would obviously modify it. If not, I'd say, 'Yes, that's fine', and so there weren't many people who felt they'd been left out. And that was partly due to Jean's nurturing of the professor. It's a very important point that's sometimes forgotten.
Norman Greenwood (1925-2012) was born in Australia and graduated from Melbourne University before going to Cambridge. His wide-ranging research in inorganic and structural chemistry made major advances in the chemistry of boron hydrides and other main-group element compounds. He also pioneered the application of Mössbauer spectroscopy to problems in chemistry. He was a prolific writer and inspirational lecturer on chemical and educational themes, and held numerous visiting professorships throughout the world.
Title: Jean Thomas's insightfulness
Listeners: Brian Johnson
Professor Brian FG Johnson FRS, FRSE, FRS Chem, FAcad Eu, FAS. Professor of Inorganic Chemistry University of Edinburgh 1991-1995, Professor of Inorganic Chemistry University of Cambridge 1995-2005, Master Fitzwilliam College Cambridge 1999-2005. Research interests include studies of transition metal carbonyls, organometallic chemistry, nano- particles and homogeneous catalysis. Professor Johnson is the author of over 1000 research articles and papers.
Tags: Norman Greenwood, Jean Thomas
Duration: 2 minutes, 1 second
Date story recorded: May 2011
Date story went live: 25 November 2011