NEXT STORY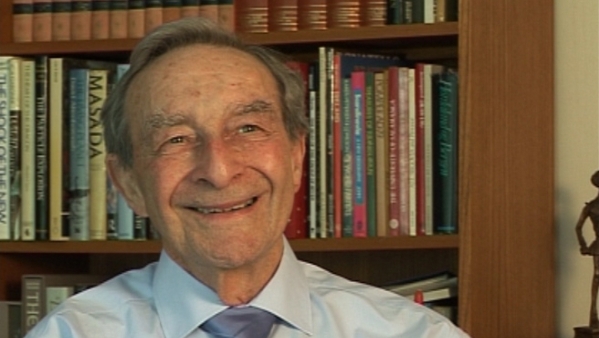 Skiing in Norway for Easter vacation
Paul Dirac's inspiring lectures
Norman Greenwood
Scientist
1
...
6
7
8
9
10
...
26
Well, of course I have to mention that as well as the research work that I've just been talking about, Ray and I decided to go to some other lectures. And the one that stands out pre-eminently in my mind, and I'm sure in Ray's, was... we attended a course on quantum mechanics by Dirac, Paul Dirac, an eminent theoretical physicist, an other-worldly character in many ways but a superb lecturer.
And our technique was the following: Dirac gave two or three lectures a week for two terms so it was a long lecture course, and he lectured sticking very closely to his famous textbook Quantum Mechanics. So we bought a copy of the textbook and listened to what Dirac had to say. He was masterly at putting his ideas across; everything that he said sounded eminently right. And it was of course couched in fairly difficult mathematics – at least, difficult for us. We had both been through pure mathematics third year at Melbourne whilst we were doing a Master's degree, so we did have quite a good mathematical background, but Dirac was definitely the next stage as far as we were concerned. And we, I think, calculated at one stage that for every one hour of Paul Dirac's lectures we spent three hours back in our rooms in college going through what he actually meant, and what it meant, and whether we understood it.
So it was a big intellectual effort on our part, but it also taught me, I think, that whilst I learnt a lot from it, that would not be a direction that I would want to go in my research. At one stage I had thought maybe I'd do theoretical chemistry rather than practical chemistry – I realised that it would be better for me to be a practical chemist who had a good theoretical background rather than to attempt to try and advance the theory. So it was a very stimulating and productive course of lectures from that point of view.
Norman Greenwood (1925-2012) was born in Australia and graduated from Melbourne University before going to Cambridge. His wide-ranging research in inorganic and structural chemistry made major advances in the chemistry of boron hydrides and other main-group element compounds. He also pioneered the application of Mössbauer spectroscopy to problems in chemistry. He was a prolific writer and inspirational lecturer on chemical and educational themes, and held numerous visiting professorships throughout the world.
Title: Paul Dirac's inspiring lectures
Listeners: Brian Johnson
Professor Brian FG Johnson FRS, FRSE, FRS Chem, FAcad Eu, FAS. Professor of Inorganic Chemistry University of Edinburgh 1991-1995, Professor of Inorganic Chemistry University of Cambridge 1995-2005, Master Fitzwilliam College Cambridge 1999-2005. Research interests include studies of transition metal carbonyls, organometallic chemistry, nano- particles and homogeneous catalysis. Professor Johnson is the author of over 1000 research articles and papers.
Tags: Quantum Mechanics, Ray Martin, Paul Dirac
Duration: 2 minutes, 33 seconds
Date story recorded: May 2011
Date story went live: 25 November 2011