NEXT STORY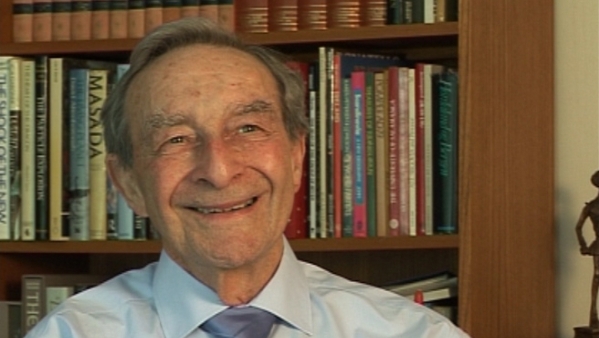 Final year and post-doc in Cambridge
Norman Greenwood
Scientist
1
...
6
7
8
9
10
...
26
The other holiday was, I think, what one could reasonably call the trip of a lifetime. I had arranged with Barry Dawson to buy an old Alvis car, a 1935 Alvis – I think it was called a Speed 20 – of which they only built about 1000 in Coventry, and this was a 1935 Alvis, an open-top tourer – a very snazzy little car.
Barry couldn't come on the trip, but Ray and I joined up with two of our other Australian friends Dal and Don Swaine from Melbourne, and my former roommate Owen Singleton, so the five of us piled into this car and toured Europe. We'd worked out a general plan that we were going down through France pretty fast, because that was accessible at other times, then down into Italy, heading for Rome. It was 1950, which is Holy Year, a factor of ten, and Dal and Don were both sincere practising Roman Catholics. Ray and I were not really very active religiously at this stage, nor was Owen, but for Dal and Don it was really a pilgrimage, which was one good thing because on the way down we stayed at a succession of convents which were all geared up for pilgrims going down to Rome for the Holy Year, which is one where the great door of St Peter's is open and the Pope comes in audience. And that was one of the great high points, of course, of the trip for us.
But there were many escapades we had on the way – we saw a lot of Europe, both the art galleries around Florence, Pisa, of course, Rome itself, and to us Rome was a magical city; it had... this was the first time that it occurred for me... it really has every age of history in it: there are the Roman Forum and the remains, the Colosseum and so forth, which... all the oldest remains were several hundred BC, through the Roman Empire period, and then of course there was the Mediaeval part with Michelangelo and the statues and then St Peter's Cathedral, the incredible paintings, Sistine Chapel... you know, one could talk for hours about Rome by itself...
And then in the modern age, though the architecture might be seen as a little Brutalistic now in the Mussolini phase, the clean lines of the Italian architecture in the modern city were really very elegant. So we had a great time there.
Then we crossed over... no, then we went down to Vesuvius, and being Australians used to bush-walking and so forth, Vesuvius was a challenge. So we went to the top of Vesuvius with a guide, looked down into the crater, which itself was an amazing experience to see this smouldering thing, and we could pick out the sulphur crystals around the rim and the various types of basalt and lava which had been coming out. And of course when we came down again we went to Pompeii and saw the ruins which were being excavated at that time.
Then across the Apennines, up quickly through some of the old cities which I won't mention in detail, but we were heading for Via... for Venice. We had to park the car, of course, because there were no cars in Venice, but again, an incomparable place that one could talk for hours about. But we had a great time for three or four days really seeing the churches and the art galleries and the canals, and we walked miles along the canal edges and trips in the gondolas and the ferries and so forth. Then back through Milan and up into the Italian Alps. An incredible thunderstorm in the Alps, I remember, which completely drenched us because we were camping when we couldn't get into a youth hostel.
Then into Switzerland, and again as Australians, the mountains there were magnificent for us. The highest mountain in Australia is 7000-odd feet, Mount Kosciuszko. These were 14,000, 15,000 feet, and they looked it – they were impressive. So we went to the Matterhorn and saw that, and then down the valley of the Inn, up Ötztal, then to Innsbruck, which we certainly didn't do justice to. There was a festival, the Innsbruck Festival, the Mozart Festival was on, and my mouth watered as I looked at the programmes of things that we couldn't attend, but we had a good time there. I could add parenthetically here that although the Alvis was a smart-looking car, it wasn't in particularly good shape. It had a propensity for breaking down quite badly, so we got quite expert at doing car mechanics and mending on the way. But the worst thing that happened was that as it had been built for speed, it didn't have a fan-belt on it that was geared to the engine revs; it relied on the speed of motion to have the radiator cooled, and so in the hot Mediterranean climate, particularly in traffic jams and in cities, it would boil. And so we had a great problem with trying to start the car again, trying to push it, and wherever we stopped we gathered crowds because it was this extraordinary car, we were growing beards at this stage... so it was a pretty wild expedition altogether.
Anyway, from Innsbruck we went across into Germany to Berchtesgaden, to the so-called Eagle's Nest that Hitler – well, actually it was Himmler had built as a 50th birthday present, I think, for Hitler – he didn't often stay there, but it's an iconic building and fortress built in the mountain, and you have to get into it through security places, but that was a good place to see and a marvellous view over the lake from the top. And then through Munich and up through Germany and home through Belgium. So that was a five-week trip which we really had a marvellous time on.
Norman Greenwood (1925-2012) was born in Australia and graduated from Melbourne University before going to Cambridge. His wide-ranging research in inorganic and structural chemistry made major advances in the chemistry of boron hydrides and other main-group element compounds. He also pioneered the application of Mössbauer spectroscopy to problems in chemistry. He was a prolific writer and inspirational lecturer on chemical and educational themes, and held numerous visiting professorships throughout the world.
Title: The trip of a lifetime
Listeners: Brian Johnson
Professor Brian FG Johnson FRS, FRSE, FRS Chem, FAcad Eu, FAS. Professor of Inorganic Chemistry University of Edinburgh 1991-1995, Professor of Inorganic Chemistry University of Cambridge 1995-2005, Master Fitzwilliam College Cambridge 1999-2005. Research interests include studies of transition metal carbonyls, organometallic chemistry, nano- particles and homogeneous catalysis. Professor Johnson is the author of over 1000 research articles and papers.
Tags: Italy, Rome, 1950, Jubilee Year, St. Peter's Basilica, Europe, Florence, Pisa, Rome, Colosseum, Michelangelo, Sistine Chapel, Mount Vesuvius, Pompeii, Apennine Mountains, Venice, Milan, Italian Alps, Switzerland, Matterhorn, Innsbruck, Innsbruck Festival, Mediterranean, Germany, Berchtesgaden, Kehlsteinhaus, Eagle's Nest, Munich, Ray Martin
Duration: 7 minutes, 58 seconds
Date story recorded: May 2011
Date story went live: 25 November 2011