NEXT STORY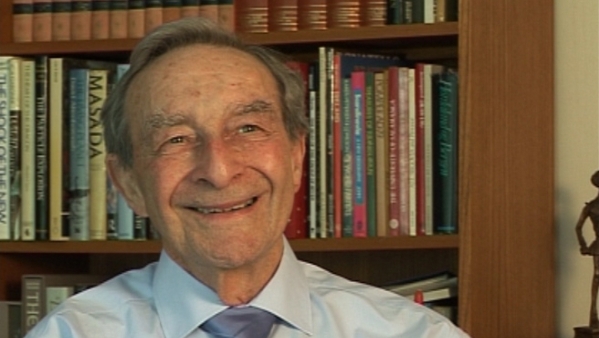 A great expedition to Lapland
Final year and post-doc in Cambridge
Norman Greenwood
Scientist
1
...
6
7
8
9
10
...
26
Back in Cambridge it was the third year for me and I had, at the end of the last term, got my PhD by examination. Fred Fairbrother from Manchester came over and he seemed quite pleased with the work and Emeléus, took us all out for a beer afterwards so I took it that I had passed. In the third year I decided – I was a post-doctoral Fellow now – to join Lennard-Jones' group. I'd had several conversations with Sir John, he was like Emeléus, a charming man, a brilliant theoretician and he seemed very interested in the work that I'd been doing. And he was anxious to build up contacts between the theoretical side and the practical side, and particularly with the interhalogens – he thought that was a good place to begin work.
And he explained to me, I think very reasonably, that as I only wanted to be there for a year, it might well be that I wouldn't get any publishable work out of it, but I said that was all right by me. I just wanted to get a flavour of working in his seminar and finding out a little bit about theoretical chemistry from his perspective. And I would probably then go on to do practical work.
And it turned out to be a very useful experience for me. I went to some more lectures by Lennard-Jones, but in the seminar there were about eight of us, I suppose, mostly they were mathematicians and theoretical physicists. John Pople was in the group and he would help me out if I got into difficulties from time to time. But I gradually got the hang of things and it was at a time when Lennard-Jones and then followed by Longuet-Higgins, who came after he had left to take over a vice-chancellorship – they were working on molecular orbital theory and that melded nicely into the concept of multi-centred bonding. I'll be talking more about that when I talk about my later work, but the theoretical basis for my practical work was laid by that year as a post-doc in Lennard-Jones' seminar.
Norman Greenwood (1925-2012) was born in Australia and graduated from Melbourne University before going to Cambridge. His wide-ranging research in inorganic and structural chemistry made major advances in the chemistry of boron hydrides and other main-group element compounds. He also pioneered the application of Mössbauer spectroscopy to problems in chemistry. He was a prolific writer and inspirational lecturer on chemical and educational themes, and held numerous visiting professorships throughout the world.
Title: Final year and post-doc in Cambridge
Listeners: Brian Johnson
Professor Brian FG Johnson FRS, FRSE, FRS Chem, FAcad Eu, FAS. Professor of Inorganic Chemistry University of Edinburgh 1991-1995, Professor of Inorganic Chemistry University of Cambridge 1995-2005, Master Fitzwilliam College Cambridge 1999-2005. Research interests include studies of transition metal carbonyls, organometallic chemistry, nano- particles and homogeneous catalysis. Professor Johnson is the author of over 1000 research articles and papers.
Tags: University of Cambridge, molecular orbital theory, Fred Fairbrother, Harry Emeléus, John Lennard-Jones, John Pople, Christopher Longuet-Higgins
Duration: 2 minutes, 41 seconds
Date story recorded: May 2011
Date story went live: 25 November 2011