NEXT STORY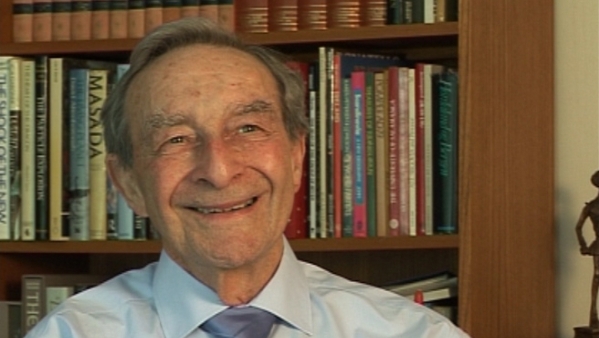 Experiences in Jotunheimen
Being saved by two Lapp women
Norman Greenwood
Scientist
1
...
7
8
9
10
11
...
26
So I'll just add one or two more things to that. We had decided to walk from Kautokeino to Karasjok [sic – should be Karasjok to Kautkeino] but we weren't able to get that far where we hadn't... we'd underestimated the problem. So in the end we had to cross a large river called the Alta River and by that time we were on a main road on the other side of Lappland that was going up to Alta which was a port on a fjord north. How to cross? We didn't know whether to go north or south of this river. There was no bridge. As we were standing there pondering, two Lapp women appeared and said, in their own language presumably, 'We can take you across', and we didn't know how to recompense them but, as I told you, mosquito oil was the currency there and we had some, and so they had two canoes and they rowed us across. I don't think they had outboard motors and the stream was fairly fast flowing so it was quite an exercise because not only were there six people, but there were six huge haversacks which were a little bit lighter because we'd eaten some of the food but they were still pretty impressive.
So there was like quite a lot to transport over but we managed that and we managed by sign language to ask whether we headed north or south on this road to get to the nearest village and we worked out that it would in fact be... to go north and to travel or to walk for about five or six kilometres to the township that we were heading for. Then we caught a bus and we went to Alta, caught a bus down to the head of the railway line. This was already a two-day journey back on land to the head of the rail line. It goes a bit further north now but we then picked up a train which took us back to Trondheim. By this time the Norwegians in the party, that was my fiancée, Kirsten, Odd and Kirsten's sister, Aud, and the friend Karen Peach they, of course, were all working people. They had to get back to Bergen. Their holiday was finished.
Ray and I being Cambridge research students had a bit more time so they took the coastal steamer from Trondheim back to Bergen. Ray and I continued down by bus to Jotunheimen.
Norman Greenwood (1925-2012) was born in Australia and graduated from Melbourne University before going to Cambridge. His wide-ranging research in inorganic and structural chemistry made major advances in the chemistry of boron hydrides and other main-group element compounds. He also pioneered the application of Mössbauer spectroscopy to problems in chemistry. He was a prolific writer and inspirational lecturer on chemical and educational themes, and held numerous visiting professorships throughout the world.
Title: Being saved by two Lapp women
Listeners: Brian Johnson
Professor Brian FG Johnson FRS, FRSE, FRS Chem, FAcad Eu, FAS. Professor of Inorganic Chemistry University of Edinburgh 1991-1995, Professor of Inorganic Chemistry University of Cambridge 1995-2005, Master Fitzwilliam College Cambridge 1999-2005. Research interests include studies of transition metal carbonyls, organometallic chemistry, nano- particles and homogeneous catalysis. Professor Johnson is the author of over 1000 research articles and papers.
Tags: Kautokeino, Karasjok, Alta River, Lapland, Alta, Trondheim, Jotunheimen, Ray Martin
Duration: 2 minutes, 59 seconds
Date story recorded: May 2011
Date story went live: 25 November 2011