NEXT STORY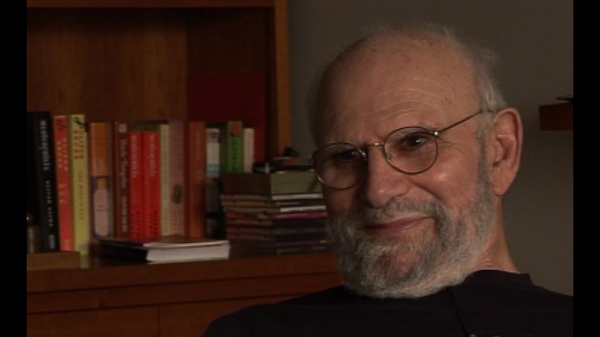 The blissful feeling having written Migraine
The final writing of Migraine
1
...
10
11
12
13
14
...
36
When I came back to New York, Friedman didn't look at all friendly, he looked rather disturbed. And he almost tore the manuscript of the book out of my hand and he said, who did I think I was to write a book on... on migraine. And I said, 'I'm sorry, it just happened'. He said that he would send the manuscript for review to someone very high up in the migraine hierarchy, or what Jonathan Miller used to call the Migraine Mafia. So, I was very taken aback by these reactions. About a week later I saw Friedman's assistant Xeroxing my manuscript. I didn't pay much attention to that but... but I noticed it. And then about three weeks later Friedman gave me a letter in which all identifying characteristics of the sender had been removed – the name and the address. And this letter was full of invenomed and often personal criticism of the book and its writer. I said to Friedman that this is a... a personal attack and it is not carefully reasoned and Friedman said, 'On the contrary', you know, 'this is... this is what your book consists of. It's basically trash'. And he went on to say that he would not in future allow me access to my own notes on patients, everything would be locked up and... and he warned me not to think of going back to the book. He said if you do, not only will I fire you but I'll see you never get another neurological job in America. At that time he... he was, if not president, very high up in, I think – I'm losing a name, Kate it's not the American Academy of Neurology, the... the other one…
[Q] The American Neurological Association?
Yes, yes. He was very high up in the American Neurological Association. I mentioned his threats to my parents, and my father, I think, in a rather cowardly way said you... you better not anger this man. You know, he could ruin your life. And I... so I suppressed my feelings for six or seven months which were six or seven of the worst months in my life. I continued seeing patients and being fascinated by them, and then in June of '68 I thought I couldn't stand this anymore. I made an arrangement with the janitor at the headache unit to let me into the clinic at night. And he would unlock it and I would then, between midnight and three in the morning, I would look at my own charts and copy out what I could. I then told Friedman that I wanted to spend a… take a long holiday in London and he said, 'Are you going back to that book of yours?' And I said, 'I have to'. He said, 'It's the last thing you'll do'. I went back to England, sort of, quivering, stayed in this quivering state, I then got a telegram from him firing me, and this made the quivering worse.
And then suddenly I had a completely different feeling. I thought this ape is no longer on my shoulders, I'm no longer being muzzled, now I am free to write but I also had the sense of a deadline. I, myself, was dissatisfied with the 1967 manuscript and I... I decided to rewrite the book. The feeling of deadline was literal for me as I said that on September 1st , I said to myself: if I do not have the finished manuscript in Faber's hands by September 10th I shall commit suicide. And under this death threat, the suicide threat, I started writing but within a day or so the feeling of threat had disappeared and the joy of writing had come on me. There were no drugs at this time but this was a time of extraordinary elation and energy. It almost seemed to me that the book was dictated, everything organised itself automatically. I would only go to bed for two hours a night. And a day ahead, on September 9th I took the book to Faber's. I then... I then walked – Faber's was then in Russell Square – I walked over to the British Museum, which was five minutes away and... and there I... I had the very strong feeling: I, too, have produced something. It may not be much but it's real and it will be outside me.
Oliver Sacks (1933-2015) was born in England. Having obtained his medical degree at Oxford University, he moved to the USA. There he worked as a consultant neurologist at Beth Abraham Hospital where in 1966, he encountered a group of survivors of the global sleepy sickness of 1916-1927. Sacks treated these patients with the then-experimental drug L-Dopa producing astounding results which he described in his book Awakenings. Further cases of neurological disorders were described by Sacks with exceptional sympathy in another major book entitled The Man Who Mistook His Wife For A Hat which became an instant best seller on its publication in 1985. His other books drew on his rich experiences as a neurologist gleaned over almost five decades of professional practice. Sacks's work was recognized by prestigious institutions which awarded him numerous honours and prizes. These included the Lewis Thomas Prize given by Rockefeller University, which recognizes the scientist as poet. He was an honorary fellow of both the American Academy of Arts and Letters and the American Academy of Arts and Sciences, and held honorary degrees from many universities, including Oxford, the Karolinska Institute, Georgetown, Bard, Gallaudet, Tufts, and the Catholic University of Peru.
Title: The final writing of "Migraine"
Listeners: Kate Edgar
Kate Edgar, previously Managing Editor at the Summit Books division of Simon and Schuster, began working with Oliver Sacks in 1983. She has served as editor and researcher on all of his books, and has been closely involved with various films and adaptations based on his work. As friend, assistant, and collaborator, she has accompanied Dr Sacks on many adventures around the world, clinical and otherwise.
Tags: Migraine, American Neurological Association, Faber & Faber, Arnold Friedman, Jonathan Miller
Duration: 6 minutes
Date story recorded: September 2011
Date story went live: 02 October 2012