NEXT STORY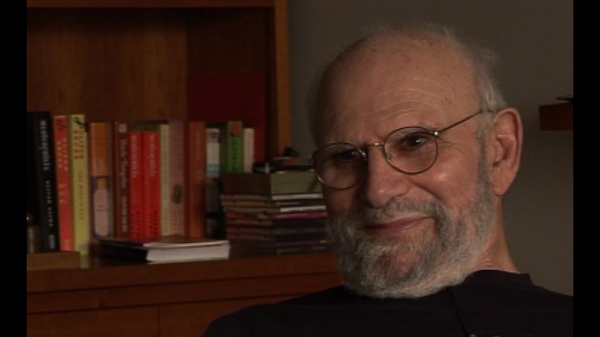 My satisfaction at the Awakenings film
De Niro visits the post-encephalitic patients
1
...
16
17
18
19
20
...
36
When De Niro heard that there were still a number of post-encephalitic patients at the Highlands Hospital in London, he wanted to see them and I went along with him. He had been rather sceptical of various things, in particular of how an apparently motionless and paralysed patient could suddenly respond and catch something, and... and with a quickness and a suddenness which... which astounded me and which took me by surprise. At one point he suddenly grabbed a pair of socks and threw it at a patient and the patient caught it, and that convinced him... it convinced the patient that the patient could move, and it convinced him and it convinced me, and it was a... it was a very striking, natural demonstration. He spent two days with the patients and, I think, observing them more closely than anyone had since Purdon Martin, this great neurologist who devoted his later years to observing them.
Also with a friend of mine who has Parkinson's, De Niro spent a day and a night with him. Ed had said, 'Look, you know, I'm going to eat, I need to go out, I need to go to bed'. De Niro said, 'That's okay, I'll stay with you all the while'. I don't think he said much, he never says very much, but his ability to absorb... among other things, Ed had said, in his rather explicit encyclopaedic way, 'I have...' he said, 'you talk about freezing', he said, 'I have seven sorts of freezing, let me explain'. And Bob said, 'No, I'll observe'. Amazing observer.
With Robin, I had the feeling of two very distinct stages in acting. First, a superficial stage of mimicry, and he's an incredible mimic. I saw this once when he'd come along to a ward at Bronx State Hospital, and in the car afterwards the voices of half a dozen patients were there... the voices and postures of half a dozen patients. And... but then... then he has to go to a deeper level, as he had to do with me. With De Niro, I never saw the earlier level. I... maybe it was somehow done internally, and then what... what came out was... was the final action.
Oliver Sacks (1933-2015) was born in England. Having obtained his medical degree at Oxford University, he moved to the USA. There he worked as a consultant neurologist at Beth Abraham Hospital where in 1966, he encountered a group of survivors of the global sleepy sickness of 1916-1927. Sacks treated these patients with the then-experimental drug L-Dopa producing astounding results which he described in his book Awakenings. Further cases of neurological disorders were described by Sacks with exceptional sympathy in another major book entitled The Man Who Mistook His Wife For A Hat which became an instant best seller on its publication in 1985. His other books drew on his rich experiences as a neurologist gleaned over almost five decades of professional practice. Sacks's work was recognized by prestigious institutions which awarded him numerous honours and prizes. These included the Lewis Thomas Prize given by Rockefeller University, which recognizes the scientist as poet. He was an honorary fellow of both the American Academy of Arts and Letters and the American Academy of Arts and Sciences, and held honorary degrees from many universities, including Oxford, the Karolinska Institute, Georgetown, Bard, Gallaudet, Tufts, and the Catholic University of Peru.
Title: De Niro visits the post-encephalitic patients
Listeners: Kate Edgar
Kate Edgar, previously Managing Editor at the Summit Books division of Simon and Schuster, began working with Oliver Sacks in 1983. She has served as editor and researcher on all of his books, and has been closely involved with various films and adaptations based on his work. As friend, assistant, and collaborator, she has accompanied Dr Sacks on many adventures around the world, clinical and otherwise.
Tags: Highlands Hospital, Awakenings, Robert De Niro, James Purdon Martin, Robin Williams
Duration: 3 minutes
Date story recorded: September 2011
Date story went live: 02 October 2012