NEXT STORY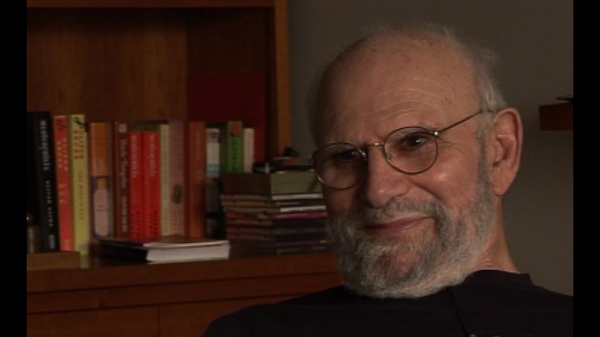 The case of the colour-blind painter
An opera based on The Twins
1
...
16
17
18
19
20
...
36
After Hat was published, I got a letter from a woman telling me of the thrilling performance of a... of an opera called The Twins at the Edinburgh Festival. An opera based on my piece, The Twins. And I was taken aback because I had not been approached for any such opera. And... Colin said he was sorry, he'd forgotten to let me know and to seek permission, but he was sure I would like it, so I said, 'I'm sure too, but let me listen to the opera and get the libretto'. Something which I regret is that I... I stopped it. I stopped it because there was something in the libretto I didn't like, and what I didn't like was an amplification of something I didn't like in my own work. I had described the twins as having extremely myopic eyes and spectacles, and sort of peering around, and having very thick spectacles, and in the libretto they were wearing small telescopes over their eyes, and... I've... I've always been sensitive, and people are sensitive, about physical description and this was what one patient had objected to in the book of Awakenings, but I... it may have been... it may have been a work of art and I... I would not want to stand in the way of a work of art.
It was at the time that I was approached for an opera based on The Man Who Mistook His Wife for a Hat and I... I couldn't imagine what that would be like, and then [Michael] Nyman, the composer, said he would show me a treatment. In fact, he showed me the complete opera the next day, and so he had obviously done it and... and sort of assumed I would like it. I said to the librettist [Christopher Rawlence] that it was very important that he... he speak to Mrs P, the woman who would be mistaken for a hat, to see whether it would be okay for... for him to write a libretto. In fact, a very nice, warm, very cordial relation sprang up between Chris and Mrs P, and she occupies a much more important place in the opera than she does in my account. I was scared and anxious... very, very tense when the opera was performed here in New York and Mrs P was sitting there. I was watching... watching from the aisles and interpreting, or misinterpreting every expression on her face and every movement, but then she came out, and Nyman was there, and Chris, and she... she said, 'You've done honour to my husband', and I... I loved that, and it made me feel we hadn't taken advantage or misrepresented in any way. I hope I can do honour to patients and that operas or plays or whatever, films which are inspired by my work that will also do honour to the patients. But I have a bad feeling about... about The Twins. They themselves were severely impaired intellectually and would not have comprehended.
Oliver Sacks (1933-2015) was born in England. Having obtained his medical degree at Oxford University, he moved to the USA. There he worked as a consultant neurologist at Beth Abraham Hospital where in 1966, he encountered a group of survivors of the global sleepy sickness of 1916-1927. Sacks treated these patients with the then-experimental drug L-Dopa producing astounding results which he described in his book Awakenings. Further cases of neurological disorders were described by Sacks with exceptional sympathy in another major book entitled The Man Who Mistook His Wife For A Hat which became an instant best seller on its publication in 1985. His other books drew on his rich experiences as a neurologist gleaned over almost five decades of professional practice. Sacks's work was recognized by prestigious institutions which awarded him numerous honours and prizes. These included the Lewis Thomas Prize given by Rockefeller University, which recognizes the scientist as poet. He was an honorary fellow of both the American Academy of Arts and Letters and the American Academy of Arts and Sciences, and held honorary degrees from many universities, including Oxford, the Karolinska Institute, Georgetown, Bard, Gallaudet, Tufts, and the Catholic University of Peru.
Title: An opera based on "The Twins"
Listeners: Kate Edgar
Kate Edgar, previously Managing Editor at the Summit Books division of Simon and Schuster, began working with Oliver Sacks in 1983. She has served as editor and researcher on all of his books, and has been closely involved with various films and adaptations based on his work. As friend, assistant, and collaborator, she has accompanied Dr Sacks on many adventures around the world, clinical and otherwise.
Tags: The Man Who Mistook His Wife for a Hat, The Twins, Awakenings, Colin Haycraft, Michael Nyman, Christopher Rawlence
Duration: 4 minutes, 26 seconds
Date story recorded: September 2011
Date story went live: 02 October 2012