NEXT STORY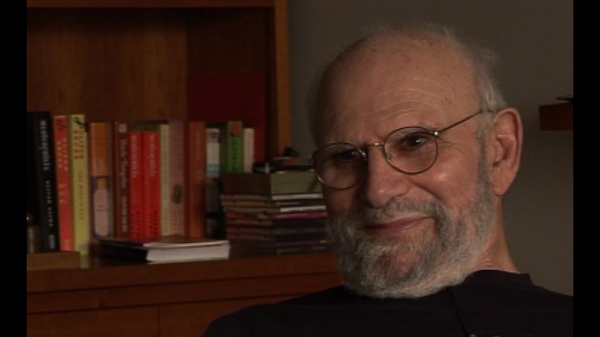 Articles on deaf people for Bob Silvers become a book
Marching with the Deaf and Tourette's society
1
...
19
20
21
22
23
...
36
It was Bob Silvers who sent me this book, When the Mind Hears, about the history of deaf people. I did, in fact, write a sort of essay, review, narrative... what would have been a review of the book became a narrative and included my visit to... to Martha's Vineyard and to other places, and this was published by Bob.
And then in 1988, the following year, he phoned me and he said, 'You know that Gallaudet has blown up'. I said, 'No, I...' at that time I never listened to the news, I never looked at the papers, I didn't know what was happening. Bob said, yes, there had been a revolt of the deaf students and they did not accept a hearing... they would not accept a new hearing president for the university, they wanted a deaf president. And they were carrying along placards saying, 'Deaf Pres Now'. Would I go down as a sort of journalist and cover the revolt? This was a completely new sort of thing for me, but I did indeed go down accompanied by a photographer friend and a colleague at Gallaudet, a hearing man who was a very fluent linguist... a hearing man who was a very fluent signer and a professor of linguistics there.
My role as observer got compromised when the deaf students were marching on the capital, and I was... I was walking by the side and making notes. And one of the deaf people grabbed me by the arm and essentially said, 'Come on, you're with us'. And the... I'm not a... any sort of activist, I'm not a political preacher, but I was rather glad when the photograph in the paperback of Seeing Voices showed me with the marching students.
This is only... I've only marched with people twice, I'll mention the other march, or, perhaps I should mention it now. It was, in fact, in that same year, in 1988, when there was a meeting of the Tourette society, which had grown enormous since the... its early meeting which I'd gone to 1974. And there was a meeting in Cincinnati and the Governor of Ohio had declared, you know – these crazy things happen in America – the Governor had declared it Tourette Awareness Week. Well, one of the Touretters had gone into... Kate, I've forgotten the name of the...
[Q] Wendy's.
Yes. One of the Touretters had gone into Wendy's, which is a restaurant with cheap food, a fast food restaurant with branches everywhere, and he had made noises and ticced and shouted and may have had an obscenity or two, and they came up to him and said, 'You have to leave'. And he said, 'I can't help it, I have Tourette's syndrome, and this is Tourette's Syndrome Week, you... you must understand'. And they said, 'We don't give a fuck, get out'. So he came back to us, and told us the story and then I aligned myself, the Touretters marched on Wendy's, 200-strong, and I was again in their midst. So these have been the only times in my life I've marched. I've marched with the deaf and I've marched with the Touretters, both... both in '88.
Oliver Sacks (1933-2015) was born in England. Having obtained his medical degree at Oxford University, he moved to the USA. There he worked as a consultant neurologist at Beth Abraham Hospital where in 1966, he encountered a group of survivors of the global sleepy sickness of 1916-1927. Sacks treated these patients with the then-experimental drug L-Dopa producing astounding results which he described in his book Awakenings. Further cases of neurological disorders were described by Sacks with exceptional sympathy in another major book entitled The Man Who Mistook His Wife For A Hat which became an instant best seller on its publication in 1985. His other books drew on his rich experiences as a neurologist gleaned over almost five decades of professional practice. Sacks's work was recognized by prestigious institutions which awarded him numerous honours and prizes. These included the Lewis Thomas Prize given by Rockefeller University, which recognizes the scientist as poet. He was an honorary fellow of both the American Academy of Arts and Letters and the American Academy of Arts and Sciences, and held honorary degrees from many universities, including Oxford, the Karolinska Institute, Georgetown, Bard, Gallaudet, Tufts, and the Catholic University of Peru.
Title: Marching with the Deaf and Tourette's society
Listeners: Kate Edgar
Kate Edgar, previously Managing Editor at the Summit Books division of Simon and Schuster, began working with Oliver Sacks in 1983. She has served as editor and researcher on all of his books, and has been closely involved with various films and adaptations based on his work. As friend, assistant, and collaborator, she has accompanied Dr Sacks on many adventures around the world, clinical and otherwise.
Tags: Gallaudet University, Robert B Silvers
Duration: 4 minutes, 10 seconds
Date story recorded: September 2011
Date story went live: 02 October 2012