NEXT STORY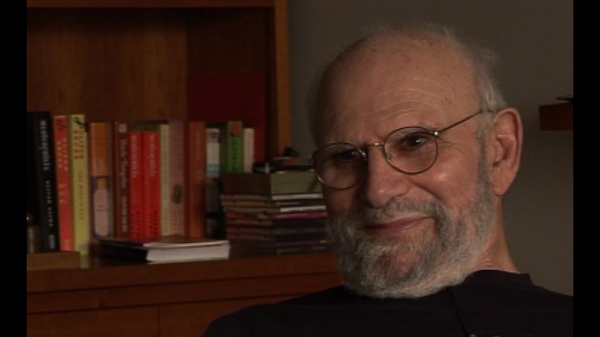 My friendship with Stephen Jay Gould
How I got to know Stephen Jay Gould
1
...
20
21
22
23
24
...
36
In... in 1990, around Christmas time, when I was in England, one of the papers, one of the big Sundays, approached me as they approached others, to say, 'What has been your favourite book this year?' And I said that it was a book... I wrote that it was a book called Wonderful Life by Stephen Jay Gould, and I talked about the book. I'd never met Stephen at that time, although I read whenever I could his monthly articles in Natural History, and I'd also read his... his great serious monograph on Ontogeny and Phylogeny in '77. And I particularly liked Wonderful Life, which was as lyrical as it was encyclopaedic, and... and it gave one a tremendous feeling for the... for the sheer luck – or bad luck – which could befall animals or plants, and the huge role of chance.
One of the things Stephen said in the book was if we could re-run evolution it would be completely different, and it was only a particular combination of contingencies which have produced us. (This was a thought very much in my mind when I wrote the... as it were, the posthumous article for him on astrobiology, what form might evolution have taken in other circumstances and other planets given different physical parameters.)
Stephen wrote me a lovely letter, he said he'd seen this and he thanked me and he hoped we could meet. There was some exchanging of letters but we didn't meet until a television journalist in Holland approached six people, Freeman Dyson was one of them, Stephen Jay Gould was another, there were two philosophers and there was Rupert Sheldrake. And we were all separately interviewed and then we were put... we were to be brought together in Amsterdam, put in separate hotels, none of us had met the other, with a notion there would be some wonderful and possibly violent confrontation as... as six brilliant but very different minds all... all jammed together.
In the interview which was done with me I... they said, 'Do you know Stephen Jay Gould?' and I said, 'No, I've... I've never met him, although we've corresponded', I said, 'I think of him as a brother'. And now I'm going to say something which... which may have to be omitted. They mentioned the other figures whom I'd also not met, but admired, and they said, 'And what about Rupert Sheldrake?' and I said, 'Who's he?' Later, after we'd all met, I... I wrote a letter, a very nice letter and sent a book to Rupert Sheldrake, I never got an answer, and I think he must have seen this awful and indiscrete piece of television.
But, anyhow, we were all brought together in Amsterdam in a programme which was called A Glorious Adventure [sic], and which conflated the individual interviews with the meeting. So it was there that I met Stephen Jay Gould, and there that I met Freeman Dyson, both of whom became friends and played an important part in my life.
Oliver Sacks (1933-2015) was born in England. Having obtained his medical degree at Oxford University, he moved to the USA. There he worked as a consultant neurologist at Beth Abraham Hospital where in 1966, he encountered a group of survivors of the global sleepy sickness of 1916-1927. Sacks treated these patients with the then-experimental drug L-Dopa producing astounding results which he described in his book Awakenings. Further cases of neurological disorders were described by Sacks with exceptional sympathy in another major book entitled The Man Who Mistook His Wife For A Hat which became an instant best seller on its publication in 1985. His other books drew on his rich experiences as a neurologist gleaned over almost five decades of professional practice. Sacks's work was recognized by prestigious institutions which awarded him numerous honours and prizes. These included the Lewis Thomas Prize given by Rockefeller University, which recognizes the scientist as poet. He was an honorary fellow of both the American Academy of Arts and Letters and the American Academy of Arts and Sciences, and held honorary degrees from many universities, including Oxford, the Karolinska Institute, Georgetown, Bard, Gallaudet, Tufts, and the Catholic University of Peru.
Title: How I got to know Stephen Jay Gould
Listeners: Kate Edgar
Kate Edgar, previously Managing Editor at the Summit Books division of Simon and Schuster, began working with Oliver Sacks in 1983. She has served as editor and researcher on all of his books, and has been closely involved with various films and adaptations based on his work. As friend, assistant, and collaborator, she has accompanied Dr Sacks on many adventures around the world, clinical and otherwise.
Tags: Wonderful Life, Natural History, Stephen Jay Gould, Freeman Dyson, Rupert Sheldrake
Duration: 4 minutes, 22 seconds
Date story recorded: September 2011
Date story went live: 02 October 2012