NEXT STORY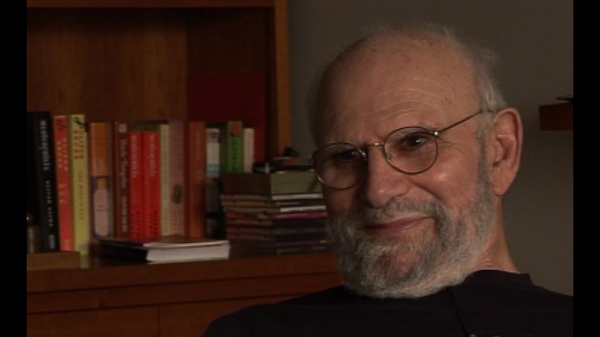 Uta Frith recommends I meet Temple Grandin
The World's Only Flying Touretter Surgeon
1
...
23
24
25
26
27
...
36
I had another visit. I've mentioned my interest in Tourette's syndrome for many years and at a Tourette's syndrome meeting in Boston I met one of the speakers. But he was a very unusual speaker and while he was talking to me he suddenly put his foot on my shoulder, a tic which required extraordinary flexibility of the... of the hip flexors. And this speaker, himself had Tourette's and was able to have a double viewpoint, both from the inside as to what it was like having Tourette's and as a physician-scientist looking at it, looking at himself and looking at others. This, sort of, double vision is tremendously important; it was what Knut, the colour-blind... word's gone from me... it was what... it was what Knut, the colour-blind scientist had. He knew what congenital colour-blindness was like from the inside but he was also a scientist who could investigate this. I was fascinated by this physician with Tourette's, the more so when he told me that he was a surgeon. I said, 'You're joking, a surgeon?' You know, 'One of these and you'll have the aorta in two!' And he said, no, he said, when he operated there was no Tourette's and not even any impulse or thought of Tourette's. He wasn't suppressing it, it just wasn't there, immersion in the surgery had taken its place.
Well, I was very astounded at this and I felt I had to see it and so I made a journey to the little village in Alberta where he practised. And I saw how accepted he was by the community. I sat through one of the... one of his outpatients. He did... did have some tics and vocalisations when he was seeing people. One of his vocalisations was to say, 'Hideous, hideous, hideous, hideous!' And one of his patients had an extensive congenital deformity which was hideous, but I was interested then that there was a tactful apocope so what came out was just, 'Hid, hid, hid, hid!' and he never said the word 'hideous' which I think might have been upsetting to the patient. And, of course, I... I watched him in a long operation; a radical mastectomy, not... not a hint of any ticcing, though when surgery broke off to look at some X-rays, you know, he was, he was all over the place. And this man has become, as my friend... as a friend of mine, a Tourettic composer has become, a role model for people with Tourette's. They... he shows how one can have fairly severe Tourette's, yet not only come to terms and be at peace with it oneself, but be accepted by a community – very, very, important. So, I... I wrote about him; he also flew... he also flew… I'd been rather alarmed by his driving which was... sometimes there were sudden brakings and twistings from the steering wheel, though he'd never had an accident. And I was even more alarmed when he suggested – he was a pilot – that I fly with him in his plane to Calgary. And I thought he might suddenly, sort of, put the plane upside down. He was fairly ticcy in the plane, but, of course, you have more space here. My original title for that piece was The World's Only Flying Touretter Surgeon. I'm slightly sorry that title wasn't used. He wanted me to use his real name or he was quite agreeable, Mort Doran. You know, he felt he... he didn't object to going public, especially when he saw what I'd written. But my editor at The New Yorker, John Bennet, felt that he, that one should use a pseudonym. And the next day I gave John Bennet the manuscript in which the surgeon's name had been converted to Bennet and I think John was... was a little taken aback.
Oliver Sacks (1933-2015) was born in England. Having obtained his medical degree at Oxford University, he moved to the USA. There he worked as a consultant neurologist at Beth Abraham Hospital where in 1966, he encountered a group of survivors of the global sleepy sickness of 1916-1927. Sacks treated these patients with the then-experimental drug L-Dopa producing astounding results which he described in his book Awakenings. Further cases of neurological disorders were described by Sacks with exceptional sympathy in another major book entitled The Man Who Mistook His Wife For A Hat which became an instant best seller on its publication in 1985. His other books drew on his rich experiences as a neurologist gleaned over almost five decades of professional practice. Sacks's work was recognized by prestigious institutions which awarded him numerous honours and prizes. These included the Lewis Thomas Prize given by Rockefeller University, which recognizes the scientist as poet. He was an honorary fellow of both the American Academy of Arts and Letters and the American Academy of Arts and Sciences, and held honorary degrees from many universities, including Oxford, the Karolinska Institute, Georgetown, Bard, Gallaudet, Tufts, and the Catholic University of Peru.
Title: "The World's Only Flying Touretter Surgeon"
Listeners: Kate Edgar
Kate Edgar, previously Managing Editor at the Summit Books division of Simon and Schuster, began working with Oliver Sacks in 1983. She has served as editor and researcher on all of his books, and has been closely involved with various films and adaptations based on his work. As friend, assistant, and collaborator, she has accompanied Dr Sacks on many adventures around the world, clinical and otherwise.
Tags: Tourette's syndrome, Boston, Alberta, Calgary, The New Yorker, Knut Nordby, John Bennet, Mort Doran
Duration: 5 minutes, 4 seconds
Date story recorded: September 2011
Date story went live: 02 October 2012