NEXT STORY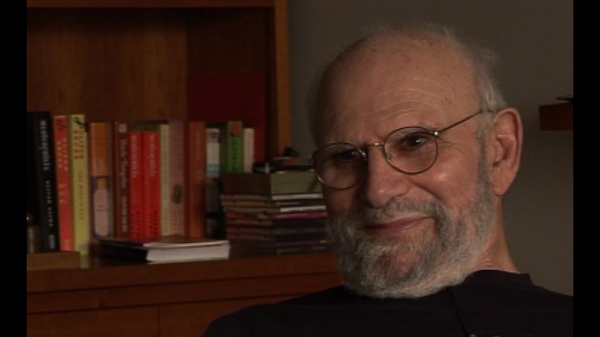 Temple Grandin, an American hero?
Uta Frith recommends I meet Temple Grandin
1
...
23
24
25
26
27
...
36
In relation to autism it was becoming increasingly clear in the 1980s that autism didn't necessarily mean severely impaired intelligence, inability to communicate, that there might be some people with a form of autism who might have certain restrictions or limitations but were fully capable in many other ways and perhaps highly gifted or productive. I first learned… well, this was a thought which was emerging in the mid '80s and when I visited Uta Frith, who was a great expert on autism, working in London, Uta Frith said to me, 'You must see Temple Grandin; a remarkable woman living in Colorado. She has already written an autobiography and go visit her'. And so, having gone north to Alberta, I now went south-west to Colorado. And I met Temple and we spent a few days together. I... I saw her extraordinary empathy for cattle and her equally extraordinary obtuseness in certain human relationships. She was at pains to be courteous but it was clear in many ways she didn't quite know what was going on in other people's minds. She was a woman of... of very good intelligence with remarkable powers of visualisation. So, that she had become famous in the States for designing – Kate, what's the word I want?
[Q] An abattoir, a slaughterhouse.
No, it's more than that.
[Q] Well, there were animal facilities of all kinds.
Yes, right. She had become famous in the States for designing animal facilities for all kinds, including humane slaughterhouses, if that's not a contradiction in terms. She, herself, was very, very alert to animal suffering and the sort of even careless things which could make a cow's last days a terror and stress it unendurably. And, so, she designed facilities which would allow cattle to have a peaceful death. These immensely intricate facilities, she designed entirely in her mind, not only visualising statically but playing little scenarios of… so, for example, that the cows would not see their forerunners being decapitated or anything. And only when the design was absolutely completed in her mind, she put it on paper. There would be blueprints with nothing before. I mean I was somewhat reminded of what... of what's the case with a lot of Mozart's scores. It was all worked out in his head and then it was on paper with no deletions, just the finished thing. So, I found Temple very remarkable and she was agreeable to my writing about her and liked what I'd written. And I wrote about Temple as well. So, here are six outsiders whom I wrote about.
Oliver Sacks (1933-2015) was born in England. Having obtained his medical degree at Oxford University, he moved to the USA. There he worked as a consultant neurologist at Beth Abraham Hospital where in 1966, he encountered a group of survivors of the global sleepy sickness of 1916-1927. Sacks treated these patients with the then-experimental drug L-Dopa producing astounding results which he described in his book Awakenings. Further cases of neurological disorders were described by Sacks with exceptional sympathy in another major book entitled The Man Who Mistook His Wife For A Hat which became an instant best seller on its publication in 1985. His other books drew on his rich experiences as a neurologist gleaned over almost five decades of professional practice. Sacks's work was recognized by prestigious institutions which awarded him numerous honours and prizes. These included the Lewis Thomas Prize given by Rockefeller University, which recognizes the scientist as poet. He was an honorary fellow of both the American Academy of Arts and Letters and the American Academy of Arts and Sciences, and held honorary degrees from many universities, including Oxford, the Karolinska Institute, Georgetown, Bard, Gallaudet, Tufts, and the Catholic University of Peru.
Title: Uta Frith recommends I meet Temple Grandin
Listeners: Kate Edgar
Kate Edgar, previously Managing Editor at the Summit Books division of Simon and Schuster, began working with Oliver Sacks in 1983. She has served as editor and researcher on all of his books, and has been closely involved with various films and adaptations based on his work. As friend, assistant, and collaborator, she has accompanied Dr Sacks on many adventures around the world, clinical and otherwise.
Tags: Colorado, London, Uta Frith, Temple Grandin, Wolfgang Amadeus Mozart
Duration: 3 minutes, 52 seconds
Date story recorded: September 2011
Date story went live: 02 October 2012