NEXT STORY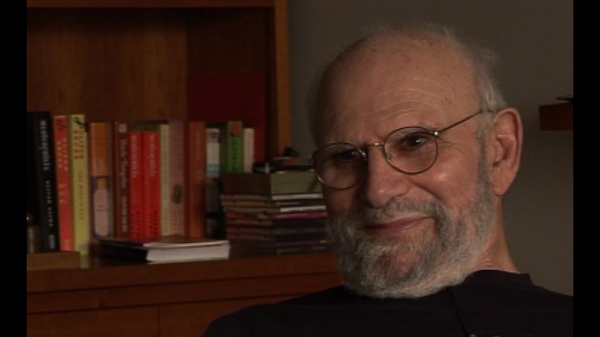 Brilliant Light and The American Fern Society
Roald Hoffmann sends me a surprise parcel
1
...
25
26
27
28
29
...
36
The following year, it was actually in '97 – I... I'd spoken to Roald a certain amount about my early days – and in 1997, at a time, interestingly, when I had a… I was contorted almost double by a backache. A... a parcel arrived for me, a very small, very heavy parcel. And when I opened it, out rolled a heavy grey bar, which I immediately recognised as a bar of tungsten, because I know what tungsten looks like, what it feels like, what it sounds like, what it smells like, and this instantly reminded me of my uncle who had manufactured lights with tungsten filaments, and who... whose factory produced bars of tungsten and who himself was surrounded by tungsten paperweights and bars and cubes and everything, and whose forearms were blackened with tungsten powder beyond the ability of any washing to remove. And as I opened this bar, I think it happened in seconds, a vision of my Uncle Tungsten came to me, of my chemical boyhood, and this was really a Proustian moment. That bar of tungsten was my madeleine. In the ecstasy of that moment, I completely forgot that I had a backache and I straightened up. I don't think the backache was psychosomatic, but there was the most amazing therapeutic power in... in the joy which came to me.
And this bar of tungsten started me writing. Especially, and almost exclusively, with an emphasis on the chemistry of those days and my love of chemistry and the laboratory I'd had at home, and the experiments I had done, and how, at my uncle's suggestion, I would always go to original accounts. He told me never to look at a textbook. He said… I'm afraid a word is escaping me. At that time, original accounts by Humphry Davy and Faraday and others were available, yes, Alembic, as Alembic [Club] reprints. These cost almost nothing, and so I became acquainted with all of the chemists through these Alembic reprints, and I wrote about this and much else in a... in a peculiar book. It wasn't clear what it was going to turn into, and some of it was vastly out of scale. In particular, I'm very fond of elements called the rare earth elements. All of these originally came from Sweden and these were obscure elements, and... lighter flints are made of rare earth elements. And I, in fact, wrote something like 50,000 words on the rare earth elements, and Kate said, 'You can't do that', you know, they're not that interesting'. I said, 'They are that interesting!' But there was a sort of strange imbalance because, as yet, there was not very much about... on the personal side and all the other aspects of being a little boy growing up in England before and during the Second World War.
Oliver Sacks (1933-2015) was born in England. Having obtained his medical degree at Oxford University, he moved to the USA. There he worked as a consultant neurologist at Beth Abraham Hospital where in 1966, he encountered a group of survivors of the global sleepy sickness of 1916-1927. Sacks treated these patients with the then-experimental drug L-Dopa producing astounding results which he described in his book Awakenings. Further cases of neurological disorders were described by Sacks with exceptional sympathy in another major book entitled The Man Who Mistook His Wife For A Hat which became an instant best seller on its publication in 1985. His other books drew on his rich experiences as a neurologist gleaned over almost five decades of professional practice. Sacks's work was recognized by prestigious institutions which awarded him numerous honours and prizes. These included the Lewis Thomas Prize given by Rockefeller University, which recognizes the scientist as poet. He was an honorary fellow of both the American Academy of Arts and Letters and the American Academy of Arts and Sciences, and held honorary degrees from many universities, including Oxford, the Karolinska Institute, Georgetown, Bard, Gallaudet, Tufts, and the Catholic University of Peru.
Title: Roald Hoffmann sends me a surprise parcel
Listeners: Kate Edgar
Kate Edgar, previously Managing Editor at the Summit Books division of Simon and Schuster, began working with Oliver Sacks in 1983. She has served as editor and researcher on all of his books, and has been closely involved with various films and adaptations based on his work. As friend, assistant, and collaborator, she has accompanied Dr Sacks on many adventures around the world, clinical and otherwise.
Tags: World War II, Uncle Tungsten, Sweden, UK, Roald Hoffmann, Humphry Davy, Michael Faraday, Kate Edgar
Duration: 4 minutes, 9 seconds
Date story recorded: September 2011
Date story went live: 02 October 2012