NEXT STORY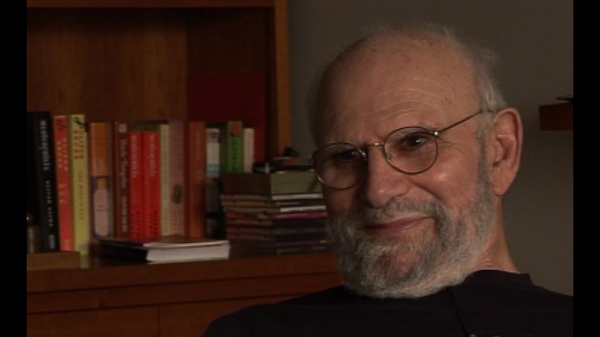 Which direction to take after 'Uncle Tungsten' and 'Oaxaca Journal'?
Stories associated with chemical elements
1
...
29
30
31
32
33
...
36
Kate, you're lying on a sofa and asking me questions sometimes, sometimes making comments – a sofa, which is covered by a periodic table quilt. I am surrounded by periodic tables in different forms. You also have periodic table cushions there. I have periodic table T-shirts. I have periodic table socks. I wish I were wearing them. But when my gaze strays, I see an unobscured portion of the periodic table, with arsenic and selenium and bromine and tellurium and iodine there, and as I look I think of stories associated with all of these elements. For example, how... how Humphry Davy, who discovered chorine and iodine, realised there must be an element in between them. In fact, he... it was discovered 15 years later. And... but one of the things I wondered about writing about, as I was writing Uncle Tungsten, was a... a child's book of the elements.
For me growing up, a book I loved was by Mary Elvira Weeks. It was called Discovery of the Elements. And the properties of elements, but the lives of their discoverers, affected me greatly, and it still affects me greatly. I... when I gave my sister-in-law... I had her sent a sample of thulium for her 69th birthday, I thought of a story of Mary Elvira Weeks, of how Auer von Welsbach, realise... who discovered and worked on many of the rare earth elements, on his last day… I don't know what happened, maybe an aneurism had started leaking inside him. He... he knew he only had a few hours, and he walked slowly up to his own laboratory. And Weeks describes how he pulled the cover over the spectroscope, looked at his samples of thulium, which were the last thing he worked on, which he would have to leave unfinished, came downstairs, gazed at a portrait of his father for a minute, and then went to bed and died.
I mean, so that is a thulium story. There are many thulium stories. Perhaps, some time when I don't feel there are things I need to do more urgently, I should write a child's book of the elements. It's the only sort of children's book I have any impulse to read... I'm sorry, I have any impulse to write. That might have been a Freudian error.
Oliver Sacks (1933-2015) was born in England. Having obtained his medical degree at Oxford University, he moved to the USA. There he worked as a consultant neurologist at Beth Abraham Hospital where in 1966, he encountered a group of survivors of the global sleepy sickness of 1916-1927. Sacks treated these patients with the then-experimental drug L-Dopa producing astounding results which he described in his book Awakenings. Further cases of neurological disorders were described by Sacks with exceptional sympathy in another major book entitled The Man Who Mistook His Wife For A Hat which became an instant best seller on its publication in 1985. His other books drew on his rich experiences as a neurologist gleaned over almost five decades of professional practice. Sacks's work was recognized by prestigious institutions which awarded him numerous honours and prizes. These included the Lewis Thomas Prize given by Rockefeller University, which recognizes the scientist as poet. He was an honorary fellow of both the American Academy of Arts and Letters and the American Academy of Arts and Sciences, and held honorary degrees from many universities, including Oxford, the Karolinska Institute, Georgetown, Bard, Gallaudet, Tufts, and the Catholic University of Peru.
Title: Stories associated with chemical elements
Listeners: Kate Edgar
Kate Edgar, previously Managing Editor at the Summit Books division of Simon and Schuster, began working with Oliver Sacks in 1983. She has served as editor and researcher on all of his books, and has been closely involved with various films and adaptations based on his work. As friend, assistant, and collaborator, she has accompanied Dr Sacks on many adventures around the world, clinical and otherwise.
Tags: Discovery of the Elements, Uncle Tungsten, Humphry Davy, Carl Auer von Welsbach, Mary Elvira Weeks
Duration: 3 minutes, 4 seconds
Date story recorded: September 2011
Date story went live: 02 October 2012