NEXT STORY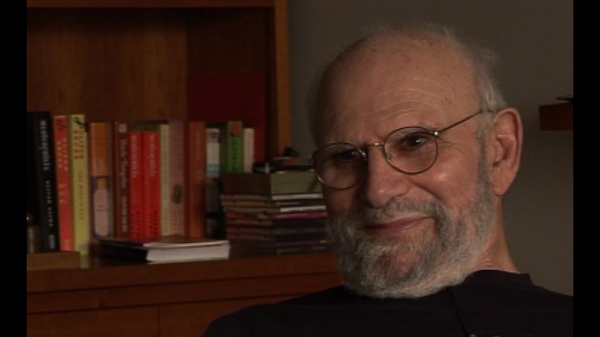 The 'academic spider' hallucination
My craziest hallucination
1
...
32
33
34
35
36
One of the strangest drug experiences in California was when people at the beach prevailed on me to take a drug called Artane. This is a drug which I knew, as a neurologist, because it's used in small doses for people with Parkinson's disease. And the group – it belongs to the belladonna-thorn apple group – are deliriants, and I wasn't sure that I wanted to become delirious.
I... my drug taking was always solitary, I thought I might be a little dangerous being... I had a little house on a hilltop in Topanga Canyon. I thought it might be dangerous getting delirious by myself. So people said, 'Well, look, just take 20 tablets then you'll still be in control'. And so I took 20 tablets and I developed a very dry mouth and dilated pupils, I couldn't read, but I didn't notice anything else. Normally if you take acid or cannabis or something, the world, the subjective world, changes, whereas everything seemed the same.
I heard a car stopping outside, these people coming up the path, and my friend Jim and his wife, Kathy, would often come on Sunday mornings. I shouted, 'Come on in, the door's open', and they came in. I was in the kitchen then, and I said, 'How do you like your eggs?' and we chatted. I had little swing doors between the kitchen and the living room as I was preparing the breakfast. And then I went into the living room with the tray containing three breakfasts, and there was no one there, there was no one there. And I realised that I must have hallucinated the entire conversation, or rather than I had invented their voices or those spoken in my own voice, and I... I thought: I'd better watch this.
Oliver Sacks (1933-2015) was born in England. Having obtained his medical degree at Oxford University, he moved to the USA. There he worked as a consultant neurologist at Beth Abraham Hospital where in 1966, he encountered a group of survivors of the global sleepy sickness of 1916-1927. Sacks treated these patients with the then-experimental drug L-Dopa producing astounding results which he described in his book Awakenings. Further cases of neurological disorders were described by Sacks with exceptional sympathy in another major book entitled The Man Who Mistook His Wife For A Hat which became an instant best seller on its publication in 1985. His other books drew on his rich experiences as a neurologist gleaned over almost five decades of professional practice. Sacks's work was recognized by prestigious institutions which awarded him numerous honours and prizes. These included the Lewis Thomas Prize given by Rockefeller University, which recognizes the scientist as poet. He was an honorary fellow of both the American Academy of Arts and Letters and the American Academy of Arts and Sciences, and held honorary degrees from many universities, including Oxford, the Karolinska Institute, Georgetown, Bard, Gallaudet, Tufts, and the Catholic University of Peru.
Title: My craziest hallucination
Listeners: Kate Edgar
Kate Edgar, previously Managing Editor at the Summit Books division of Simon and Schuster, began working with Oliver Sacks in 1983. She has served as editor and researcher on all of his books, and has been closely involved with various films and adaptations based on his work. As friend, assistant, and collaborator, she has accompanied Dr Sacks on many adventures around the world, clinical and otherwise.
Tags: Artane, hallucination, drugs, Belladonna group, Topanga Canyon
Duration: 2 minutes, 5 seconds
Date story recorded: September 2011
Date story went live: 31 October 2012