NEXT STORY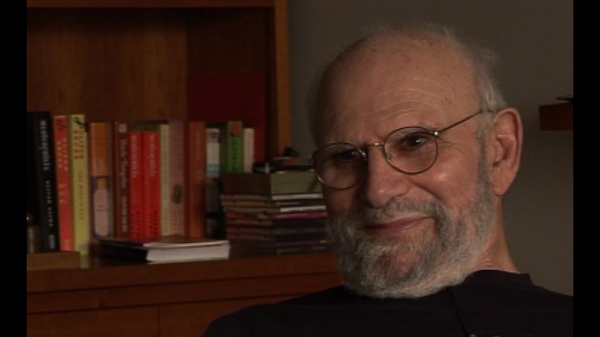 Anti-Semitism in London and in school
1
...
4
5
6
7
8
...
36
We were all drawn together on one occasion when Jonathan's parents had rented a house one summer in Hythe. And when they were going to be away for a few days Jonathan invited Eric up, and he invited the two of us up, and the three of us then went on a fishing boat on a trip. The fishermen caught lots of cuttlefish which they started throwing overboard because people don't eat sepia, cuttlefish, in... in England, but I love the cuttlefish, and I said, 'Keep them'. And so they got two or three and they started to throw them overboard. I said, 'No, I want them all', and we got a huge tub of cuttlefish, about a hundred of them. I thought it would be very nice if we could take them back to Sid. I... I knew how his eyes would glow, and he'd have the whole class dissecting cuttlefish. But they had to be preserved, and I found some large jars and we put in... put them in water plus a little alcohol – I think this was probably brandy which had belonged to... to Jonathan's father.
But anyhow, it wasn't enough alcohol, and one day we heard explosions in the basement and we found that these jars... that the cuttlefish insufficiently pickled had fermented and the gases had burst the jars. There were bits of cuttlefish on the ceiling and all over the walls, and the place stank inconceivably. I mean, I think that putrefied cuttlefish is as bad as you get, and Jonathan's parents were coming back that day. And we... Eric hastily bought a large bottle of lavender water which we... we tried to conceal things... and then his parents came, and they were... and they were very puzzled, because they would sniff and smile at the lavender water, they would sniff and grimace; there were strange alternating zones of lavender water and putrefied cuttlefish.
Anyhow, we were... we were in very bad odour, I especially, since it had been my greed in the first place and folly in getting so many cuttlefish, and I think there was actually difficulty renting the house after that. I'm sorry – that was a story I told of Uncle Tungsten - I've no right to tell it again, but having written Uncle Tungsten I can't help repeating myself somewhat, and Uncle Tungsten was partly a written version of what I'm doing now.
Oliver Sacks (1933-2015) was born in England. Having obtained his medical degree at Oxford University, he moved to the USA. There he worked as a consultant neurologist at Beth Abraham Hospital where in 1966, he encountered a group of survivors of the global sleepy sickness of 1916-1927. Sacks treated these patients with the then-experimental drug L-Dopa producing astounding results which he described in his book Awakenings. Further cases of neurological disorders were described by Sacks with exceptional sympathy in another major book entitled The Man Who Mistook His Wife For A Hat which became an instant best seller on its publication in 1985. His other books drew on his rich experiences as a neurologist gleaned over almost five decades of professional practice. Sacks's work was recognized by prestigious institutions which awarded him numerous honours and prizes. These included the Lewis Thomas Prize given by Rockefeller University, which recognizes the scientist as poet. He was an honorary fellow of both the American Academy of Arts and Letters and the American Academy of Arts and Sciences, and held honorary degrees from many universities, including Oxford, the Karolinska Institute, Georgetown, Bard, Gallaudet, Tufts, and the Catholic University of Peru.
Title: The cuttlefish story
Listeners: Kate Edgar
Kate Edgar, previously Managing Editor at the Summit Books division of Simon and Schuster, began working with Oliver Sacks in 1983. She has served as editor and researcher on all of his books, and has been closely involved with various films and adaptations based on his work. As friend, assistant, and collaborator, she has accompanied Dr Sacks on many adventures around the world, clinical and otherwise.
Tags: Uncle Tungsten
Duration: 3 minutes, 15 seconds
Date story recorded: September 2011
Date story went live: 02 October 2012