NEXT STORY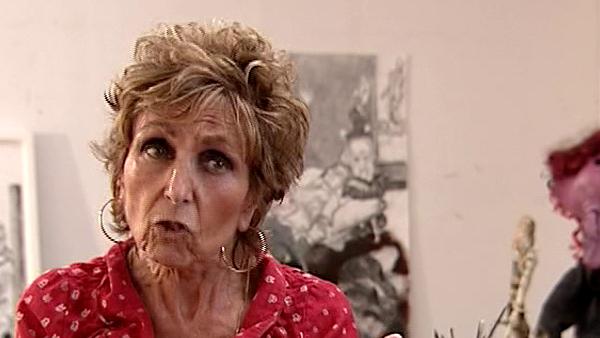 'Just draw, just draw'
Being pregnant and unwed in Portugal
1
2
3
4
5
6
I took up with... with Vic at a party the Slade, just by chance because he was married. But I didn't know because he didn't live with his wife or anything. And he just came in, you know, looking very dashing and everything, but very poor. His shoes had holes in them and everything. And he said to me... it was very, very romantic. We were at this party and everybody was completely sloshed and people had gone into bedrooms and locked the doors and were screwing away. And then I was... I was coming down the stairs and Vic was going up the stairs and then he said — I hardly knew him — and I was coming down the stairs and the first thing he said to me is: 'Take off your knickers'. And I did... and I did. I've always been very obedient and I did exactly what he bid me to do. And then we were in a room and then, afterwards, the next day, I was so ashamed. I remember I could hardly walk into the Slade because I was blushing and, oh God, everybody knows and stuff like that. Make any difference anyway. And afterwards I began to... to see Vic and I... I began to see him; he was a great friend of Mike's.
I remember once going into the cinema in the King's Road and halfway through the film, I had a feeling. And I came out of the film halfway through — and I never do that — and there, going across the road, was Mike and Vic walking. And I went off with Vic, we went down... he had at the time a studio in Cheyne Walk at the back of somebody's house. And I went with him and then I began to sit for him; I did quite a lot of sitting for him. He did lots of very good pictures of me down in Cheyne Walk. One of them has disappeared to Belgium, I only wish I could get hold of it; it is a nude, beautiful picture. And... and I fell deeply in love with Vic, deeply in love with him and I respected him, admired him, thought he was very good looking, because he'd shaved off his beard. He looked horrible with a beard on, it was like a nest of spiders crawling round his face. But when he took it off he was awfully good looking. And I... I loved him very much. So... And then you...? I got pregnant. And then, eventually... eventually, I told... I rang up Portugal and told my father and said — because Vic had said: 'No, I've got to go back to my wife', all that sort of thing — and then I rang up my father and said: 'Look, this has happened, I'm here alone in the house and it's summer... I don't know what to do'. And he said: 'I'm coming'. My father was in Eng... on the road to England in... in two days. And he picked me up from the flat in... in West Hampstead and we spent all night drinking Coca Cola in Soho — it was one of those hot nights — and talking and talking and talking. He said, 'Oh well then, we'd better get you back to Portugal'. And we went back to Portugal in the car, listening to... to Verdi and it was a wonderful trip. And he got me some clothes in Paris because I'd gotten a bit fat and so-on, and when he got to Portugal... we had to take my mother to the beach; he had to take my mother away because she screamed so much when she found out. He had to take her somewhere and tell her. And then I turned up with him and everybody was okay, but it's embarrassing because in Portugal it's considered a terrible — was, not anymore — considered a terrible stigma to get pregnant, not being married, my God. And my mother got very nasty letters from her friends saying: 'This is to greet you but not your daughter who has done this... this terrible thing'. Anyway, my... my little Cassie was born... was born. I came to England to have her. And then she was... sort of when she was little brought up there and then Vic came to join us, then he came to join us when she was not even one for Christmas... came to join us and we went to live in Ericeira where all those poor fishermen lived. And that's where we had... we shared a studio.
Portuguese painter Paula Rego (1935-2022) became part of the London Group in 1965, was shortlisted for the Turner Prize in 1989 and became the first Associate Artist of the National Gallery in London in 1990. Her work is strongly influenced by folk and fairy tales, especially those of her homeland.
Title: Being pregnant and unwed in Portugal
Listeners: Catherine Lampert
Catherine Lampert is an independent curator, art historian and Visiting Professor at the University of the Arts. She was director of the Whitechapel Art Gallery (1988-2001) and has been a model for Frank Auerbach since 1978. Her recent projects include exhibitions of Rodin (Royal Academy 2006) and Lucian Freud (Dublin, Denmark and The Hague 2007-2008) as well as a book on Francis Alys (Turner Libros) and a catalogue raisonné of Euan Uglow's paintings (Yale University Press 2007).
Duration: 4 minutes, 49 seconds
Date story recorded: August 2007
Date story went live: 17 July 2008