NEXT STORY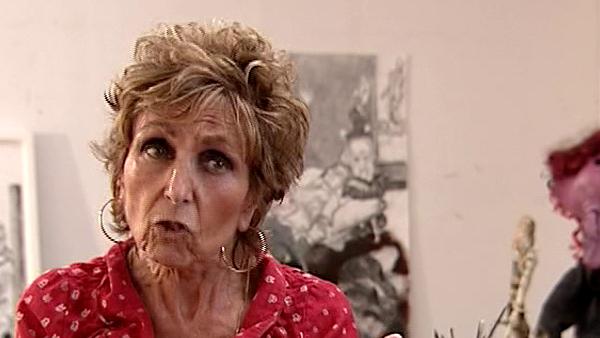 The development of my art
Picking up any English speaker
1
2
3
4
5
6
You couldn't stay there. Vic had no-one to talk to. It was terribly boring. He used to go down to the hotel and pick anybody up who spoke English. We had hairdressers; we had all sorts of people come up to the farm to talk to us. God, we met some really fascinating people. There was Bronson Potter who was a son of an American senator, who was really weird and he'd crashed in Angola and bashed his head in. He introduced us to Kerouac, to all the American writers, you see, of those days, and he'd brought all these books from Africa which he gave us, Burroughs... even William Burroughs in those early days of the '60s, '50s, no... '50s... '50s, William Burroughs and all that lot. And we had that and we'd been reading Kingsley Amis and Vic said he'd found out about these writers and Kingsley Amis didn't seem like you know, it was another thing... we... we prescri...subscribed to the Olympia Press, which was erotic literature with very good writers, etc. Henry Miller and all that. And we... we did a lot of reading. I read all of Dostoevsky and that, and ... but he had no-one to talk to. That's different really, no-one to talk to except me, and I wasn't talking then very much. I liked listening and not talking, but... so he'd pick up these people and... and talk to them. He had picnics on the beach and talked to them. We decided to come away; that was no life there. There was nothing to see; it was just always the same thing. I had to look at pictures and be where the people are doing art, not live completely separate. You have to be with things that are happening. And feel more urgency that it's a little bit competitive and that you need... And you have things to look at, you know. You had not a museum there, nothing to look at except books; it's not the same thing. So we had to come back really and we did. But it must have been a bit of a struggle to support three children and... My father helped. My father supported us. Very special person your father. My father was... was very special person. He supported us all, bought the house and saw to it that we had enough money to live on. And he was extraordinarily generous and liberal and generous. He was indeed. And so I'm... I'm very proud of him... I'm very proud of him. I think of him; I have a little portrait I did of him in my bedroom I look at every day. And, you know, one does things for him, even now. So, yeah, he was wonderful.
Portuguese painter Paula Rego (1935-2022) became part of the London Group in 1965, was shortlisted for the Turner Prize in 1989 and became the first Associate Artist of the National Gallery in London in 1990. Her work is strongly influenced by folk and fairy tales, especially those of her homeland.
Title: Picking up any English speaker
Listeners: Catherine Lampert
Catherine Lampert is an independent curator, art historian and Visiting Professor at the University of the Arts. She was director of the Whitechapel Art Gallery (1988-2001) and has been a model for Frank Auerbach since 1978. Her recent projects include exhibitions of Rodin (Royal Academy 2006) and Lucian Freud (Dublin, Denmark and The Hague 2007-2008) as well as a book on Francis Alys (Turner Libros) and a catalogue raisonné of Euan Uglow's paintings (Yale University Press 2007).
Duration: 2 minutes, 40 seconds
Date story recorded: August 2007
Date story went live: 17 July 2008