NEXT STORY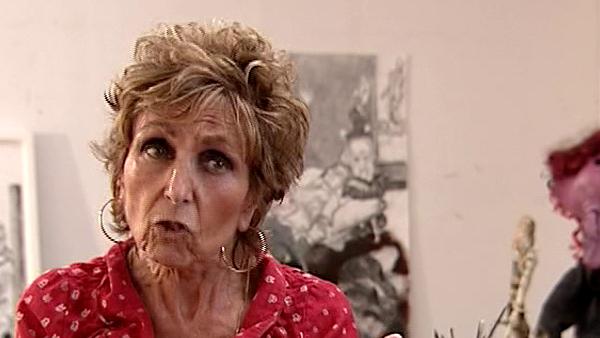 My first solo show in Portugal
The development of my art
1
2
3
4
5
6
When I came to England to have my second child I rented a studio of Anne Buchanan in Charlotte Street. And there she had on... in the flat, she had a Henry Miller novel which I read. Afterwards we subscribed to it, but it was the first one I'd ever read and it blew my mind. And also, at that time, there was an exhibition of Dubuffet at the Institute of Contemporary Arts (ICA). Vic was... frequented the ICA a lot and spoke there and stuff, because the ICA was in Dover Street in those days and it was much more to do with painting than it is now. It was... wasn't so much to do... It had poetry too and so-on, but it was... you know, Roland Penrose ran it and, and Dorothy Moreland. In fact, Dorothy Moreland... was the only place that I was able to show was the ICA because Dorothy Moreland liked my work and Roland Penrose too... did too. No-one else in London would look at what I did because I then started to... after doing a picture a day when I was at Anne Buchanan's studio I used to do a picture a day, and very quickly in oil paint, quite obscene things. I still have some drawings I did there, pack... stacks of drawings and quite a few paintings; I don't know where they are. And then I... I put them in storage and went back to Portugal and came back. And, in the meantime in Portugal, I had started doing collage, cutting up paper and putting it... first of all, I used magazines and then there wasn't enough. So I found out that I had to do my own material, so I used to draw figures, creatures and houses, and then I used to cut them up and then reassemble them to make different forms. And I found that... first of all, cutting up was a great pleasure. It was good because, when I was little, I'd cut... cut off my doll's fingers and that was very pleasurable because they were really like flesh. And cutting up the material I'd done was very pleasurable as well and it was like doing bad things, which was wonderful. And I did that. And then I'd reassemble them and stick them down and make in... a story would develop and I would go with it. Very often I'd just go with it, so there were lots of pictures done like that. I've got a few still left. I had brought them back to England but no-one would... would look at them, no-one. I remember going to Tooths and everything, who showed Appel and all sorts of people like that, and they just didn't... they didn't want to know. But... and then I had, also I had a French guy who had a gallery in... in France, in Paris, in Place Vendôme. Monsieur LaCloche he was called. And he said, 'Oh, this is marvellous', he saw them in Ericeira, 'this is marvellous, you bring them to Paris, I will give you an exhibition'. So by then we had a little car my father had bought us, a little Floride and we packed the pictures on top of this. We drove all the way to Paris with all these pictures on top. We got to the gallery, unpacked the pictures, 'Oh, very good, very good, we will take them away and you will get a letter when you get to London'. And when we got the letter it was just like this: Monsieur LaCloche ayant refleche... Mr LaCloche, having thought again, has decided not to give you a show. So Vic and I always had a joke like, 'Oh Monsieur LaCloche ayant refleche'. We'd always said that we never, I never got that. Paris, I'm not lucky with Paris actually. So, and then in England I got this little show at... at the ICA with four people, six, or something. And then a long time went by, a long, long time went by, I'd still be doing this collages and stuff like that, and no one would want it, nobody wanted to know.
Portuguese painter Paula Rego (1935-2022) became part of the London Group in 1965, was shortlisted for the Turner Prize in 1989 and became the first Associate Artist of the National Gallery in London in 1990. Her work is strongly influenced by folk and fairy tales, especially those of her homeland.
Title: The development of my art
Listeners: Catherine Lampert
Catherine Lampert is an independent curator, art historian and Visiting Professor at the University of the Arts. She was director of the Whitechapel Art Gallery (1988-2001) and has been a model for Frank Auerbach since 1978. Her recent projects include exhibitions of Rodin (Royal Academy 2006) and Lucian Freud (Dublin, Denmark and The Hague 2007-2008) as well as a book on Francis Alys (Turner Libros) and a catalogue raisonné of Euan Uglow's paintings (Yale University Press 2007).
Duration: 4 minutes, 42 seconds
Date story recorded: August 2007
Date story went live: 17 July 2008