NEXT STORY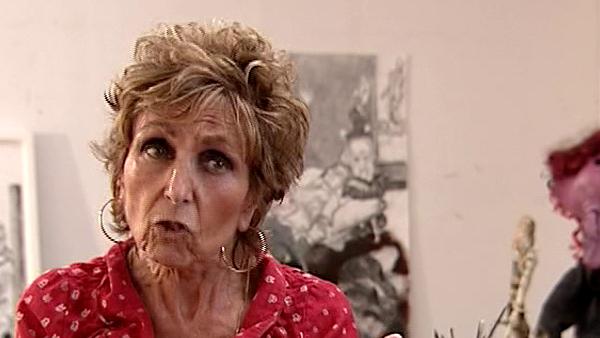 Inspiration for The Dogs of Barcelona
My first solo show in Portugal
1
2
3
4
5
6
The first people to... to show me, really in Portugal, and had given me, you know, a recognised something was the Gulbenkian Foundation. The Gulbenkian Foundation were quite enthusiastic, and I remember I put in a couple of pictures, and they... they gave me a prize, and so on, and I...it was very good. They've always been immensely helpful to me, always. And then there was this other gallery that... that used to come here and pick up all the stuff I did and then take it over there and sell it. And... and sell it. Any case they were shown there, all these collages and things were shown in Portugal, and they were very successful. But this — I'm jumping ahead — because my first exhibition was in the Sociedade Nacional de Belas Artes, which had just opened a gallery to show modern art — contemporary, we say — and it opened with Arshile Gorky. Now, I'm a great fan. I was a mad fan of Arshile Gorky. And the fact that I was to follow him... I was invited to follow him I was thrilled. It was an enormous honour, so we filled up the gallery with all these collages, to have The Dogs of Barcelona, Iberian Dawn, Regicide, all, every one. August Anxiety, all those pictures, and a few little drawings that I had done earlier. And my father was thrilled, and my father had a... also a typography that it printed all the... the tickets for the trains, so, in those days nobody had catalogues, so he decided he was going to print a kind of fold out for me, and he asked Alberto de Lacerda, who had been an enormous supporter of mine in London, and who was at that time in Portugal, and he wrote for the newspapers. He wrote... it was called Letter from London, and it was... he used to say awful things that you're not supposed to say and — about Portugal — and he used to criticise it in... in a way, and he... he wrote the... the preface for the... for the exhibition, at one point, what he said had to be censored, so they cut it out, yeah. My father said, 'Look, we can't put this in, because you'll be, you know, it'll be arrested... it'll be confiscated'. So we cut... we cut it out, and he printed this wonderful piece that he wrote, and... and we... we had the show. And for the first time ever in Portugal there were drinks at an opening. They never had drinks. And so my father got some drinks in, and it was a great... a great feast, and it was a great...it was very, very successful. Well, not selling, it wasn't. Two people bought. The Gulbenkian bought a painting, Manifesto (For a Lost Cause), which was about my father as well, and... and some friends also bought a painting, and that was it, I think. It was... I think I sold two... two, at the most three pictures. But it was a beginning. It was wonderful. And it went down very well, lots of reviews, etc, which Alberto had a lot to do with as well — I think — and all the sort of Portuguese intelligentsia came, an immense amount of poets. We had most of Portugal's poets. Lots of very, very, very, very good poets, and he knew all of them. A lot... more poets than painters came. I only knew one painter, Menez, who was a great friend of mine, and she didn't come there. She didn't come. I didn't know her yet. But all these cezarinis, all these famous Portuguese poets came, and it was talked about. Talked about in the literary pages, it was talked about as art, you see. And I'm getting kind of... quite well known there. And that was in 1965, '66, the year just before my father died — '65, '66 — in '66, he... he died in '66. And so that was... but I'm glad I was able to do it before he died.
Portuguese painter Paula Rego (1935-2022) became part of the London Group in 1965, was shortlisted for the Turner Prize in 1989 and became the first Associate Artist of the National Gallery in London in 1990. Her work is strongly influenced by folk and fairy tales, especially those of her homeland.
Title: My first solo show in Portugal
Listeners: Catherine Lampert
Catherine Lampert is an independent curator, art historian and Visiting Professor at the University of the Arts. She was director of the Whitechapel Art Gallery (1988-2001) and has been a model for Frank Auerbach since 1978. Her recent projects include exhibitions of Rodin (Royal Academy 2006) and Lucian Freud (Dublin, Denmark and The Hague 2007-2008) as well as a book on Francis Alys (Turner Libros) and a catalogue raisonné of Euan Uglow's paintings (Yale University Press 2007).
Duration: 4 minutes, 25 seconds
Date story recorded: August 2007
Date story went live: 17 July 2008