NEXT STORY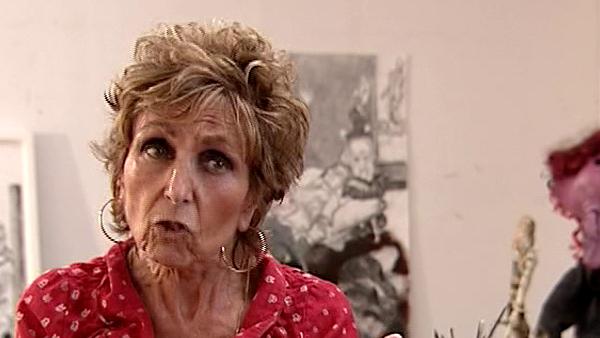 The Firemen of Alijo
The beautiful Italian girl in The Dogs of Barcelona
1
2
3
4
5
6
I had at the time a book of Romanesque paintings, from Barcelona, and I took out a... a picture — I... I copied, used one... an image — of St Jerome, who had his wounds licked by dogs, and they were healed, so the dogs were being very kind and also useful. So I had that in the picture, in the middle. And then on top was a frieze of the dogs all dying, all twisted and churning and dying, and all over the picture were flies, flies, flies, flies, you know, and the story... I'll tell you the real story, actually, it's like this: I was working upstairs, frantically on this picture, had a tiny room, in Albert Street, the back top room where I worked, Vic had the front room, then the children had their bedrooms and the living room and all that stuff. And I used to have a tiny room at the back, and it was full of paper everywhere and I was sticking this thing down, and I got to a point when I'd... I'd finished the picture, up to a point, you know, there was, there was a gap at the top, and there was...I didn't know how to finish it. And I didn't know how to finish this picture. It had everything it should in it already, but there was something else missing, and then, one day, we met a... a very, very beautiful Italian girl, and one day I came down into the living room, and there was my husband snogging this girl. Well, I was so shocked and so annoyed, I told them to get out etc all that business, you know, and it was... I then went and put her on the top of the picture. You see, I used her to make her into a kind of monstrous kind of figure, with her tongue hanging out, and her eyes also popping out. And that's the big, fat, lumpy thing on top, is her. So that has nothing to do with The Dogs of Barcelona. But... but it has got something to do with The Dogs of Barcelona, because it's a monstrous creature up there, so I... that's how I finished it. I finished that picture, and it was... after that it was... it was difficult doing the next picture. It was... that picture kind of sealed something off for me. And sealed... not personally, it had nothing to do with my personal life, but the picture as a picture was...that... that phase was over, definitely. Expurgate all this... Yeah, it all came... and it's full of violence and disgust, and flies, and you know, merda.
Portuguese painter Paula Rego (1935-2022) became part of the London Group in 1965, was shortlisted for the Turner Prize in 1989 and became the first Associate Artist of the National Gallery in London in 1990. Her work is strongly influenced by folk and fairy tales, especially those of her homeland.
Title: The beautiful Italian girl in "The Dogs of Barcelona"
Listeners: Catherine Lampert
Catherine Lampert is an independent curator, art historian and Visiting Professor at the University of the Arts. She was director of the Whitechapel Art Gallery (1988-2001) and has been a model for Frank Auerbach since 1978. Her recent projects include exhibitions of Rodin (Royal Academy 2006) and Lucian Freud (Dublin, Denmark and The Hague 2007-2008) as well as a book on Francis Alys (Turner Libros) and a catalogue raisonné of Euan Uglow's paintings (Yale University Press 2007).
Duration: 3 minutes, 14 seconds
Date story recorded: August 2007
Date story went live: 02 October 2009