NEXT STORY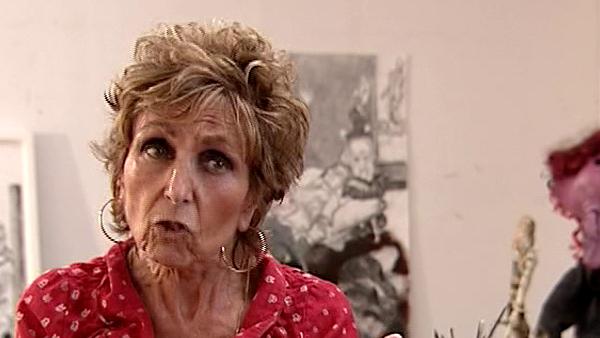 Getting back into work with sculptures
A difficult period for my work
1
2
3
4
5
6
Pop art came in. And be...things...it was pop art. Pop art. Everything was flat, you know, and there was...pictures had no... no texture in them, there wasn't any shadows anywhere. No shadows. Pop art there's very few shadows. It's... because Peter Blake and so on, but I never considered... considered David Hockney as a pop artist, to tell you the truth, ever. But, you know... Americans, I'm talking about, I thought, well, this is... this is something I must at least try to be. So... and also, acrylics came in. I began to use acrylics for the first time, and of course everything was flat, and dead. And I went on doing flat and dead pictures for quite a long time. One of them Vic quite liked, so I was pleased about that. But afterwards he didn't even have anything to say. And I didn't like them either. I just did them and they weren't any good, except the... The Punishment Room is good. Because then I was doing in studio, I was doing the room where... it was like, instead of calling it playroom, I call it The Punishment Room. It had my mother's hats, and it had little girl, and it was... it was, yeah, it was a punishment room. I liked that picture. But apart from that, every picture I did was a disaster. And this went on for quite a while. The only thing that still kept going, because I used to sit by the fireplace when Vic was out doing his business, and I used to do drawings in pen and ink. I did a lot of drawings of my aunt's house, and Manuela, my little cousin walking with her grandfather, and quite... quite nice drawings, those were. So I kept that going. But the pictures suffered terribly. I could... I was lost, really, till I came back to London. Till I came back to London. And then, also, it wasn't just coming back to London, because I was in a very bad way. My... I'd... I'd had another kind of depression, and I was in a very bad way, and I started therapy. I started doing Jungian therapy, as a matter of fact. Anthony Storr, who was a writer, also writes about the black... Churchill's Black Dog, he wrote about. And I went to see him, and he was very nice, and he got me to see somebody else, who I still see now, occasionally. Who has got pneumonia at the moment, my God, he's awfully ill.
Anyway, so I started that, which was very interesting. Because doing... doing therapy rekindled all my interest in the folk tales. It was then that it started. It was like... like going back to some sort of source, because I think Jung was interested in... in that as well, and there are lots of things written about folk tales and fairy tales by Marie-Louise von Franz for instance, Shadow and Evil in Fairy Tales and all that stuff. I read all that. I... I also had a period of reading Herman Hesse, all that hippy stuff, and I became very, very interested and I asked for the Gulbenkian, by then I was quite broke, and I went to the Gulbenkian, and said, 'Look, I... I need money. Can you help me?' They said, 'Well yes. Find anything you want to do, anything, and we'll give you a... an allowance'. And they did. So I spent six months at the British Library, reading up the original fairy stories, Straparolla, the... you know, the Italian stories, and... and then... and then going on from there. I didn't get to read the Indian stories, actually, because they're supposed to come from India, but I... but...and then, you know, going on to Perrault and all that, but I read... read a lot of very early folk tales, and did a study on them, wrote to them, did a whole series of illustrations on Portuguese fairy stories as well, and then moved on from there. And slowly, slowly, slowly, slowly, slowly, I began to...I began to...well, develop in some way. But everything was kind of dead, for a long, long time. So I don't like showing those pictures.
Portuguese painter Paula Rego (1935-2022) became part of the London Group in 1965, was shortlisted for the Turner Prize in 1989 and became the first Associate Artist of the National Gallery in London in 1990. Her work is strongly influenced by folk and fairy tales, especially those of her homeland.
Title: A difficult period for my work
Listeners: Catherine Lampert
Catherine Lampert is an independent curator, art historian and Visiting Professor at the University of the Arts. She was director of the Whitechapel Art Gallery (1988-2001) and has been a model for Frank Auerbach since 1978. Her recent projects include exhibitions of Rodin (Royal Academy 2006) and Lucian Freud (Dublin, Denmark and The Hague 2007-2008) as well as a book on Francis Alys (Turner Libros) and a catalogue raisonné of Euan Uglow's paintings (Yale University Press 2007).
Duration: 4 minutes, 36 seconds
Date story recorded: August 2007
Date story went live: 17 July 2008