NEXT STORY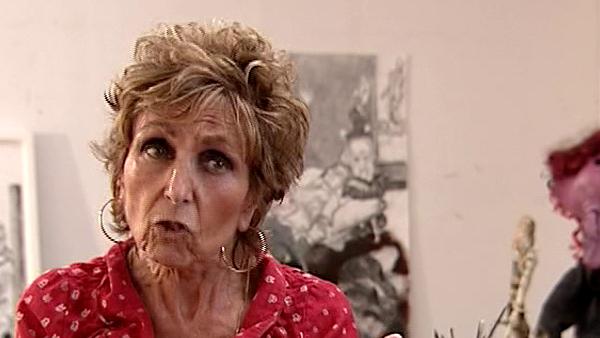 Between pictures
My pictures inspired by The Crime of Father Amaro
1
2
3
4
5
6
I do have to do an experiment every day, and sometimes it's just... it's just carrying on from the day before, really. That's a blessing, you know, when you haven't... when you haven't, when... I tell you, the most blessed thing, is when you're... you're... I think it's called on a roll. When you're on a roll, and you... you've got a subject that you know it's going to carry on... that you know, that you really, really want to do. It helps very much if... sometimes things that not... are not entirely personal, but political, like the abortion pictures, that was terrifically... terrific to do, and then the dog-woman and then the ostriches, and then that novel called Father Amaro, which is by the Portuguese writer, Eça de Queirós, and I started that... my father, again, I liked that book very much, it's rather anti-clerical, about a cowardly priest who seduces a girl, and gets her pregnant, and then in the end, in the version I've got, which is unique, he actually murders the child himself. In the... in the usual version, he gives the child to the maker of angels, which is the woman who murders the children. Supposed to look after them, but in fact she kills them. And it's a most marvellous, I thought... saw it as a most marvellous love story between this very insecure, pathetic man, and this equally insecure and virginal girl, who hasn't a clue and is immensely conventional, but not enough to stop this idiocy. And the whole environment, which is so Portuguese, of the provincial kind — provincial Portugal — which is probably no longer like this, 'cause this is sort of like 19th century. But I think it probably still is very much like that. And this hypocrisy, people talking and everything, and it's... it's a most wonderful book. So I decided to do that, using various friends as playing the part. It's the first time Tony — Tony Rudolf — worked with me. He became Father Amaro. I got him a costume... down the road from here, there used to be Costprop, that you could hire the costumes there to make films and plays, just going down the road, and you'd choose the costume. And he walked up the road dressed as a priest. You should see the... I mean the garage next door, Nino said, 'Hello Father', and stuff like that. It was really funny. And they would say, 'What is she doing to you now?' When he was Mr Rochester, or course, and I dressed him up as Mr Rochester, in a velvet coat. It really is very becoming to men to wear the 18th century costume... early 19th century costume. Anyway, he was the priest and Lila was the girl, of course, and every other... in lots of other areas. And then I had a most marvellous model called Julietta, who used to look after my kids when they were little, and she was the... the old woman, she was a marvellous model. She's dead now.
And so it went... so it was one picture after another after another after another. It was so exciting to be able to do, and it was all done in pastel, which is like drawing... drawing, but in colour. So you can do both things at the same time, you draw... you draw in colour. And I never rub it, 'cause pastel you're supposed to rub... rub it, or something, but I don't... I don't rub it. I draw and I draw and I draw, and I start like... some people start with painting, with a bottom layer done in green, and then I use pink, okay, and then... and then on... and then — for the flesh tones, and so on — and then I've got a very fine Conté pencil... pencil — crayon — in... in green, an olive green, and I comb the two together, so that, you... you put a line, and redrawing it at the same time. So it's not usual, but I don't know how to do pastels, really I've never learnt, this is something I... I thought... it was quite effective. And I did that over and over again. Sometimes I had to wipe the whole thing off and start all over again. And then for the materials, you just copy them quite carefully, to make the folding of... 'cause the... clothes are terribly important in pictures. How people wear... how it makes their body seem. How the full skirts hide so many things underneath them, you see, could even be... you know, animals under there, or whatever. Killing rats could be under there, and so on. As so therefore, there is... the... the clothes are terribly important. I love clothes anyway, so you put... you drew the clothes very carefully and you do... so you... there's very good... pastel's very good for that, because you draw, you draw, you draw and you draw and you draw. And I found that doing this whole series was... was wonderful for me. I found it really... you could... another thing that happens, is when you're doing a book like that, you go into the book, you're part of it, you're actually in there, and you can go to places where the... even the author doesn't go into. And you can even — not exactly rearrange — but bring some justice where justice is needed. I know, this sounds awful, but there is some revenge sometimes necessary, and I can provide that.
And at the end of... at the end of the series, when Amélia is having the child, and the writer and the doctor are sitting outside, there are... there's a description of them sitting outside, the writer never goes into that room where she is giving birth, but I can go into the room where she's giving birth. I can go and show what is going on in there, you see. I can show the voodoo aspect of it, the hanging chicken, the blood, the... the little sheep, the symbol of, you know, Christianity and... and placid acceptance, right. Go along a bit, and the girls are all wearing bibs. I like bibs, 'cause I used to have them as a child, with frilly tops. Also, they are bibs, but they're also like angels, because they're all frilly up here, and I could do all that. I went in there, and I... and I showed what it was like in there, I... and then you can then do another character, which is my avenging angel, which is... she has a sword in one hand and a sponge in the other, which are the symbols of the crucifixion. And she's an angel of redemption and... and revenge. And that's how the story ends, really, that's how the story ends. In... in my... in my series it ends with the angel.
Portuguese painter Paula Rego (1935-2022) became part of the London Group in 1965, was shortlisted for the Turner Prize in 1989 and became the first Associate Artist of the National Gallery in London in 1990. Her work is strongly influenced by folk and fairy tales, especially those of her homeland.
Title: My pictures inspired by "The Crime of Father Amaro"
Listeners: Catherine Lampert
Catherine Lampert is an independent curator, art historian and Visiting Professor at the University of the Arts. She was director of the Whitechapel Art Gallery (1988-2001) and has been a model for Frank Auerbach since 1978. Her recent projects include exhibitions of Rodin (Royal Academy 2006) and Lucian Freud (Dublin, Denmark and The Hague 2007-2008) as well as a book on Francis Alys (Turner Libros) and a catalogue raisonné of Euan Uglow's paintings (Yale University Press 2007).
Duration: 8 minutes, 11 seconds
Date story recorded: August 2007
Date story went live: 17 July 2008