NEXT STORY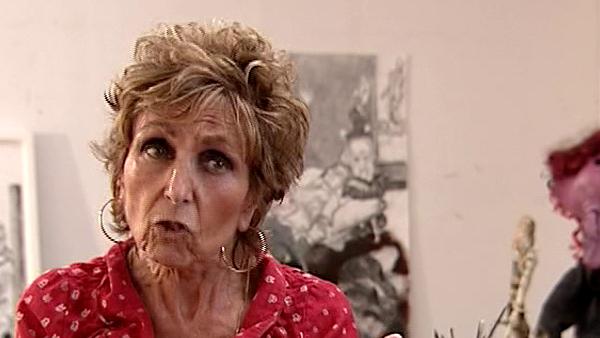 I hate doing self-portraits
1
2
3
4
5
6
There's always periods between when you really have a strong idea, on a strong subject, then what people call transition periods, I detest that remark, because it's always transition. When you're not... you're looking for something, and that's the worst time of all. Sometimes you do the odd picture, which is actually rather interesting. And like, many years ago I did... it's called Untitled, it should be Mary Magdalene in the Desert. With the girl, Lila, push... putting on her roll-on with great difficulty; she's in great discomfort. The roll-on doesn't fit, it's too tight and she's... it took her forever to do that picture. We started, we did it, and then we put it away — and something I never do — I picked it up again, and started all over again. And that was very difficult. But it's... it's a... I quite like that picture, and it's one those in-between ones. And sometimes there's the odd one that happens like that. Do you ever scrap a picture, and literally start the same subject? No, we... we keep... we don't... we... we put it aside, and then start again on top of what is there. We don't scrap it, we use the same... same stuff that's there, and go on... and go on with it... go on with it, changing things all the time, you know. The... the limbs widen, and narrow and positions change. It's just accommodating it in a different way, and... and the struggle within this girdle, and everything, yeah. I bought a lot of girdles and... and underwear — women's underwear — 'cause I did a series of drawings of her, in... in underwear doing, you know, disgust, and all that sort of thing, that you feel sometimes and quite often, and all that, yeah.
Portuguese painter Paula Rego (1935-2022) became part of the London Group in 1965, was shortlisted for the Turner Prize in 1989 and became the first Associate Artist of the National Gallery in London in 1990. Her work is strongly influenced by folk and fairy tales, especially those of her homeland.
Title: Between pictures
Listeners: Catherine Lampert
Catherine Lampert is an independent curator, art historian and Visiting Professor at the University of the Arts. She was director of the Whitechapel Art Gallery (1988-2001) and has been a model for Frank Auerbach since 1978. Her recent projects include exhibitions of Rodin (Royal Academy 2006) and Lucian Freud (Dublin, Denmark and The Hague 2007-2008) as well as a book on Francis Alys (Turner Libros) and a catalogue raisonné of Euan Uglow's paintings (Yale University Press 2007).
Duration: 2 minutes, 7 seconds
Date story recorded: August 2007
Date story went live: 17 July 2008