NEXT STORY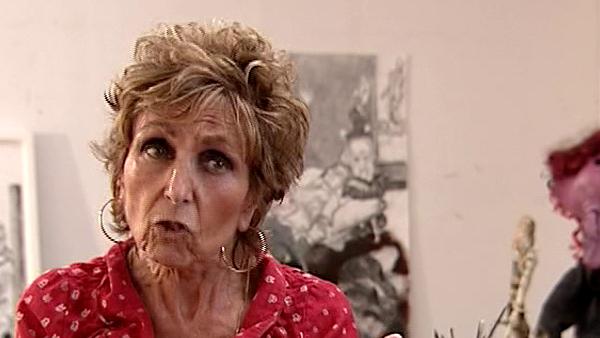 My commission for Crivelli's Garden at the National Gallery
1
2
3
4
5
6
I would love to do… I… I very much admire folk tales. I think folk tales are… are not fairy stories, although I like fairy stories, they're not fairy stories. They're immensely cruel and truthful accounts of states of mind, and partic… the most interesting and gruesome ones, are in fact Portuguese fairy… fairy stories. And I'll tell you one, which is quite interesting, which is… it starts this family lives in the woods, he's a woodcutter, and he comes home and there is nothing to eat, there's nothing to… they've got nothing to eat. So the wife cuts off her left breast and cooks it, and gives it to him, and he loves it: 'Ooh it's so tender, so lovely'. And then another day passes, and he comes back again, and there's still nothing to eat, so she cuts off her right breast, and he eats it and, it's marvellous etc, how delicious. And then the third day, she comes, and she says what… 'There's nothing to eat today'. He says, 'What's the matter with you? Look, your blouse is all red'. She says, 'Well I cut off my breasts to give them to you to eat'. He said, 'Oh bother, now there aren't any more left, now we've got to start on the children'. That's how the story starts. And the children hear this, and they run into the forest, and then they get help from all sorts of things. You see, and this is a true story, and how. Because it's just a bit different from the French one, which is the breadcrumbs or another one, you know, but it's the amputation. Amputation and of course, giving everything to her husband, so that he could be happy, you know, and even the food from her… from her chest. I thought that was… I mean there are lots of stories like that, really, and I'd like to do them, but I haven't… I haven't actually got round to it yet. Maybe as I… you know, in a year or two, I might do them. Are they in anthologies, are they written down by…? These Portuguese stories are collected from word of mouth, still, by scholars and so on, so they… the ones I have read are actually from word of mouth, and they have several versions of the same story. They… there are proper folklorists who… who did the same thing in the 19th century, all over the world. But Grimms is supposed to have done that, as well, although Grimm actually… there is some stories that they… they touched up, and so on, and most of the folk tales were actually, bowdlerized and censored, so that not just children, but people couldn't… wouldn't read these horrible things. But there they are, you know; the scholars have got them down there, it's fascinating.
Portuguese painter Paula Rego (1935-2022) became part of the London Group in 1965, was shortlisted for the Turner Prize in 1989 and became the first Associate Artist of the National Gallery in London in 1990. Her work is strongly influenced by folk and fairy tales, especially those of her homeland.
Title: Portuguese folk tales
Listeners: Catherine Lampert
Catherine Lampert is an independent curator, art historian and Visiting Professor at the University of the Arts. She was director of the Whitechapel Art Gallery (1988-2001) and has been a model for Frank Auerbach since 1978. Her recent projects include exhibitions of Rodin (Royal Academy 2006) and Lucian Freud (Dublin, Denmark and The Hague 2007-2008) as well as a book on Francis Alys (Turner Libros) and a catalogue raisonné of Euan Uglow's paintings (Yale University Press 2007).
Duration: 2 minutes, 58 seconds
Date story recorded: August 2007
Date story went live: 17 July 2008