NEXT STORY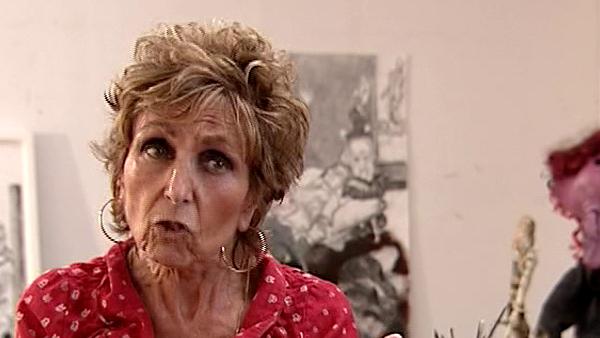 I still go to see films
I've loved film all my life
1
2
3
4
5
6
I had a very nice girlfriend of my daughter's, an actress called Flaminia Cinque, and she came and she was a drunk... the drunk dog, and she was very good at doing that. Sloping of the... she was wonderful. Wonderful. And I did her as well, in... part of The Ostriches. I used her in The Ostriches as well. Yeah. Yeah, she's good... good model. Wonderful. So... then that... that, you know, I did quite a few of those Dog Women. That was that. Because... and then of course The Ostriches... you see they asked me to do...the Hayward had a show, which called... Spellbound. Spellbound was the influence of movies on art. And I was, you know, it was so... such fun. It was Philip Dodd got it together, and I think he ran the British Film Institute at the time or something, and he... oh my God, I said to Lila, 'What are we going to do?' So I said 'Oh. Something with Carmen Miranda', you know. Okay. Because I'm a great fan... I mean when I was at The Slade, in my last year, most of my time I spent in the cinema. I used to see three films a day. And I knew... at one time I'd seen every single film that was showing in London. Every single film. I used to go all the time. And...I've always loved film. I mean, my... as my father had a little private cinema of his own when he was a boy...a young man, in his grandmother's basement, and he used to show all sorts of... all sorts of films there. Films he made; he made films. Also he showed, you know, Laurel and Hardy, and- Steamboat Willy. Yes? Felix the Cat that I adored. And all that, so we were brought up on movies. And as a treat he would put up a screen, and show me films. I loved films.
When I was in Portugal, I was not allowed to go to the films, except with my grandmother, and we had to take a picnic... when I grew to more a teenager, we were not allowed to, except perhaps once in a matinee, once in a while. And I didn't see very many films. So when I came to London, the idea of coming to London was the idea that I would go to the films all the time, and have as much ice cream as I wanted. So, bliss. And, as we descended, as the plane — because in those days they had turbines, yeah — and the lights of London were under spread, down there, and I thought: gosh, this is paradise, surely? And down there are all these movies I can see, and all that ice cream. And I used to buy family block ice cream, and have it all myself. They were disgusting ice creams, you know, nothing like Portuguese santini. I never liked really Wall's ice cream in three colours are really horrible. Anyway, I used to love that. And I used to eat a whole lot. So I used to go to the films all the time, and I saw... I saw everything. Audrey Hepburn, I saw Shane. Everybody was talking about Shane. Shane was so wonderful. It was okay. But there was one film that a friend of mine, David Wright, took me to see, in Hampstead, which was a true shock, and that was Buñuel's... it was Los Olvidados. And it was about...it took place in Mexico. It was... Buñuel was working in Mexico. And he...it was not... the surrealism in the film was limited to the mother, the vision of the floating meat. And a bunch of real nasty boys, who were like, you know, and they treated everybody really badly. They were little thugs. And they beat up a cripple. There was a cripple that used to travel on... on wheels, you know, had a kind... not... not a wheelchair, but just, he had a cart, with wheels? That he pushed himself along, because he had no legs. And these boys beat him up. And... and I was so shocked. I didn't know that... that... see, I hadn't realised that people that were so hard up themselves, like the boys and their families were... could be so beastly. I had the idea that maybe people were so hard up and poor were nice and kind, you see. Some idea, some stupid idea, you see. And of course I was shocked, and I was... I was... I thought, boy, this is something. And so I became a great fan of Buñuel's. I loved everything he did. Everything. I liked his Tristana. It is not so... but of course and it was Belle du Jour, which is, you know, life story, true-life story, and then there were... there were- Nazarin... all those films. The... the script...some of them, Bourgeosie, I did not like so much. I liked more the early films. I liked the black... the black and white films. I became a fan of going... I liked... and then I went to see Pasolini as well, I liked Pasolini a lot. Theorem and that and... marvellous, and the Matthew... according to St Matthew... the The Passion According to St Matthew [sic], which I liked. I have that on video at home. And... and I saw... and I saw all the... I detested the Nouvelle Vague films. The... the person I detested most of all was Godard, Jean-Luc Godard. I loathed him. It was pretentious, it was just crap. I hated it. And then... I liked Louis Malle, and Truffaut and that... but by then film had become kind of different, you know.
Portuguese painter Paula Rego (1935-2022) became part of the London Group in 1965, was shortlisted for the Turner Prize in 1989 and became the first Associate Artist of the National Gallery in London in 1990. Her work is strongly influenced by folk and fairy tales, especially those of her homeland.
Title: I've loved film all my life
Listeners: Catherine Lampert
Catherine Lampert is an independent curator, art historian and Visiting Professor at the University of the Arts. She was director of the Whitechapel Art Gallery (1988-2001) and has been a model for Frank Auerbach since 1978. Her recent projects include exhibitions of Rodin (Royal Academy 2006) and Lucian Freud (Dublin, Denmark and The Hague 2007-2008) as well as a book on Francis Alys (Turner Libros) and a catalogue raisonné of Euan Uglow's paintings (Yale University Press 2007).
Duration: 6 minutes
Date story recorded: August 2007
Date story went live: 17 July 2008