NEXT STORY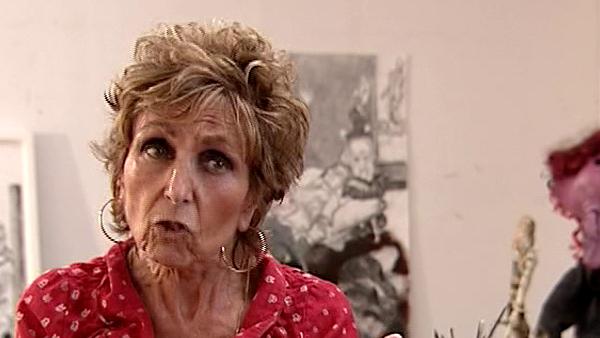 My last year at The Slade
1
2
3
4
5
6
The other films came later. The Nouvelle Vague came later, in the '60s. This was in the '50s that I went on my own to the flicks, all the time. All the time. Everything. It's marvellous. You come out of the… there was another wonderful film, Kubrick's…Kubrick's film — oh, God, I can't remember — it was an 18th century story. 18th century with a lot of sword fighting. What is that called? Ah...it's a famous novel. I know... It was a famous novel. It was the most magical film. I remember coming out of Leicester Square — I used to go to Leicester Square, to the Empire, to all that — and coming out, I used to go during the day, so it gives you an unreal feeling when you come out, you know, of the cinema, and it's still light. It's really weird. And then... but then I'd go on to another one, and so-on. In those days of course sometimes there was two films. There was the B one and the main one. And there was newsreels and I mean you could stay in the cinema all day. Nobody told you to get out. But I never did. I never saw something twice. I used to go on to another movie. And so on, yeah. I don't do it anymore. I go too little now. Now I don't go and see films as much as I should do, but I still love film. But I don't like it as much as I did. I saw The Walker. Have you seen The Walker? It's a wonderful film. Wonder... Paul Schrader. Wonderful film. But I don't... and of course there's...there's Almodovar, whom I adore. I think he's marvellous, and all those films coming from South America are wonderful. So, I still go, but not... not like that. I don't have time now, to do that sort of thing. Of course I wasn't doing my work at The Slade, that's for sure, but I didn't want to.
Portuguese painter Paula Rego (1935-2022) became part of the London Group in 1965, was shortlisted for the Turner Prize in 1989 and became the first Associate Artist of the National Gallery in London in 1990. Her work is strongly influenced by folk and fairy tales, especially those of her homeland.
Title: I still go to see films
Listeners: Catherine Lampert
Catherine Lampert is an independent curator, art historian and Visiting Professor at the University of the Arts. She was director of the Whitechapel Art Gallery (1988-2001) and has been a model for Frank Auerbach since 1978. Her recent projects include exhibitions of Rodin (Royal Academy 2006) and Lucian Freud (Dublin, Denmark and The Hague 2007-2008) as well as a book on Francis Alys (Turner Libros) and a catalogue raisonné of Euan Uglow's paintings (Yale University Press 2007).
Duration: 1 minute, 56 seconds
Date story recorded: August 2007
Date story went live: 17 July 2008