NEXT STORY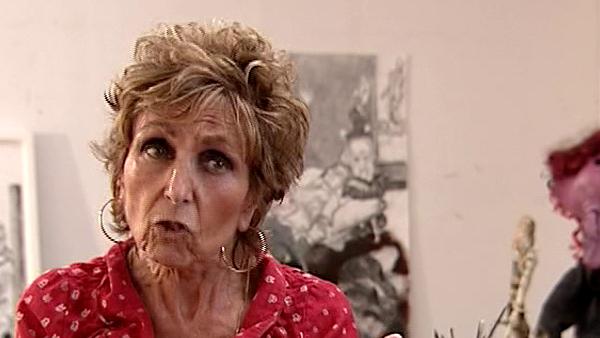 Metamorphosis
The Father Amaro series: Amongst the Women and Mother
1
2
3
4
5
6
The picture's called Amongst the Women. And it's from Father Amaro series, and it was a painting I did that... when I met Tony Rudolf, and he... he wanted to sit for me, he was actually very glad to sit for me. It's unusual that men like to sit for you. They get so bored. But he did. And so I... I got... I dressed him up, because in the story, he's a priest... he's a... before he becomes a priest, he is... has got no mother, he's brought up by Madrinta, a godmother or something. He has no vocation whatsoever, and he's taken to the godmother's house and there he's very, very happy, amongst the servants, who made a fuss of him. They used to dress him up as a girl, and they used to... but he was very little, and they used to dress him up as a girl, and they used to pamper him, and make him laugh, and so I thought: it's a very, very good idea. I'll get this man, and I'll dress him up like a girl, except of course he's not a girl, is he? Because he's a man. He's not even like a woman. He's a real man. And I put this skirt on him, this... this tartan skirt on him. And he's sort of cosying up against Lila, feeling really comfortable, and very smug, and he is... he just sort of goes on like that till the end of his days, you know, leaning on... on these women, and making mischief really. And so I did... I... I set it all up, Lila's sewing. And then I got this girl, a student, from Camberwell, who came and sat for me. I bought all these wonderful clothes... wonderful clothes. I think I bought them in Islington. And I still have the white one upstairs. I've kept that. And...and that was it. And they're just there, and he's... he's just so cosy, you see, and... amongst the women. Where they can spoil him rotten.
It's quite a challenge to paint a... a picture that is so much in the tradition of... of western painting, the tradition of, you know, Velázquez, and... Is it? And...you know. Well- I mean, I don't know whether you feel intimidated to talk about it, perhaps about painting such a serious... a big painting?
It was quite a big painting, because it's a... well, it's actually easier to do a bigger painting in pastels than just to do teeny ones is very, very difficult. And you... you have... it has bigger, more presence. I didn't think of it, as in any tradition, quite honestly, at all. I just thought of it as... what the story called for. And then it has a reflection in the... in the glass behind, which shows... which is also it appears in... in lots of paintings, obviously that's traditional, but I didn't think of this, I didn't think of any other painting when I was doing this, really, just this... you know, and... and then I did the other one of him dressed, it's called Mother. Which, he's a... which took me forever to do, because it kept changing. I wasn't sure what it was about, I just knew I had to go with it. And that in the end I'd find out what it was, but it was a right mess, and I've seen, because you know, Lila keeps photographs sometimes, of how they developed. She sometimes takes photos at the end of the day, for her own things, and she's... I saw it one time, it was much better than how it ended. And... and then there...people interpret. People who write about the work interpret it in all sorts of ways. They interpret it like how... how they want to interpret it, which is fine. I like that... that the person who writes... make... make up their own stories about pictures, it's... it's great. But this is about smugness, and about not growing up. To be... to be a boy, all your life, and leaning against women for comfort and for support. And... and for... for flattery. That's what it's about, really, and... and Tony was... it was the first time I ever painted him, and it was... because he's got a very, very good head to do — very easy — and... and I didn't even re-work it. It was done the first time... first time, which is extraordinary. And I got it. It looks like him exactly, and his feet look like his feet as well. He's got very distinctive feet. And it looks like... It all looks like him. It's extraordinary. Yeah. So I got... I got into the habit, I mean really he is... he is a marvellous model.
Portuguese painter Paula Rego (1935-2022) became part of the London Group in 1965, was shortlisted for the Turner Prize in 1989 and became the first Associate Artist of the National Gallery in London in 1990. Her work is strongly influenced by folk and fairy tales, especially those of her homeland.
Title: The Father Amaro series: "Amongst the Women" and "Mother"
Listeners: Catherine Lampert
Catherine Lampert is an independent curator, art historian and Visiting Professor at the University of the Arts. She was director of the Whitechapel Art Gallery (1988-2001) and has been a model for Frank Auerbach since 1978. Her recent projects include exhibitions of Rodin (Royal Academy 2006) and Lucian Freud (Dublin, Denmark and The Hague 2007-2008) as well as a book on Francis Alys (Turner Libros) and a catalogue raisonné of Euan Uglow's paintings (Yale University Press 2007).
Duration: 5 minutes, 2 seconds
Date story recorded: August 2007
Date story went live: 02 October 2009