NEXT STORY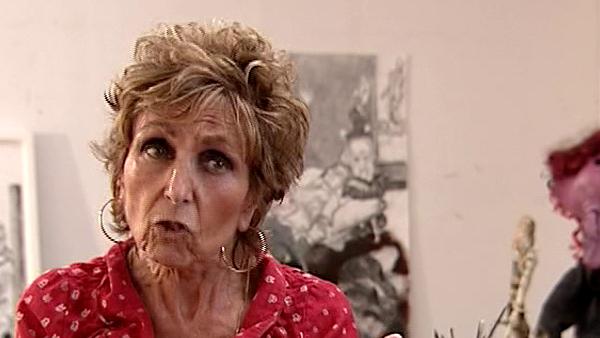 Setting the scene in the studio
1
2
3
4
5
6
I began to do some drawings, of girls coming out of a couch... not coming out of a couch; tied up — wrapped — they were wrapped in... I bought big pieces of... of satin... satin — taffeta — great — I go to John Lewis, I buy this... these materials — great... great strips of taffeta, and tied up Lila in various positions, so that's she's bre... trying to break out of this... of this... bound, by being bound, hands and so on. It's not to do with prison or anything like that. It is to do with psychological states of mind, and then I... I did a whole... a whole series of them, and afterwards I thought, well, I must do... I must do bigger, much bigger than this. And I will do, just... just drawings, just black and white, and I'll try and get better at drawing. Get better at it, by... by copying it as clearly as I can and as strictly as I can. No matter what is in front of me. No matter what. So then I constructed the... these figures made out of... Lila actually got a skeleton — a... a woman's skeleton — which she then covered in cotton and silks, with stockings on top, and... and she made this skeleton woman. I made the head, which is all crumbling, so it's like a death's head really, and... and we had various creatures and because I thought, well, I thought about the Muses, because the Muses, who, before there were Muses, were followers of Dionysus, and they were the Maenads. Maenads can destroy. And the Muses protect. She... they protected Orpheus, but he was destroyed by the Maenads in the end. And I'm very interested in Jane Harrison's book; the... I can't say the word, but the introduction to Greek religions... there got another one. And I read that a lot before, because I did lots of pictures when I was much younger, collages on Gorgons, the Harpies, all those creatures, Greek... Greek violence and... and disruption. And I was very, very interested in that, and I thought that... that certainly the Muses as Maenads could be very interesting, because they represent a state of mind, and because of the damage they can cause, and particularly to themselves. And so, I... I started doing a series of Muses, you see, and I'm using these creatures, and dressed... putting flowers on their head, and baby poets on the ground. There's one of Tony as a baby poet in a cot, with the Muses around, and my little granddaughter putting the lemons apart.
And so... so I started doing this lot. And then it turn... and then the subject matter developed into other things. But this drawings went on the same, because, you know, the fact I was standing there, doing these drawings, and... you know, just... just... pencil. Graphite? And Conté pencil. I used... I have so much completely in graphite. And, which... more difficult to see, because they reflect the light. So I thought, well, I must get some Conté pencils, but in fact, it's different, but not so subtle, right? But I... but you can see them better. And I started to... and I just started faithfully... faithfully setting up the scene, trying to draw it as carefully as I could. That's what they are, exercises, really. Exercises in drawing. But of course you have to have a story in order to do something, otherwise you're bored stiff, if you just have a figure there, you've got to have a story. So I did the story, you know, this... like the Zurbaran thing, and... and then I made a tree... a tree that's a Muse, and the tree has roots that squash the babies, and then there's this rather plump lady, who looks after my house, and she came and dressed up as another Muse, and behind her is hanging her husband, who hung himself, but he's also a Muse. So there was a forest of Muses, right? And... and a little girl turned up, so I put.... put her in a... in the picture as well. And... and just did the thing as I went on like this. And then that one is more difficult. That's got... got the willies in it. You know. Got willies in it. On the floor? On the ground. On the ground; she's carrying one. And... and look, do you see the one behind, with it round her neck? She... that's like the Lacoön? But it's not a lacoön; it's not a snake. It's something else, I know, and... and they're all... really... like, well, anyway, so...the Bacchae as well. Like the Bacchae. So that's... that's, that's it really. The drawing. It's about drawing.
Portuguese painter Paula Rego (1935-2022) became part of the London Group in 1965, was shortlisted for the Turner Prize in 1989 and became the first Associate Artist of the National Gallery in London in 1990. Her work is strongly influenced by folk and fairy tales, especially those of her homeland.
Title: Black-and-white drawings
Listeners: Catherine Lampert
Catherine Lampert is an independent curator, art historian and Visiting Professor at the University of the Arts. She was director of the Whitechapel Art Gallery (1988-2001) and has been a model for Frank Auerbach since 1978. Her recent projects include exhibitions of Rodin (Royal Academy 2006) and Lucian Freud (Dublin, Denmark and The Hague 2007-2008) as well as a book on Francis Alys (Turner Libros) and a catalogue raisonné of Euan Uglow's paintings (Yale University Press 2007).
Duration: 5 minutes, 38 seconds
Date story recorded: August 2007
Date story went live: 17 July 2008