NEXT STORY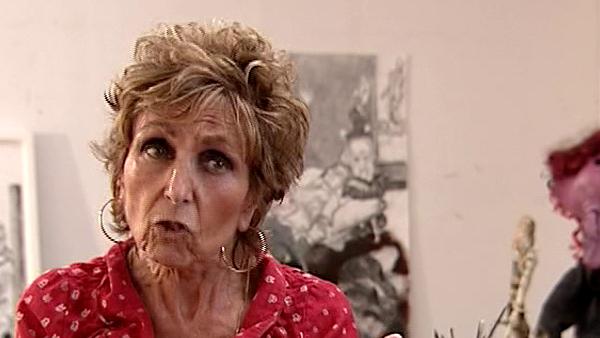 LS Lowry and Victor Pasmore's opinions of my work
My contemporaries at the Slade School of Fine Art
1
2
3
4
5
6
The artist whom I most admired at the Slade was Diana Cumming, who got all the summer prizes and painted pictures from the imagination, wonderful pictures of... of... I can't explain how they were, but they were quite magical and fierce and... and very, very strange, moonlit cats and things. She's marvellous and she got the prizes so she must be good, I thought, if she gets the prizes. And so I very much wanted to... but I can't imitate her because I couldn't do that kind of stuff. But she was somebody I admired a great deal. And then there were... there was a group, of course, there was the Euston Road group with Euan Uglow, Tom Espley, Patrick George. I think Patrick George was teaching there, not sure. And many, many, many — Dick Lee — there were many, many people that had come on from Camberwell and that, to me, it was not natural to me to... to do what they did, which was like to try and measure everything and with a pencil, to see the proportions and... and all, and to try and really concentrate on drawing and so-on. It just wasn't natural to me, so I... I couldn't; I... I just found it very difficult. But I did learn something, I did. Something came across. It's like a chronometer that you have, the equivalent to music that keeps things in that way, and that has never left me, curiously enough. A balancing act that has... has never, never left me to today. And that was picked up at the Slade and I think that that was certainly picked up from the... from the Euston Road doing... very roundabout, but it was very interesting. And the... they were the strongest group at the Slade in those days; then there was somebody like Michael Andrews who was outside that, but touched on it. But he was a painter of stories and he's a painter of... of extraordinary incidents. Like one of his best paintings was just the Man who Suddenly Fell Over, is extraordinary. And who would think of doing a thing like that? He was, I think, he was influenced by Ben Shan, the American artist, who was somebody I admired at the time very much, but who was not talked about at all at Slade. He was considered no good. But I think Mike must have looked at him and I liked Mike's... Michael's work very much indeed. And I thought he was just like, you know, my God, he's a real artist, you know. And there was, yeah... and then there were... there were lots of... of girls who painted at... at... and there was people. Anyway, there were... there were and then was Vic... Vic, whom I married later, many years later. He was... was a kind of intellectual. The Slade was not an intellectual place. We had Professor Wittkover who gave art history lessons... talks, who was marvellous, and made things extremely interesting and marvellous. Then we had Sam Carter who taught us perspective, which was something I was never able to understand, ever. I even now have to have explanations from my son, Nick, who draws things out for me because I find it very difficult. I try work it out with strings and things round the back there. Then we had somebody — I cannot remember his name — teaching us anatomy, which I liked actually, and I wish we'd gone into the anatomy, the dissection theatre when... used to do in the old days, but not anymore.
So we learned all the basis of human body and the construction that people used to learn, way back, way back, way back. But it took... it took Vic to explain to me that the way the body moves, you know, and the shapes and the planes, many, many years later. And I remember asking once in Portugal to Vic, many years later, 'What is tonality?' Now, he said to me, 'You half close your eyes and you see some things darker than others; that's tonality.' Da da! Easy, eh? You don't have to... so there. So that happened later. But at the Slade you did learn and it was... you did learn; things got through, even though I was not one of... of the... no way could I be part of the Euston Road group. I wasn't capable, I didn't have... I wasn't capable of doing that really. And then there was another... another lot of students who were influenced by Stanley Spencer and who did imaginative pieces with hedges and pools and things. One of them was Joe Hope, who was... who was... I think got a prize once. And I even met Unity Spencer; in fact, I saw her only the other day, who was Stanley Spencer's daughter. So there were various groups of different kinds of art going at... at the Slade; it wasn't just one kind. And I think Coldstream encouraged this variety. He was... I... I think he encouraged the variety and... and he was good... very good in that way. He was not... not a closed mind one bit.
Portuguese painter Paula Rego (1935-2022) became part of the London Group in 1965, was shortlisted for the Turner Prize in 1989 and became the first Associate Artist of the National Gallery in London in 1990. Her work is strongly influenced by folk and fairy tales, especially those of her homeland.
Title: My contemporaries at the Slade School of Fine Art
Listeners: Catherine Lampert
Catherine Lampert is an independent curator, art historian and Visiting Professor at the University of the Arts. She was director of the Whitechapel Art Gallery (1988-2001) and has been a model for Frank Auerbach since 1978. Her recent projects include exhibitions of Rodin (Royal Academy 2006) and Lucian Freud (Dublin, Denmark and The Hague 2007-2008) as well as a book on Francis Alys (Turner Libros) and a catalogue raisonné of Euan Uglow's paintings (Yale University Press 2007).
Duration: 6 minutes, 15 seconds
Date story recorded: August 2007
Date story went live: 17 July 2008